Finding The Best Earl Grey Tea: A Comparison Between Popular Tea Brands
Earl Grey tea is one of my all time favourite go-to teas, it's a simple black tea blend with bergamot flavour. I find it the perfect tea when I don't want something too bitter but I still want a decent pick me up in the afternoon.
Because of the blends popularity, every tea brand has their own take on this classic black tea blend. It actually shocked me how different each one of these Earl grey teas tasted! There's no standard for making Earl grey tea, so there are lighter or stronger blends of Earl grey tea. So how do we compare these brands to find the best Earl grey tea bag?
It's not about finding the best Earl grey tea but rather finding the best Earl grey tea FOR YOU! I compared 10 different Earl grey tea brands based on six different ratings scales so you can decide which one is the best for you. I compared factors like price, smell, look, taste, bergamot, refill-ability, and caffeine.
You should be able to find most of these brands at your grocery store or on Amazon.
Psst! This post contains affiliate links. It sends a bit extra my way if your buy anything through my links, at no extra cost to you!


What Is Earl Grey Tea?
Earl grey tea is a classic black tea blend with black tea and bergamot. Bergamot is a citrus that's native to southern Italy. It's kind of like if a lemon mixed with a bitter orange. It's the size of an orange but the colour of a lemon or a lime (depending on the ripeness).
The flavour of Earl grey tea is all about the bergamot. Most tea brands today don't actually use fresh bergamot. They'll either use bergamot essential oil, or sometimes even natural flavouring, to make Earl grey tea.
Does Earl Grey Tea Have Caffeine?
Yes! Unless you're buying decaf Earl grey tea, assume that it's caffeinated. As I mentioned, Earl grey tea is a black tea blend. Black tea comes from the camelia sinensis plant, which is a caffeinated tea plant.
There are ways to remove the caffeine from black tea to get a decaf earl grey. I did review one decaf earl grey and I actually really enjoyed it. I didn't noticed any taste different between their regular and decaf Earl grey tea. (Jump to my decaf earl grey tea review.)
What Makes The Best Earl Grey Tea Bag?
Everyone has a different standard for what makes the best Earl Grey tea. Do you prefer a light, floral, or strong earl grey tea? To make it as unbiased as possible, I came up with a rating scale to review the most popular earl grey tea bags I could find in Canada on my search to find the best earl grey tea.
I tasted each earl grey tea bag twice. First, I followed the steeping instructions provided by each brand – adding the recommended amount of water and steeping for the recommended amount of time.
I did a second taste test to see how it holds up without following any steeping instructions. This is how I normally drink my Earl grey tea, I leave the tea bag in and fill my mug up with water throughout the day.
Based on both my taste tests, I rated each tea on seven factors: price, smell, look, taste, bergamot flavour, refill-ability, and amount of caffeine.
My Earl Grey Tea Rating Scale!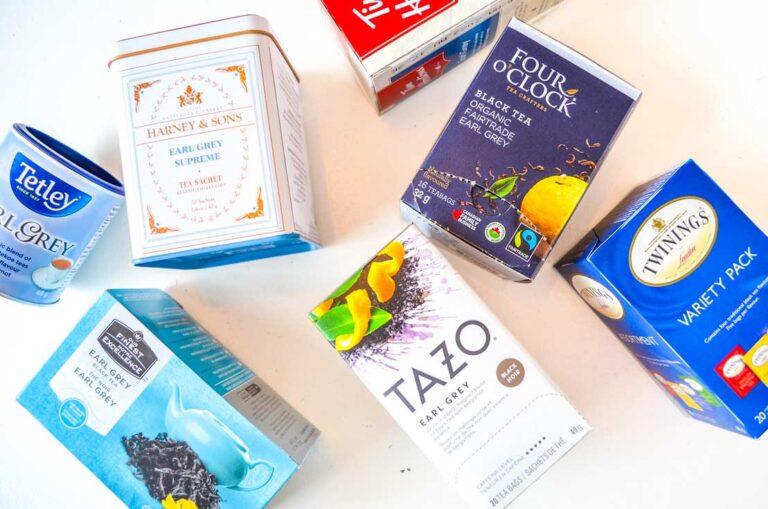 Disclaimer!
These are my opinions! It's what I taste when I drink the tea, so you may have a different opinion! I tried to be as objective as possible, and just noticed certain notes (sweet vs. bitter), although at times it was harder than others (Tim's I'm looking at you!). I'm also not a tea tasting expert, I taste what I taste, I'm not trying to be fancy.
I also enlisted the help of my partner and my fellow tea-loving bestie to get a few opinions.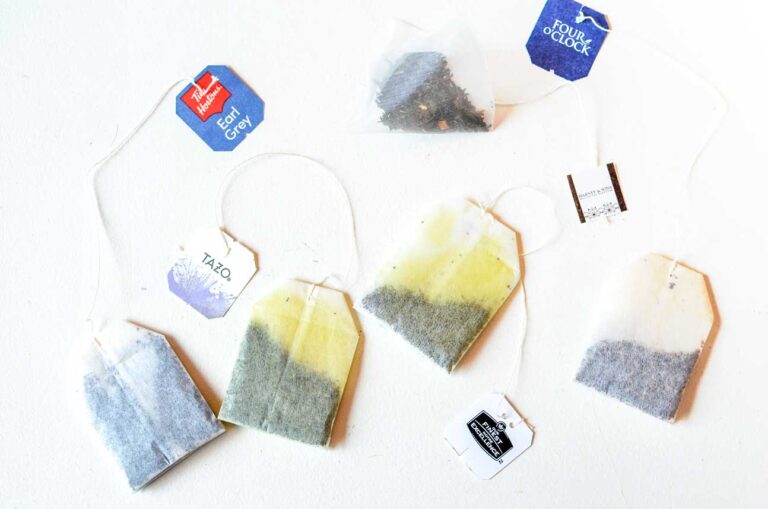 What's The Best Earl Grey Tea Bag For You?
From my ratings, the best Earl grey tea is Tim Horton's Earl grey tea bag: it's a reasonable price, the most balanced with bergamot flavour and lot of refill-ability. It is the sweetest Earl grey tea on the list with hardly any bitter notes. So if you're looking for a more bitter Earl grey tea, Tim's isn't for you.
There are a few runner ups that came in close like Bigalow, Tazo, Tetley, and Harney & Sons.
If you're interested in an Earl grey tea with less bergamot you'll want to try Tetley. Overall it had a good taste profile but it was lighter on the bergamot flavour.
The Earl grey tea with the most caffeine is Bigalow (65 mg), Tazo (61 mg), and Harney & Sons (40-69 mg – not really sure why there's such a large discrepancy…?).
In terms of strength of the flavour, Tazo was by far the strongest. If you're looking for a nice morning Earl grey tea, Tazo Earl grey tea bag would be my go-to. It contains the most tea in each bag.
I was most surprised by the low results of my loose leaf Earl grey tea sample. Of course, not all loose leaf tea Earl greys will be the same, this was just the sample that I had to compare the tea bags to.
Update: I recently added Ahmad Tea London to my list searching for the best Earl grey tea. It surpassed all expectations that it's now the best Earl grey tea. It's very well balanced and not too overpowering in any regard. It makes a great cup of tea to enjoy any time of day.
Continue reading for more details about each Earl grey tea below...
Buy The Best Earl Grey Tea On Amazon
Shopping in Canada? Shop the best Earl grey tea Canada on Amazon.ca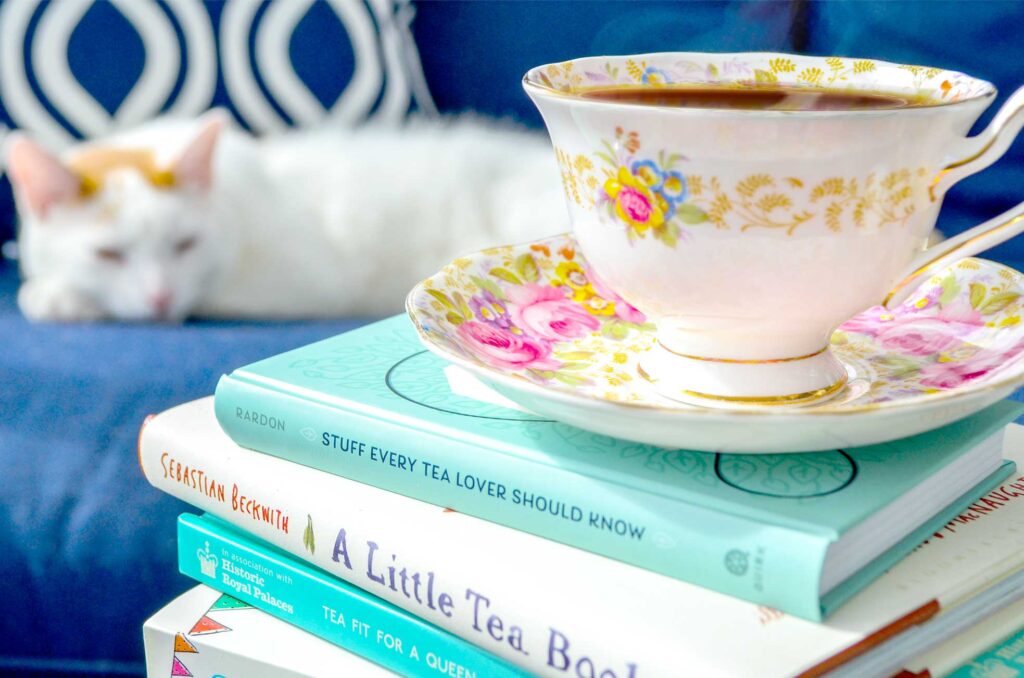 Best Earl Grey Tea – Ahmad Earl Grey
Ahmad tea was a recommendation to try and I absolutely loved it that it might just be my new favourite Earl grey tea!
I don't know how Ahmad Tea London does it. They produce a phenomenal Earl grey tea at the lowest price on this list. I've seen varying price ranges for a box of 100 tea bags, $5.99 was on the cheaper end on Amazon.ca (see updated price). Even at the higher end though, I've seen it being sold for $8.99 for 100 tea bags it's still only .09𝇍 a tea bag!
The steeping instructions for Ahamd Earl grey are very loose. Steep 1 bag per person in a teapot and steep for 3-5 minutes. There are no temperature instructions or amount of water/ tea bag. The only thing that's mentioned is to stir the water after you remove the tea bag…?
Why Is Ahmad Tea London The Best Earl Grey Tea?
If I didn't know the price I would have thought it was a much more expensive tea bag – I was shocked by the well balanced flavours of this Earl grey tea. From the smell, bergamot flavour, and overall taste – nothing was too overpowering and you were still able to taste a good amount of bergamot to make it an Earl grey tea.
It sits right in the middle for me in terms of strength, not to strong or too weak. I would actually really enjoy this as the optimal afternoon Earl grey tea. Try Ahmad Tea London on Amazon.
They do cheap out on packaging, so the tea bags are not individually wrapped. They recommend putting them in an airtight container to seal in the freshness of the tea.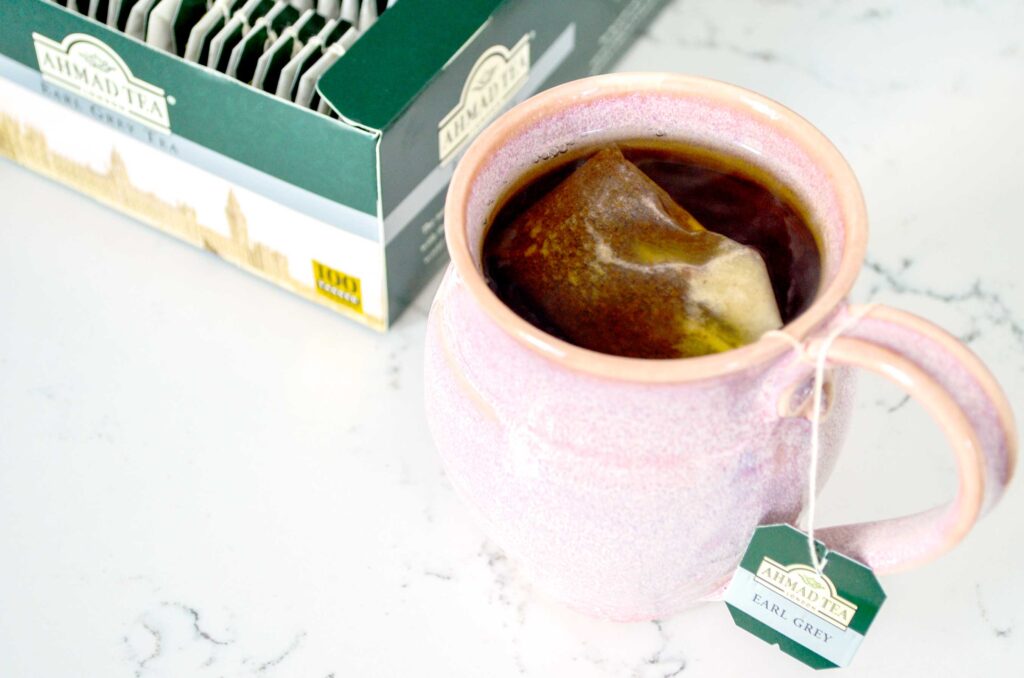 Best Budget Friendly Earl Grey Tea Bag: Our Finest Earl Grey
Our Finest, or Notre Excellence in French, was the cheapest Early Grey tea I found on the market (before I found Ahmad Tea Earl Grey). At only .11𝇍 a tea bag, it's the cheapest Earl grey tea bag on this list!
Honestly, if you're looking for a cheaper Earl grey that you can drink every day without worrying about the higher cost compared to a simple breakfast tea Our Finest Earl Grey is a great choice.
Brewing Our Finest Earl Grey was interesting because it calls to only steep your tea bag in 3/4 cup of water… not even one full cup! And then you steep it for 3-5 minutes. Find Our Finest Earl grey tea at Walmart.
What To Expect From Our Finest Earl Grey
The most shocking part about Our Finest Earl Grey tea was the smell vs. the taste. I was less than pleased with the smell, and I wasn't the only one who smelled this. My first reaction was that I was walking on a farm, and horse manure was blowing in the wind, with a hint of some black tea notes… YUM! Sounds really appetizing…right!
But! The taste was not manure-ish at all! It had a subtle but strong black tea taste. It was actually very smooth and balanced black tea with a hint of bergamot. The aftertaste was slightly more bitter, but the overall mouthfeel of the tea is very nice.
The look was actually one of the darkest of the teas, looking quite coffee-esque. So I was quite surprised when I only had 3 good quality refills out of it. I was expecting a lot more based on the dark brown color.
Another alarming aspect of Our Finest Earl Grey tea, along with the horrid smell was also the colour of the tea bag. It had a greenish hue to it… I assume it's from the essential oil, but still, most other Earl Greys are able to avoid the tea bag turning green. This was also the case with Tazo Earl Grey tea.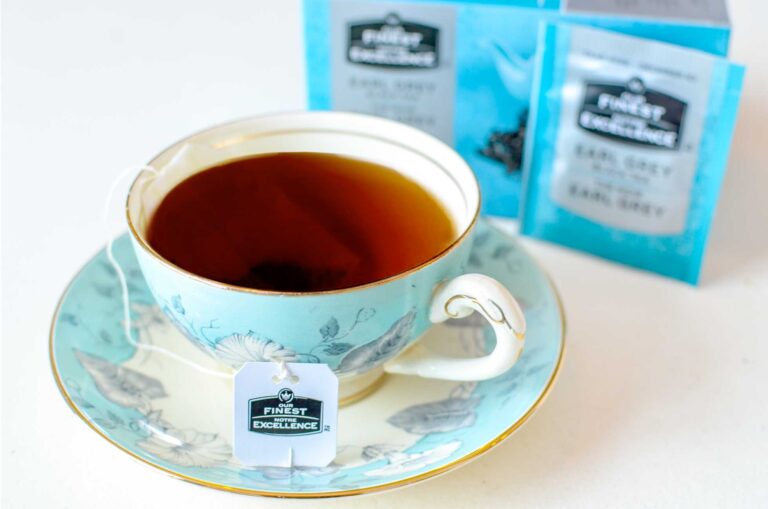 Tetley Earl Grey Tea For Light Bergamot Flavour!
Tetley is a well known English tea brand, founded in 1837. Teltey Earl grey tea was yet another another bag full of surprises! The brew instructions are very basic, boil one cup of water and let your tea bag steep for 3-4 minutes.
The ingredients for Tetley Earl grey though were concerning:, black tea with natural flavour… not even necessarily bergamot? This showed in the taste…
If you're looking for an Earl grey that lighter on the bergamot flavour I'd recommend going with Tetley Earl grey. Find Tetley Earl grey on Amazon.
Tetley Earl Grey Tea Main Takeaways
The smell was nothing special, reminding me of a sweeter Red Rose/ Orange Pekoe tea. It didn't out right remind me of Earl Grey, but overall, it wasn't bad.
It was the taste had a few mixed reviews! The first time my partner tried it, he didn't believe that her was even trying Earl Grey tea, he thought I'd bought the wrong one. Tetley Earl grey does not have a strong bergamot flavour, but overall the taste isn't bad. I found the aftertaste had some lingering bergamot. I'll admit, it's a refreshing alternative to orange pekoe tea (like Red Rose), just a less bitter version.
It has a nice smooth and velvety mouthfeel, and so it's all around very enjoyable to drink. In fact, it was one of the better Earl Greys we tried. Out of all of them, it was the only one I went back to drink… consistently. Honestly, I couldn't stop drinking it!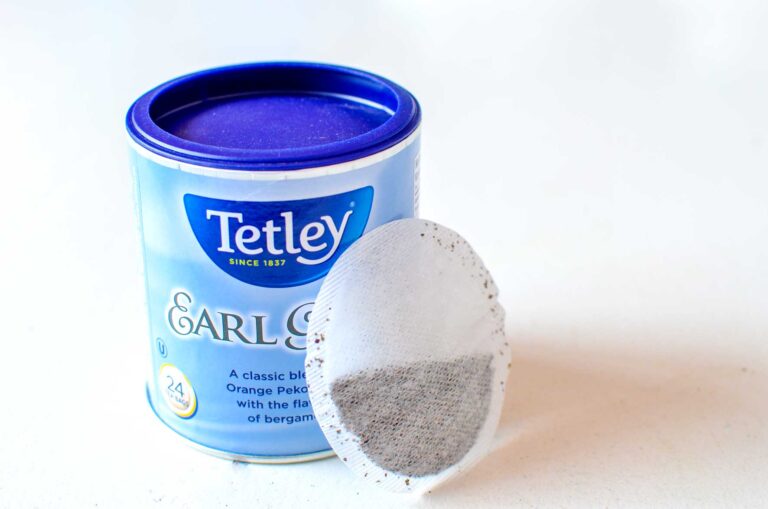 Twinings Earl Grey Tea Love It Or Hate It
I'll admit, I went into this tea tasting with a bit of a negative bias towards Twinings Earl grey tea. I know it's one of the leading English tea brands (from the 1700s!), but I've never been a huge fan of Twinings Earl grey tea.
Brewing Twinings Earl grey tea for anywhere between 2-5 minutes. The ingredients are tea and bergamot flavour.
Find Twinings Earl grey tea on Amazon.
Overall Thoughts On Twinings Earl Grey
Both the smell and taste of Twinings Earl grey tea are identical, it's actually uncanny how similar they are! But! It that's not the smell and taste of bergamot… to me anyway. I found it to be more like metal, almost copper-ish tasting.
It's also super pale when steeped, so it isn't good for grandpa style tea drinking with only 2 good refills. Ultimately, I think Twinings Earl Grey Tea has a very particular taste that you either love or absolutely detest.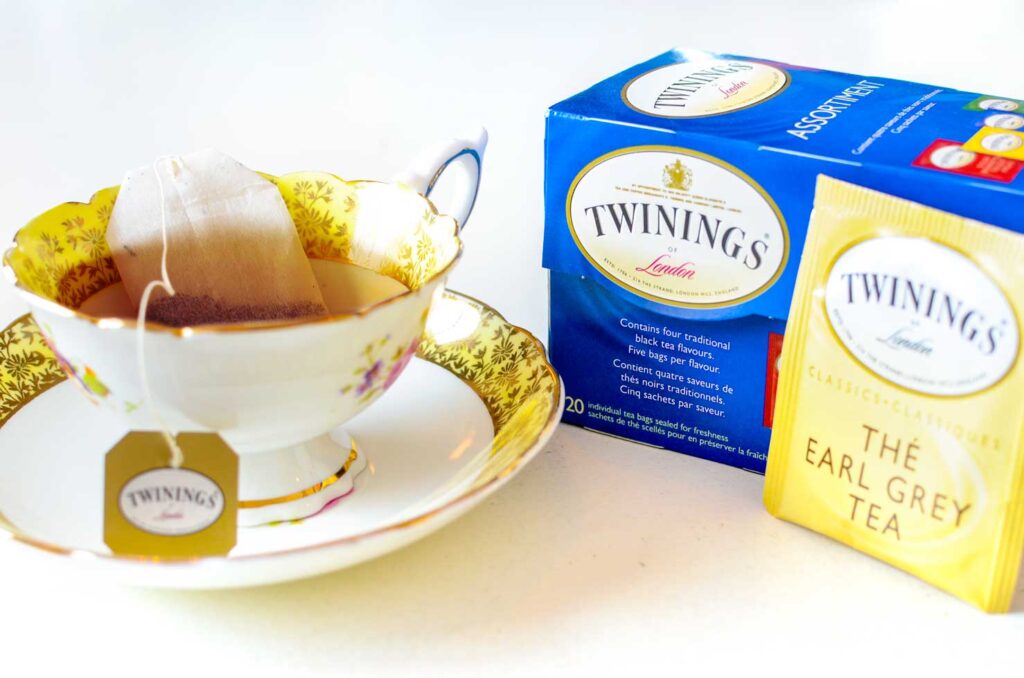 Bigelow Earl Grey Most Caffeinated!
Did you know that this American tea company, from 1945, is still family run! Bigelow tea is a household tea brand for my family. We love their Cranberry Apple and I Love Lemon tea blends (although, they're quite hard to find in Canada). I wasn't at all disappointment with Bigelow's Earl grey tea blend either.
Bigelow Earl grey tea includes black tea and natural oil of bergamot. Steep your Bigelow tea for 2 minutes. You can find Bigelow tea on Amazon.
At first sniff, I was less than impressed with Bigelow Earl Grey Tea. Reminding me of water-down manure once again (not as strong as Our Finest though). After the tea settled and steeped, I noticed black tea with lemon aromas.
When it cooled down enough to sip, it tasted exactly like that: black tea with lemon! Although, the after taste was a bit metallic (nowhere near Twinings though!).
All around, this is a very average and balanced Earl Grey. It wasn't too strong in any regard to sway me in any direction. It was not overpoweringly sweet or bitter. It's interesting to point out that Bigelow Earl Grey tea has the least amount of tea per bag but somehow the most caffeine!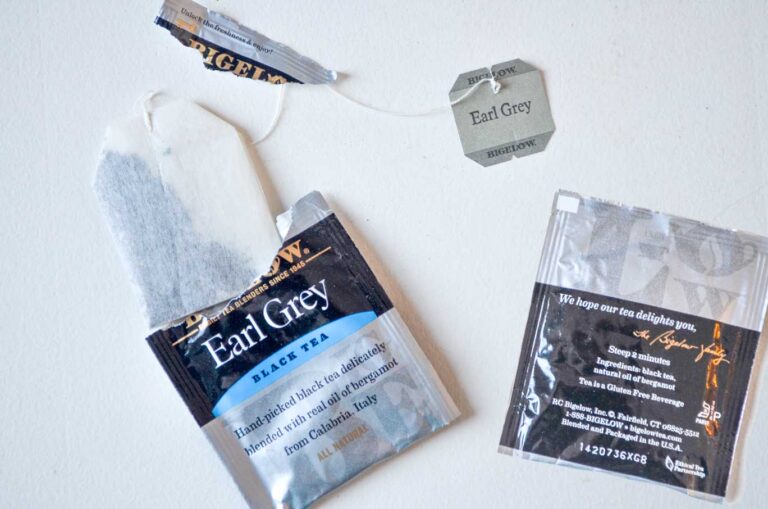 Tim Hortons Earl Grey A Sweet Treat
Tim Horton's Earl Grey tea has the opposite bias for me. It takes me back to my College and University days, Tim Horton's Earl Grey was the only tea I drank back then and I LOVED every sip of it! You can find Tim Horton's Earl grey on Amazon.
Trying it now was quite hard to stay objective. But I wasn't pleased when the ingredients are just black tea and natural flavours… again, where's the bergamot? The brew time is average, steeping for 3-5 minutes.
I will not lie, when I opened up a Tim's Earl Grey teabag, it smelled like home to me. Although my friend pointed out that when it's steeped, it smells like Fruit Loops. And now I can't unsmell it!
I don't think Tim Horton's Earl grey tea is necessarily bad tea. It is a lot sweeter than most of the Earl Grey's we tried making it stand out. There was hardly any black tea bitterness and it was mostly just comforting goodness! It tasted more like water with an aftertaste of bergamot, and even a hint of vanilla.
Overall, Tim Horton's Earl Grey tea is a very well balanced Earl Grey tea for me.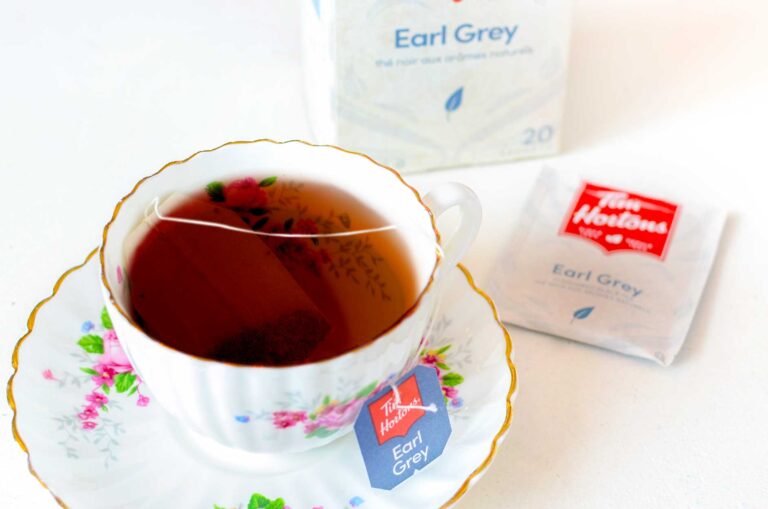 Four O'Clock Organic Earl Grey Tea Canada Only! Floral Earl Grey Tea
Four O'Clock tea hits quite close to home as a Montreal-based company from the 90s. Four O'Clock is a Canadian tea company so you probably won't be able to find it elsewhere. In Canada, it sold at local grocery stores and on Amazon. Buy it online today.
To brew the perfect up of Four O'Clock Earl grey tea, steep your tea bag for 3-4 minutes.
I'm actually using the Organic Fair Trade Earl grey tea from Four O'Clock. I couldn't find their regular Earl Grey anywhere, I'm wondering if it's off the market…? I thought that they would be quite similar between the organic and non organic, but I was quite surprised.
Having had Four O'Clock's Earl Grey in the past, this did not live up to my expectations. The ingredients included black tea (organic black tea leaves) with natural bergamot flavour.
Smell: 3/5Look: 4/5Taste: 2/5Bergamot: 3/5 Refill-ability: 2/5Caffeine 3/4
Let's Review Four O'Clock Earl Grey Tea
This was not the Four O'Clock tea experience I was used to. Right off the bat, the smell was not of bergamot, but very floral (like jasmine). The taste was quite flat, almost one note. It was very good black tea but not Earl Grey. Then the aftertaste hits you and you're left with an unpleasant lemon flavour in your mouth. To me it was almost like artificially sweetened lemon.
I thought I'd also get more refills out of it. After the second cup, the flavours went way downhill, so much so that I had to stop drinking it. On the box it says that it's perfect in a latte, and I think that's the only way you can enjoy this tea.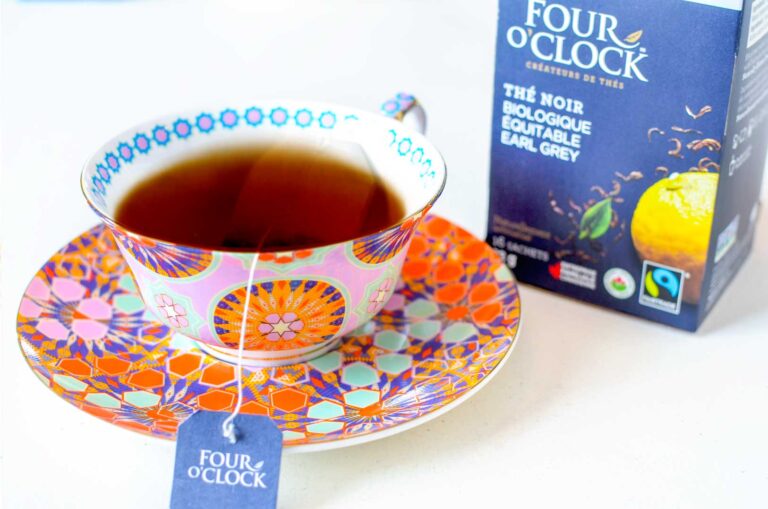 Tazo Earl Grey The Strongest Earl Grey Tea Bag
Tazo Tea is an American tea brand also from the 90s. It's a typical Earl Grey brew, a cup of water, and let it steep for 5 minutes. It's made up of black teas blended with the essence of bergamot. I'm not entirely sure I understand what that means. What exactly is the essence of bergamot?
Tazo Earl grey tea bag is the strongest Earl grey tea – perfect if you're looking for a real morning wake up. It contains the most tea per bag and is on the higher side of content. I recommend adding more water when making it. Find Tazo Earl grey on Amazon.
More On Tazo Earl Grey
The first smell was very dark, it almost reminded me sitting by a wood burning fireplace with my mug of tea. It had almost a woody lemony black tea smell.
Then I tasted it and was practically punched in the face! It was SO strong and bitter with a hint of bergamot aftertaste. If you need a good wake up call in the morning to get your day started, Tazo Earl Grey is your tea.
The second time I tried it, it was with about half a cup more of water and it was already a lot better. So I'd recommend making a cup of Tazo Earl Grey tea in your largest mug! As it was less concentrated, it was less bitter right off the bat. You might have noticed that is does contain the most tea per tea bag! Which is the reason for why it's so much stronger (and got so many more refills out of it!).
As you refill your cup the flavours do change. The bergamot becomes much stronger and the bitterness in the tea becomes weaker. This is one that I can get behind replacing my morning cup of tea with. It's not too overpoweringly sweet to wake me up!
I was also expecting some higher quality tea, maybe because of the price, or that I had it at Starbucks way back when. But it's at the same level as Tim's and Four O'Clock. Side note, a concerning factor was the greenish hue to the teabag. This was also an issue with Our Finest Earl Grey… but I was concerned to see this problem with Tazo as well because of the higher price.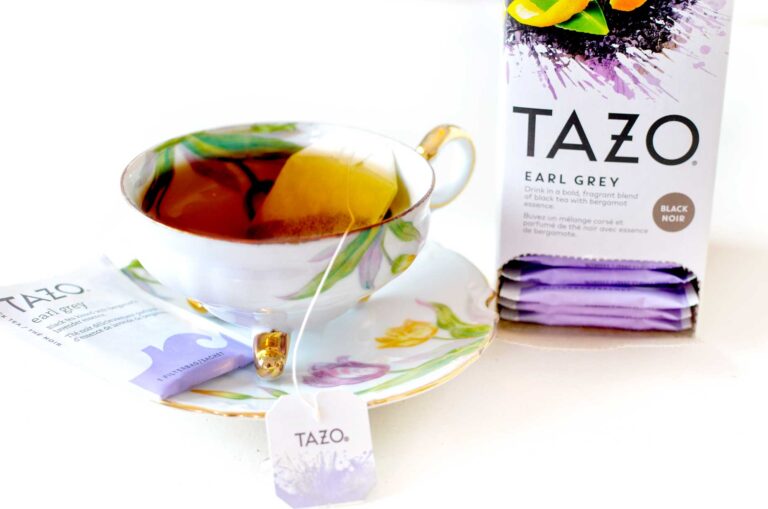 Harney & Sons Earl Grey Supreme Not Worth The High Ticket Price
Coming in at THE most expensive Earl Grey tea on the market: Harney and Sons! I was actually shocked to find out that this is not an English company but American from the 80s (shoutout to their branding department… I guess!).
Brewing a Harney and Sons tea bag, they recommend using two cups of water and steeping for 3-5 minutes. A two-cup mug is a pretty large mug, I'm not sure how many people actually own a mug this size.
The ingredients were the most extravagant with 3 different types of tea: black, oolong, and white. I was disappointed to only see natural bergamot oil though. I was hoping to see some actual bergamot used. This is the only Earl grey tea bag that also came in a beautiful (and reusable) tin, and in pyramid tea bags. Shop Harney and Sons Earl grey tea bags on Amazon.
Is Harney & Sons Earl Grey Worth the Steep Cost?
I think I was expecting to be completely blow away by Harney and Sons Earl Grey Supreme (I mean it is supreme after all). I was also upset with the length of the string. It's something so simple, the string was just a bit too short and kept almost falling in to my tea.
The smell as dry tea was sooo strong bergamot but it all disappeared once it was steeped. Then it just smelled like black tea with a side of lemon. Although it was strong and rich smelling. The taste was not too sweet or too bitter, it was very smooth and enjoyable to drink. It had a rich thick mouthfeel. But, unfortunately, nothing jumped out at me. Once it cooled down I was hoping to taste some more bergamot, but it ended up getting more bitter.
Similar to Tazo Earl Grey tea though, it got better after more refills, possibly being too strong for its own good.

Loose Leaf Premium Earl Grey (Tealyra)
I included a loose leaf tea in my search to find the best Earl Grey tea because I thought it would be a good comparison. Loose leaf tea has this standard of being such high quality tea, so I was interested to see how tea bags held up.
I was ultimately shocked by the results. Of course, this was the Earl grey I had in the house, so yours may be different. First, the ingredients list was much longer with black tea, cornflowers, oil of bergamot, and natural flavour. When I dug a bit deeper, it's actually Ceylon tea (from Sri Lanka) and the natural flavouring is vanilla and cream. I'm not sure why they didn't put this detail in the ingredients list.
The instructions say to steep one tsp with one cup of water for 2-3 minutes.
The Benefit of Loose Leaf Tea
The main benefit of using loose leaf tea is that you can adjust the strength of the tea. This one was too weak for me, based on their recommendations, but I can easily steep for longer and add more tea.
The lack of an aroma weirded me out though. It had zero smelliness to it! The taste was also lacking. It was water with a very sweet aftertaste. I think the vanilla and cream overpowered the flavour profiles of the bergamot just a bit too much. I would have like some more bergamot in my Earl Grey!
That being said, I do think it will make a wonderful afternoon tea with some milk. It is a nicely balanced tea. P.S. Looking to switch over from tea bags to loose leaf tea? See my suggestions for the easiest way to switch to loose leaf tea.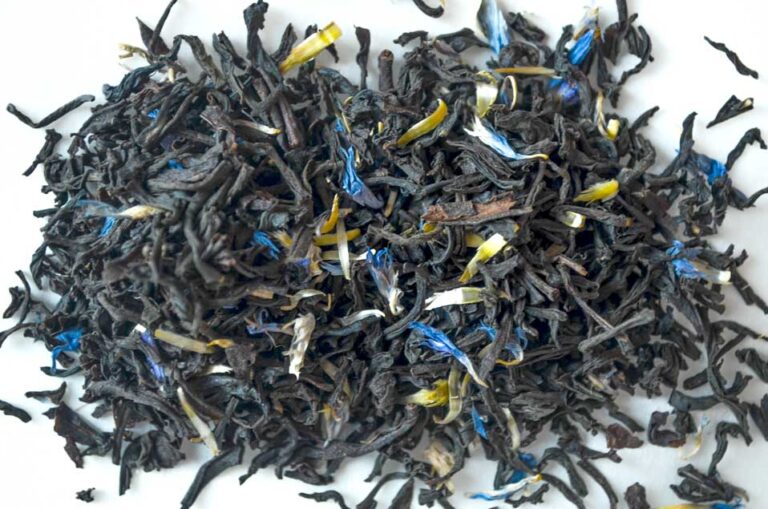 Decaf Option: Friendship Organics Decaf Earl Grey Tea
This was my first time trying decaf Earl Grey tea, and I must say, I was pleasantly surprised. Friendship Organics, a local Montreal brand, reached out and sent me their decaf Earl Grey to try.
They use the carbon dioxide decaffeination method (yes, this is the same method that's used to make our favourite sodas bubbly!). This method removes 97 to 98% of the caffeine, which means you can now enjoy your favourite tea blend all night long!
To brew a Friendship Organics decaf Earl Grey tea, they recommend using one cup of water per tea bag and steeping for 3-5 minutes.
I would have liked to know the type of black tea used. The ingredients list was simply Fair Trade and organic decaffeinated black tea and organic bergamot oil. The tea comes in a beautiful (and reusable) tin! Shop Friendship organics decaf tea on Amazon.
Looking Closer At Decaf Earl Grey Tea
If you're looking to find an Earl Grey to drink after hours, this is the tea for! You wouldn't be able to tell based on the flavour that it's a decaf tea. It tastes, and smells exactly like any other Earl Grey tea would.
Decaf aside, this was a very enjoyable tea to drink. The flavour was very well balanced between the black tea and bergamot, making it a very good option if you're just getting into tea, or don't want an overpowering tea to enjoy at night.
I did find that when I brewed it based on their recommendations (with one cup water per tea bag), it was a bit too strong and did in fact have a slightly bitter aftertaste. I preferred it with more water (about one and a half cups) and then it was perfect. I also found it almost got better when I refilled it for a second cup.
The tea bags sometimes have a greenish hue, but they mentioned that this is because of the bergamot oil they use (now I know why some of the other brands were green as well!).
P.S. Can't let go of the caffeine? They also have a non decaf Earl Grey tea that tastes basically the same but now with the added bonus of caffeine!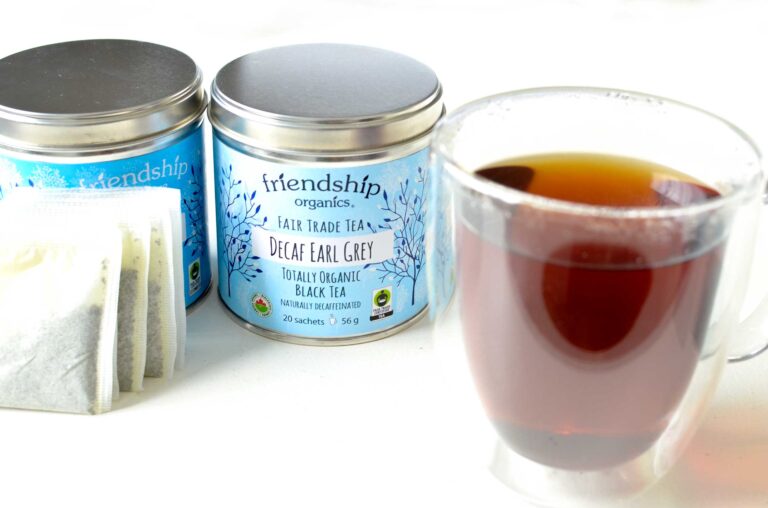 Real Bergamot Earl Grey Tea: Firebelly Tea
Definitely the most expensive Earl grey tea on the list, Shades of Earl Grey from Firebelly Tea is also possibly the most worthwhile to try at least once if you're an Earl grey fan!
This is the first company I've ever seen to actually use real bergamot in their Earl grey! Let me tell you, it's delightful! The ingredients list includes a bit more than bergamot though (lemon myrtle, lemon thyme, and even juniper berry). That being said, it makes a very well balanced and easy to drink Earl grey.
Despite having both lemon myrtle and lemon thyme, it's not overpowering lemon. In fact, I think the other ingredients do the opposite – they bring out the bergamot flavour and enhance it.
Plus, it's always nice knowing exactly what you're drinking – no essential oils or (my favourite) flavouring.
Perhaps Shade of Earl grey isn't for every morning, but it's definitely the ultimate to serve at any afternoon tea or to save for some weekend tea drinking! See more Firebelly teas here.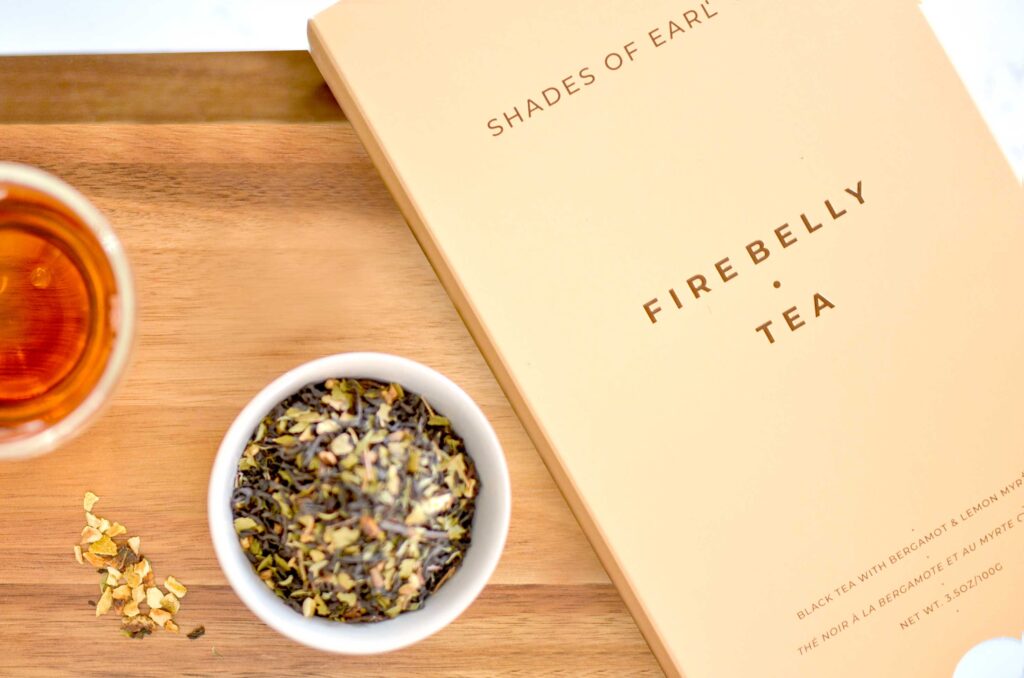 Did I miss your favourite Earl Grey tea? Let me know in the comments below and I'll try to find it and add it to the list!
Buy The Best Earl Grey Tea On Amazon
Shopping in Canada? Shop the best Earl grey tea Canada on Amazon.ca
Related Posts!
Sharing Is Caring