My Top 11 Travel Essentials I Never Leave Home Without
Everyone has their own travel essentials list that they never leave home without. It ranges from packing the travel necessities like your passport to comfort items that make you feel closer to home you're away.
These items also change throughout the years, I know it has for me. When I was younger, I didn't care if I even had my passport with me as long as my favourite stuffed animal was packed and ready to go! Oh, how things have changed!
My list of travel must haves includes the necessities but also some unique items that you may have never thought of bringing.
Psst! This blog post contains affiliate links in it which sends me a bit of extra money if you use them… at no extra cost to you!
Psst! This blog post contains affiliate links in it which sends me a bit of extra money if you use them… at no extra cost to you!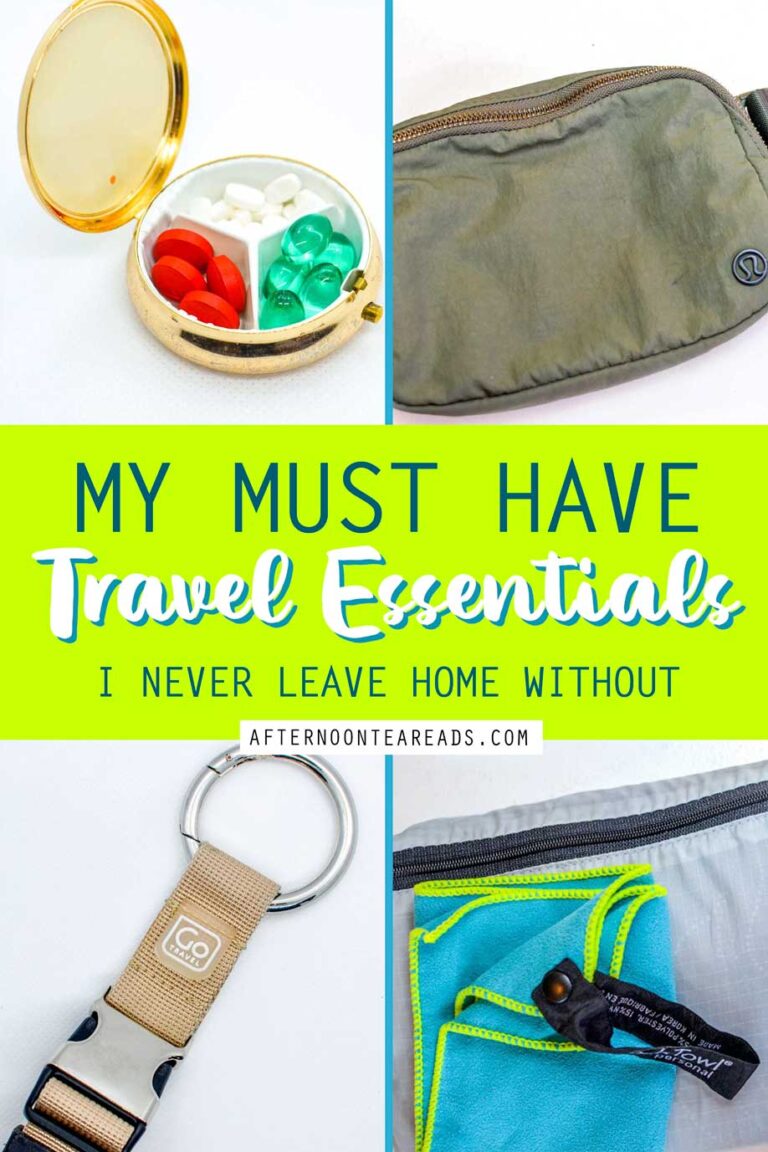 My Top 11 Travel Essentials
These are my top 11 travel necessities that I always travel with. Of course, I didn't include some travel must have like your passport on this list – that ones just obvious to bring with you (or should be anyway!).
1. A Carryon Suitcase – Travelpro Maxlite 5
Travel essential number one! I obviously can't travel anywhere without my suitcase! If I'm travelling for anytime up to two weeks, I always pack in my TravelPro Maxlite carryon.
Wondering how I pack in a carryon for so long? Read my tricks of the trade!
The TravelPro Maxlite is my carryon of choice for a few reasons. I love that it's lightweight, has a soft shell, and only has two wheels. I'm not into the fancy gadgets, just practicality and durability.
Read my full review of what I look for in a good suitcase to better understand why I chose the Travelpro Maxlite 5.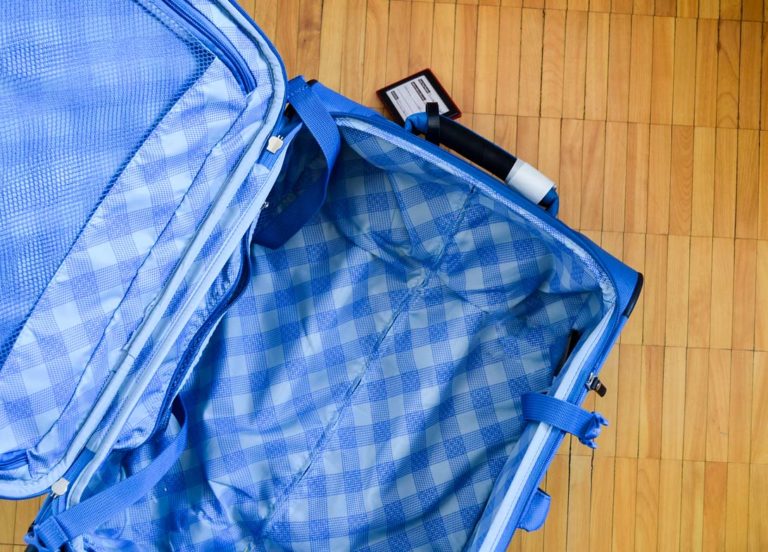 2. Travel Necessities: Osprey Packable Duffel
The Osprey packable duffel bag has saved me on many occasions. This is one of the best travel essentials I pack because when it's not being used, it takes up zero space in my luggage. And if I need to use it, it really comes in handy.
If I put on a few extra pounds during my travels, I now have an entire second suitcase to use. It's hard sometimes not to over indulge on souvenir shopping, or I just can't pack everything back in the same way. Whatever the reason, this duffel is my backup plan.
You can either check your carryon suitcase and use the Osprey duffel as your carryon. Or, some airlines let you have two carryons. So if I had a knapsack before as my second one, I'll just pack it in the Osprey. This becomes my second carryon that goes under the seat.
The Osprey Packable duffel is sturdy and hella light weight. But the reason I chose it over others is because of the shoulder pad. If you do have to carry it for a while (like walking through the airport), this extra support can go a long way. I also love buying Osprey because they have a lifetime guarantee, if anything should happen, I know I'm covered.
P.S. I also pack a smaller packable tote (like this one on Amazon) that I carry with me everyday just in case I need a larger bag in the middle of the day.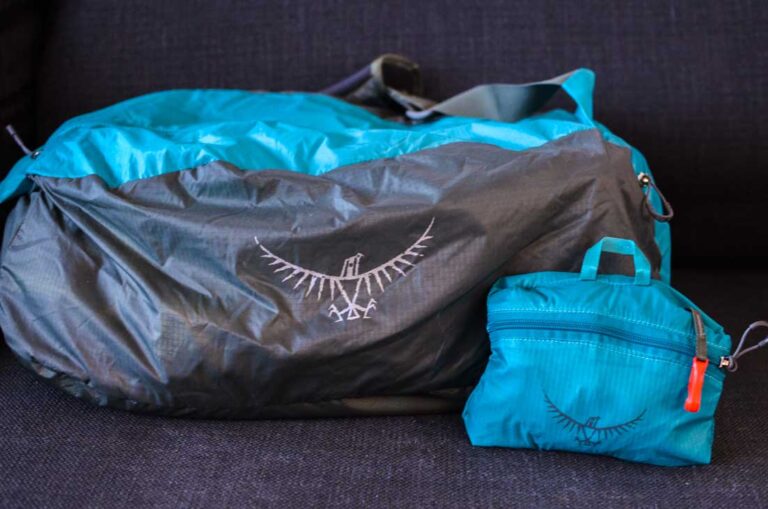 3. Packing Cubes Are Travel Must Haves
Packing cubes are very common travel necessities these days – and for good reason! Not only do they compress what you're packing (and allow you to pack more) but they also help you stay organized.
I like to have a few different sizes of packing cubes to fit the different clothing items. Now when I'm looking for something specific to wear I know where to look, I don't have to destroy my entire suitcase to find it. I never end up with a giant mess on the second day on the road.
Read more of my packing secrets.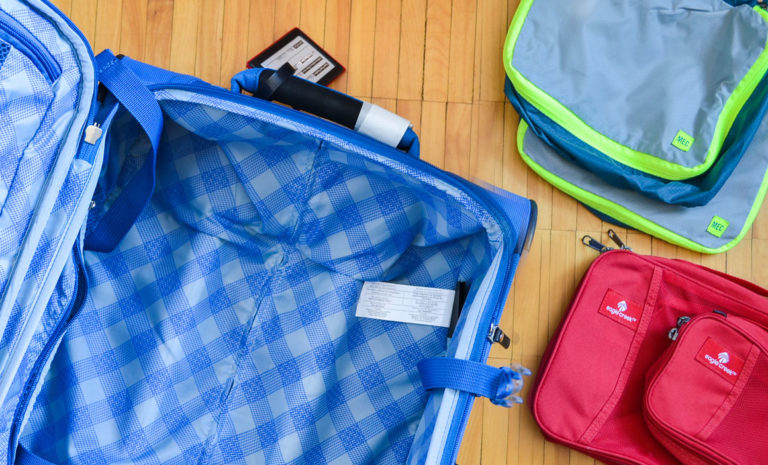 4. Reusable Water Bottle
These days, you can't travel without a reusable water bottle. I researched A LOT of water bottles before settling on the Nomader collapsible water bottle. I wanted a collapsible one because they're usually lighter, and I thought I would want to be able to collapse it when I wasn't using it.
The Nomader had great ratings and it was a reasonable price. It's leak proof, doesn't have the off silicone taste, and is dishwasher safe! The strap also makes it super easy to carry. P.S. Read my full review about the Nomader collapsible water bottle here.
As it turns out, I never actually used the collapsible feature. But, it did come in handy in ways I could never have expected. While travelling across Europe for 4 months in the fall, I ended up with a few injuries from time to time. This water bottle was a life saver.
I was able to fill it up with boiling water and actually re-purpose it as a heating pad or freeze water in it and it became an ice pack. It was my saving grace.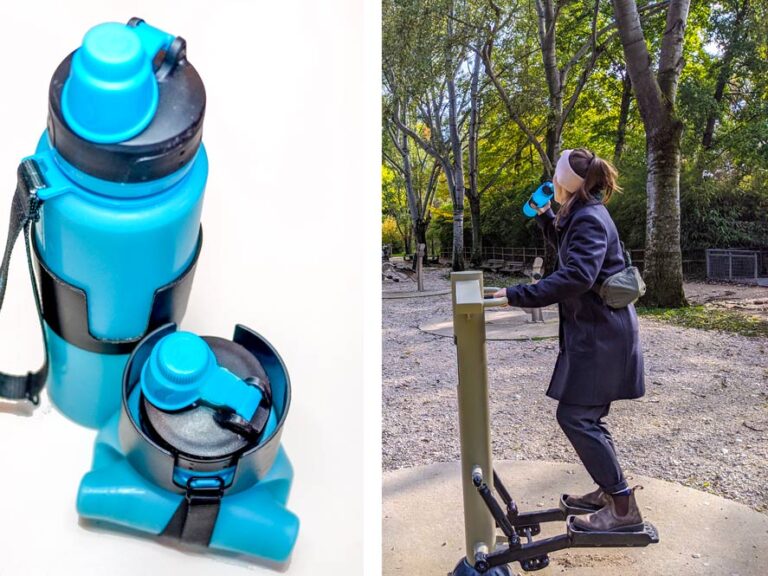 5. Photo Gear For Travel
I cannot go on vacation without any photography gear! Of course, my main camera of choice is my Nikon DSLR. I love it for my serious photography of landscapes and cities that I want to edit later.
But it's pretty heavy to carry around all the time. So, for the quick pics (and especially the night time shots) and to give me shoulder a break, I love my Google Pixel 5A. It takes AMAZING PHOTOS!
It's also what I use to set up my group vacation photos. I always make sure to always bring my Gorillapod with a phone mount and a remote shutter. This gear is my secret to taking the best group travel photos! This way I avoid having to ask anyone, and taking selfies!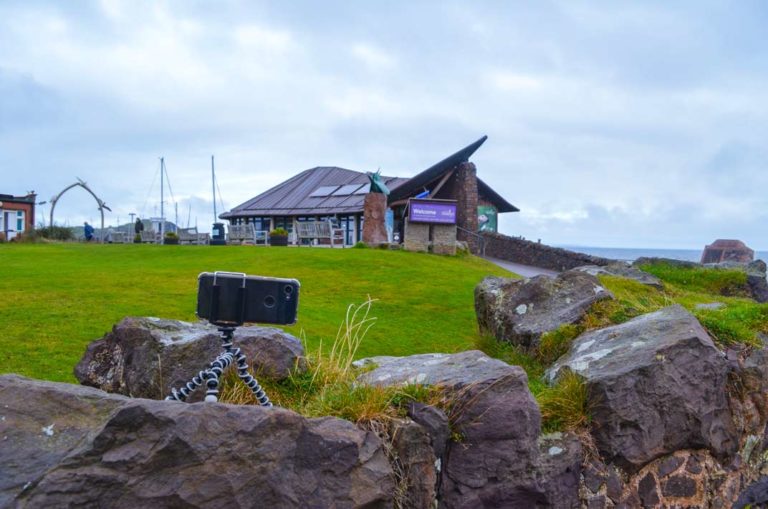 6. GoTravel Clip
The GoTravel clip is the travel item I never realized I needed. I even use it at home now – it's really that useful!
I don't know about you, but I hate having to lug around a huge bag to put any extra belongings in throughout the day. The weather can change drastically in one day, especially if you leave early in the morning and only arrive back later at night.
You'll want a few extra layers for the morning and evening, but what do you do with that sweater in the middle of the day? This is where the GoTravel clip comes in!
It easily attaches to any bag where you can clip in anything you want. You don't just have to use it for sweaters or jackets when you're not wearing them either, I've attached hats, gloves, a water bottle …etc. Anything that I didn't want to carry or wear in the moment.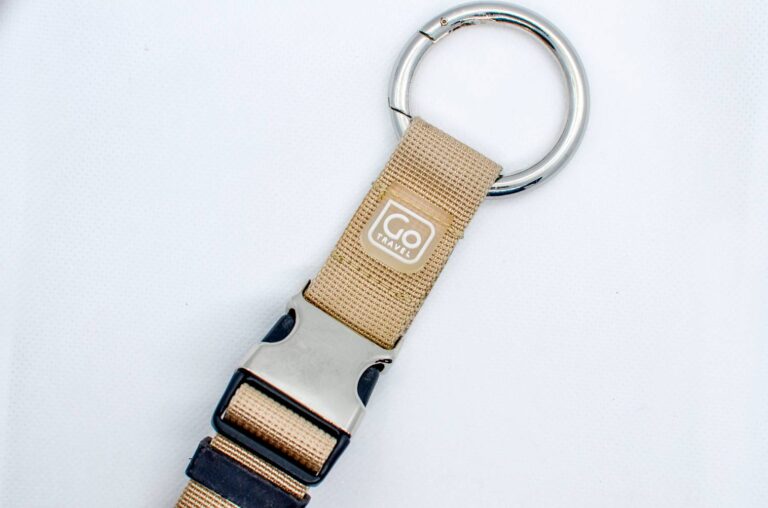 7. Lululemon On The Fly Pants – Women's Travel Essentials
These are my all-time favourite travel pants! That's because they aren't just good for travel, I wear them all year round, whatever the occasion.
I love the versatility of these pants. I swear, I can go from wearing them on the plane (so comfortable, has pockets, and keeps me warm!) straight to an evening out to a bar or fancier dinner. No one would ever know! I've worn these pants to work and gotten compliments on them.
They come in a few different fabrics, styles, and colours. I personally avoid the woven fabric, I find it thinner and can become quite cold (especially on the plane).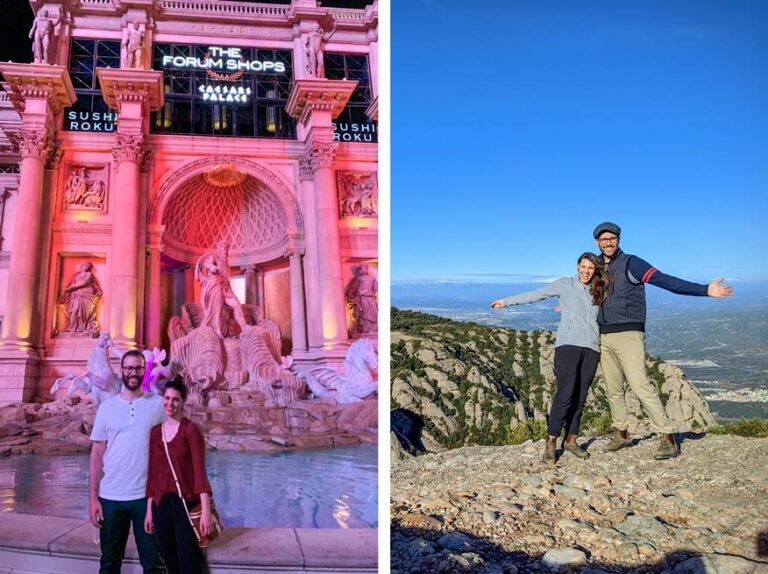 8. Lululemon Everywhere Belt Bag – Women's Travel Essentials
Coming in at number eight on my travel essentials list is a fanny pack. The fanny pack is the greatest invention that unfortunately goes out of style every once in a while.
But, fashion aside, it is hands down the most practical item for travel. It's perfect for the airport or even road trips. I'm able to keep everything directly on me (in front of me) and it's easily accessible at all times. I keep passports in here, medication, earphones…anything I need quick access to.
My fanny of choice is the Lululemon Everywhere Belt Bag. You can wear it like a fanny pack, but I choose to actually wear it cross body. You'd be surprised at how much you can fit in here. Plus, attach your GoTravel clip and the possibilities are endless!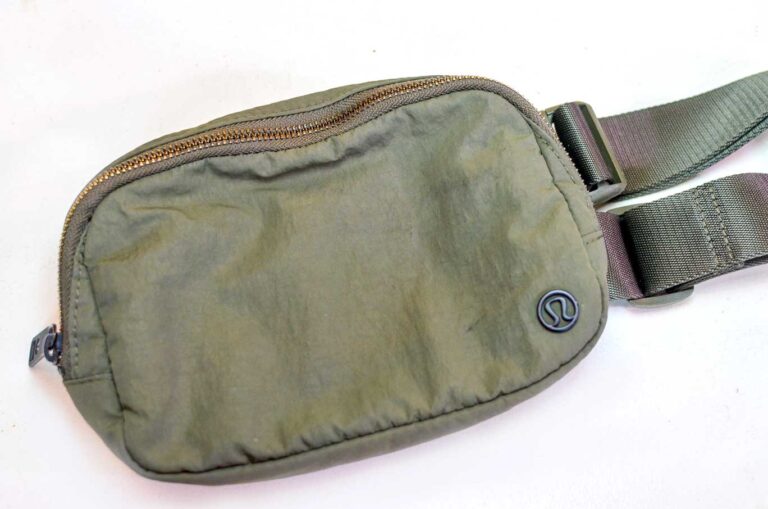 9. Cute Pill Case
I won't lie, I've been teased as being a grandmother for having this, but it's just so convenient and saves so much space.
Everyone travels with medications, whether it's prescribed or just the basics and can agree they take up a lot of room. It's especially annoying for the basic meds, that are for the most part just in case items (like Tylenol, Advil, Allergy medications..).
They're something you want on you at all times, but you can't carry all these pill bottles in your day bag – unless you have a very big day bag! I don't know about you, but I never ended up having the medications on me when I needed them, they'd always be back in the hotel for this reason.
That's where a small pill case comes in handy. You can carry all those basic medications with you at all times without needing a bigger bag!
I actually found mine at an antique shop in Dinant and bought it because I loved the design. My original intent for it was to re-purpose it and use the cover, but then I thought, why not use it for what it's actually meant for? Game changer!
I was able to carry a few pills on me at all times. Now instead, when I would get a headache, I had medication and it wasn't sitting back at the hotel in my suitcase.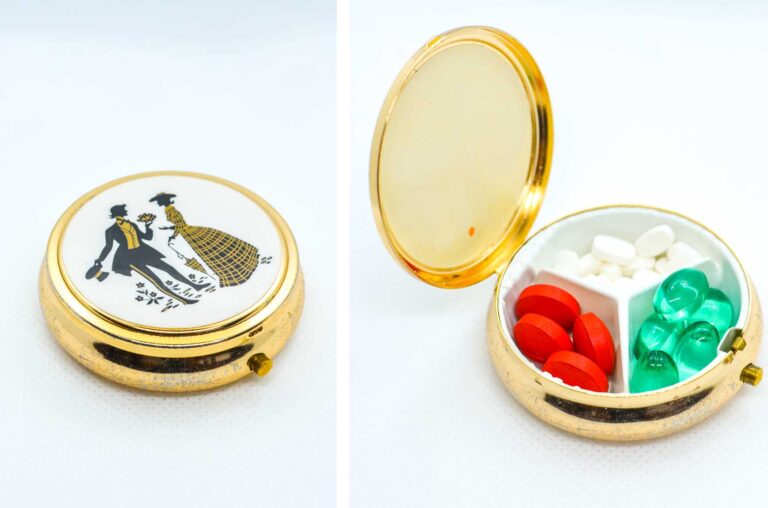 10. Earphone Splitter
I've been bringing an earphone splitter on my travels ever since I could remember and I always end up using it. If you're travelling solo, this won't really be useful.
But if you're travelling with someone else, it can come in handy in a few ways. Of course, you have to also bring your own earphones to use it. Essentially, you plug this into your device and now you can plug in two sets of earphones instead of one!
I've used it to watch a movie on long layovers in the airport with my friends, or listen to podcasts together on train rides…etc.
But, there's another very handy use for this apparatus that most people don't know about. If you like getting audio guides at museums, sometimes they charge extra for them. That can really add up. So, my partner and I will pay for one and use the handy earphone splitter! P.S. click here to read more of my money saving hacks for couples while travelling.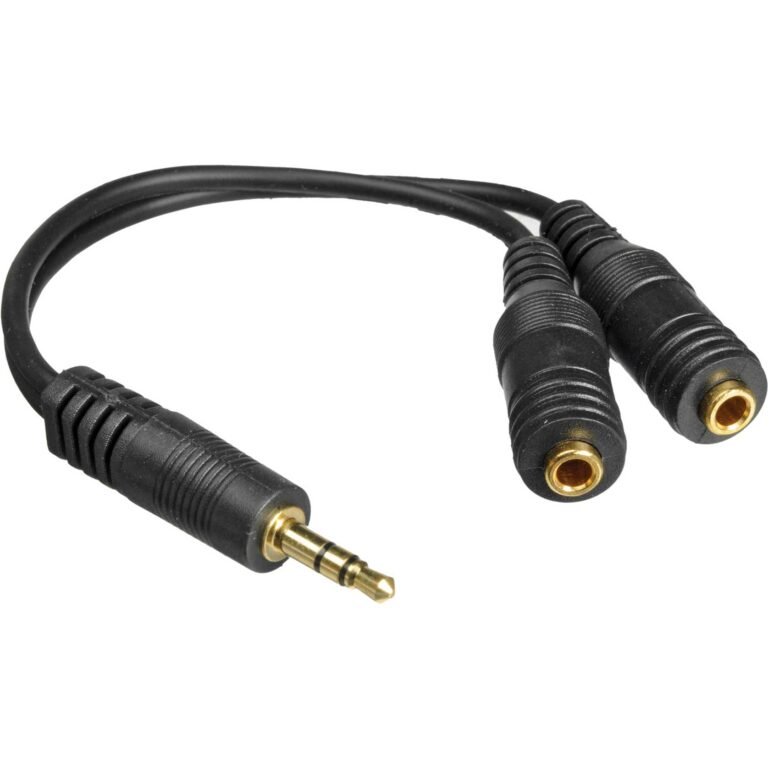 11. Microfiber (Face) Towel
A microfiber towel is another one of those travel essentials that I always back because it doesn't take up a lot of room but I'm always happy when I have it! I started packing a microfiber quick drying towel because I was booking hostels that didn't provide any. It's a towel that is very thin so dried quickly and doesn't take up a lot of space.
Lately, however, I was happy to have them even when recently booking some Airbnbs. I find in Europe, a lot of apartments don't have dryers, so the towels can be quite stiff. I don't know about you, but I like drying off with a nice and soft towel.
I always have a small microfiber face towel on me just in case. It's so small, it can fit anywhere, and now at least I know that no matter the towel situation, my face will be nice and dry!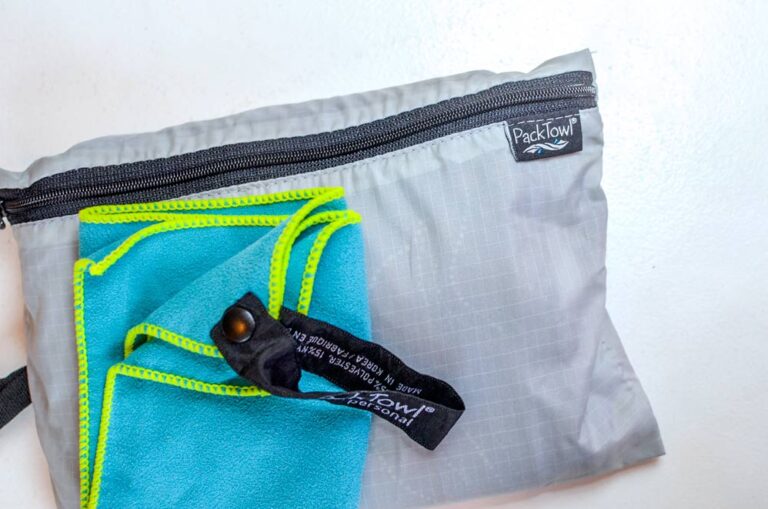 Of Course I Also Always Pack Tea
So, this isn't exactly one of the main travel essentials, but it is my travel essential. I cannot leave my house without at least a few tea bags. Tea is not like coffee, not every Airbnb or hotel will have. So I bring a few bags with me to get me through the first few days at least.
Plus there are a few teas that are perfect for travelling that everyone should pack!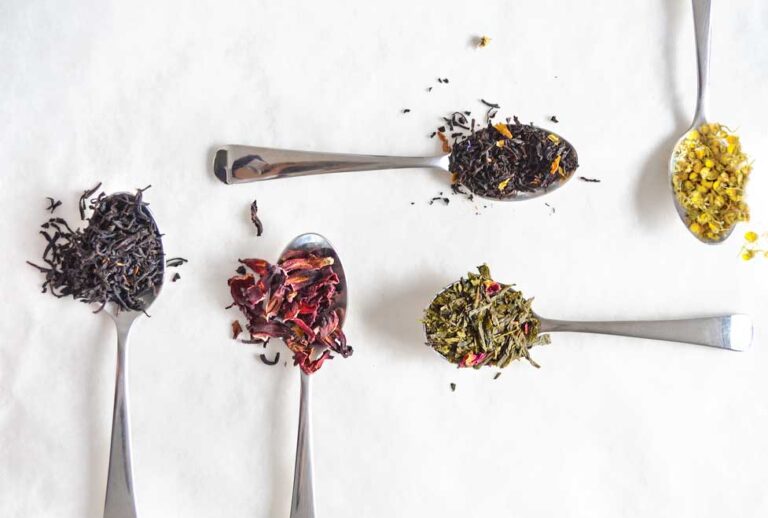 Quick Links – My Amazon Travel Favourites
Related Posts
Click Image To Share Or Save For Later