Travelpro Maxlite 5 Review: Why Travelpro Is The Best Suitcase Brand
Suitcase shopping isn't fun. What size is right? Should you get a hard shell or a soft shell suitcase. And then finally… which brand should you buy?
Over the years, I've found myself in the market for a few new suitcases… both large and small. Whichever size I needed, I always ended up choosing Travelpro. The Travelpro's Maxlite 5 series is the best suitcase on the market for a few reason. Travelpro is reliable and sells good quality and long lasting suitcases.
I now own the Travelpro Maxlite 5 29″ (the largest size in the series) and Travelpro Maxlite 5 20″ (their rollaboard carryon). Despite a few issues with the larger size, I couldn't be happier with the brand would recommend it to anyone looking for a new suitcase.
Psst! This post contains affiliate links. It sends a bit extra my way if your buy anything through my links, at no extra cost to you!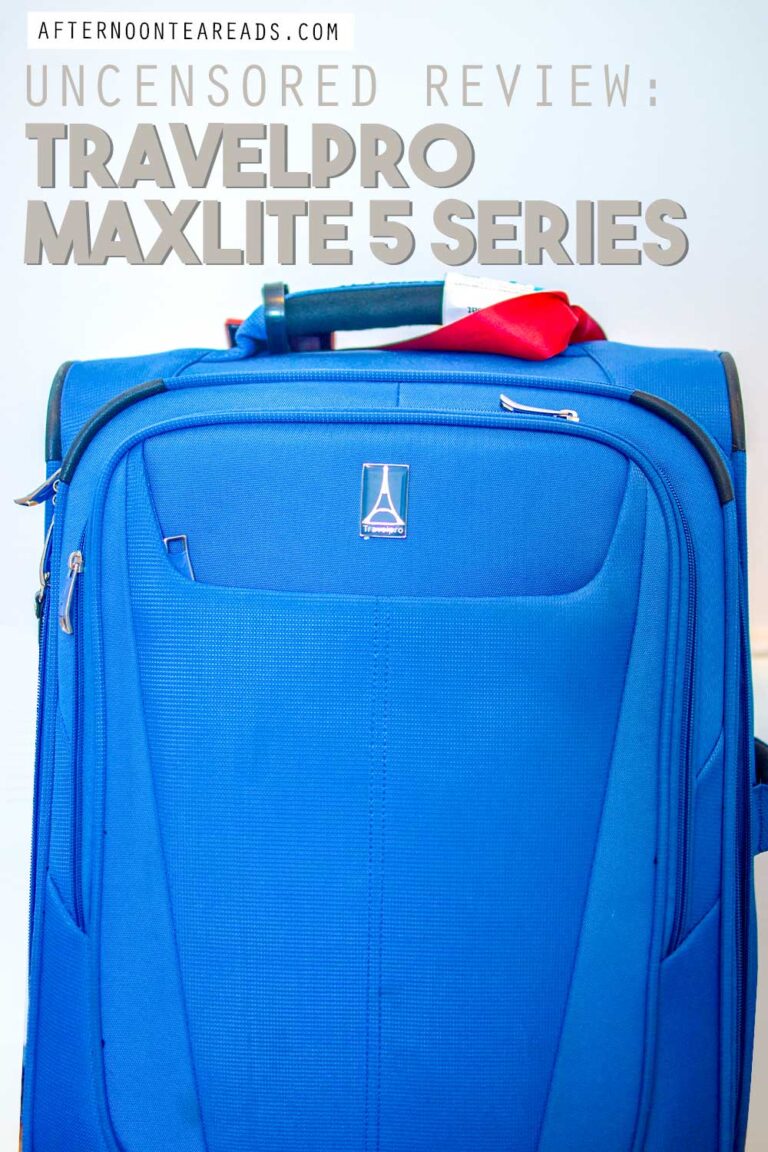 Plan the ultimate vacation
My digital travel planner template has everything you need to plan your vacation: research templates, travel planner itinerary, travel budget templates…etc. . You can print it out or use it digitally on your phone, tablet, or computer.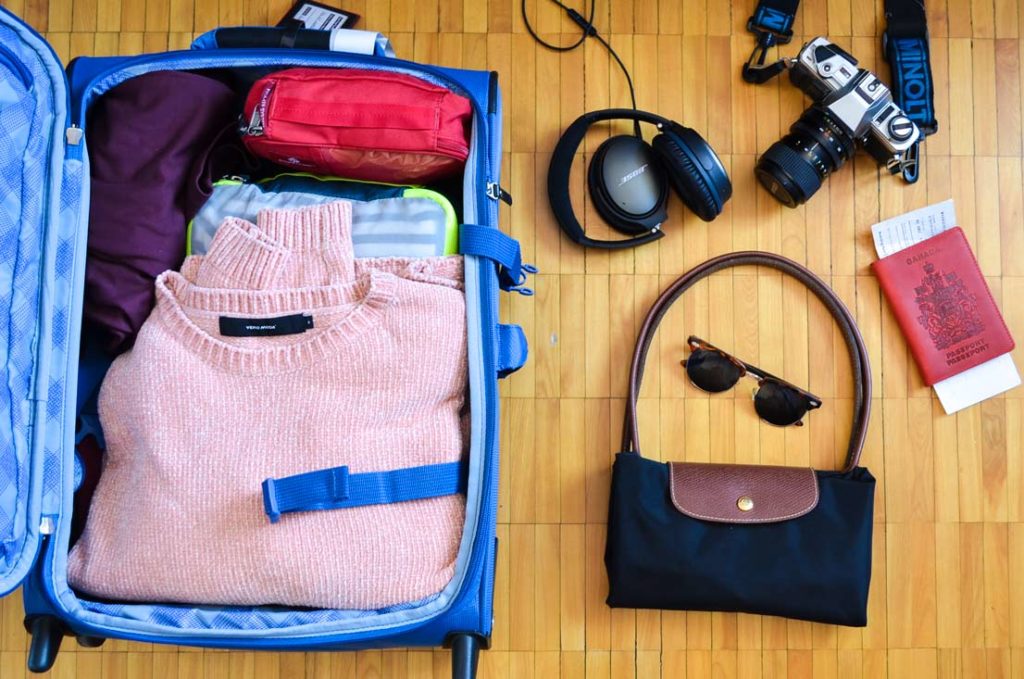 The Travelpro Maxlite 5 Series
The Travelpro Maxlite Series is made up of 10 different products. They offer carryon suitcases, checked luggage, and under seat suitcases and backpacks. The suitcase sizes range from 16″ all the way to 29″, including an under-the-seat option. 
On top of the different suitcase size options, they also make two types of suitcases: rollaboard and spinners. Rollaboard suitcases will only have two wheels (which is what I prefer and so few companies still make these). Spinners are the popular 4 wheel 'spinner' suitcases.
With so many options they definitely have what you're looking for in the Maxlite 5 series.
I own both the Travelpro Maxlite 5 20″ carryon rollaboard and the Travelpro Maxlite 5 29″.  
Buy The Travelpro Maxlite 5 Series On Amazon
Why I Choose Travelpro Maxlite 5 Suitcases
There are a few things I look for when buying a new suitcase and Travelpro checked all of those boxes.
The three most important things I'm looking at when I'm buying a suitcase is the warranty it comes with, if its good quality at a reasonable price, and if it's lightweight.
Travelpro Believes In Their Products: Offers Lifetime Warranty
A lifetime warranty is a must-have when buying a suitcase. The warranty the company offers shows you how much they believe in their product. Essentially, the quality of the warranty equals the quality of the suitcase. 
When looking for a new suitcase, almost all of the companies sell their suitcases with a warranty. But very few come with lifetime warranties. It was a lot more common to see anywhere between 2-5 years. Which is fine, but not as trustworthy as lifetime warranties. 
Travelpro offers a worry-free warranty on all their products. The Maxlite 5 series is a limited lifetime warranty. It is still limited, so it'll only cover defects on materials and workmanship (so not regular wear and tear). All you have to do is register your product online. 
I'm happy to say that I've also never had to use the lifetime warranty either, but you can read more about Travelpro's lifetime warranty here.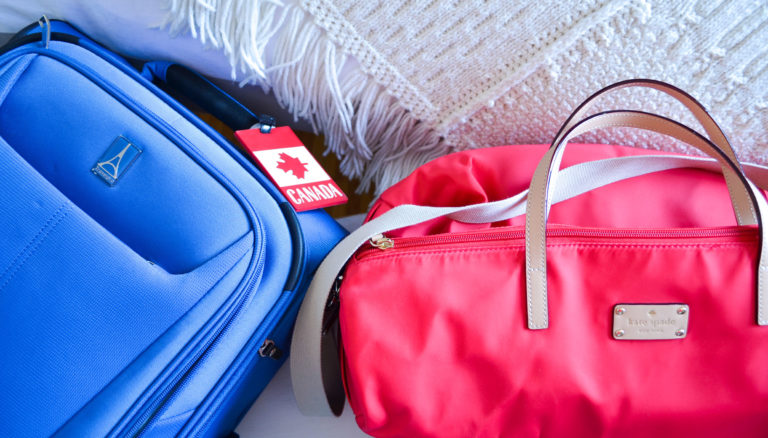 Travelpro Suitcases Are Amazing Quality At A Very Reasonable Price
Suitcases are expensive! They can range anywhere from $100 to way over $500. It's an art to find luggage that won't break the bank, but also won't fall a part after one time use. 
The Maxlite 5 series will only range from $100 to $250 depending on the size you're looking for. That's so reasonable it's unbelievable! Some luggage companies only start their line at $300 (and you aren't even necessarily paying for quality, more for looks, the name, and useless gadgets). 
My family has always bought Travelpro. We have some that are probably 20 years old at this point and we still use those suitcases today! I can only imagine how much better the Maxlite 5 series is going to be.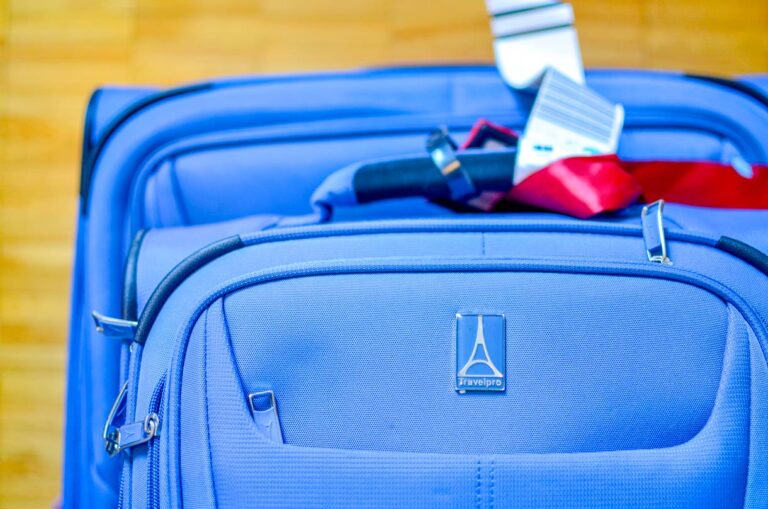 Maxlite 5 Is The Most Lightweight Series Yet!
Maxlite 5 is Travelpro's lightest suitcases yet.
Why is the weight of the suitcase so important? It's a lot easier to drag behind you for long hauls, but it also means you can also pack more (a.k.a. less suitcase weight means more clothes!).
The maxlite 5 series has hard shell and soft shell options. I'm always a fan of soft shell suitcases because they tend to have several pockets for better organization. I like being able to separate my belongings a little bit. And the hard shell suitcases are typically on the heavier side.
Buy Travelpro Maxlite 5 Series On Amazon
Bright Interior Fabric Makes It Easy To See Everything
This might sound like a silly thing to look for in a suitcase but it can make a huge difference. The colour of the material inside each suitcase is a light blue pattern. Having a light colour interior makes it really easy to see everything you packed even if you don't have the best lighting.
If you pack using packing cubes, it becomes a bit less of an issue as the cubes are usually large. But not everything fits in a cube all the time. If the interior is a black fabric is makes everything darker, and can make things harder to see and find. Imagine trying to find something you packed in a black hole? Almost impossible!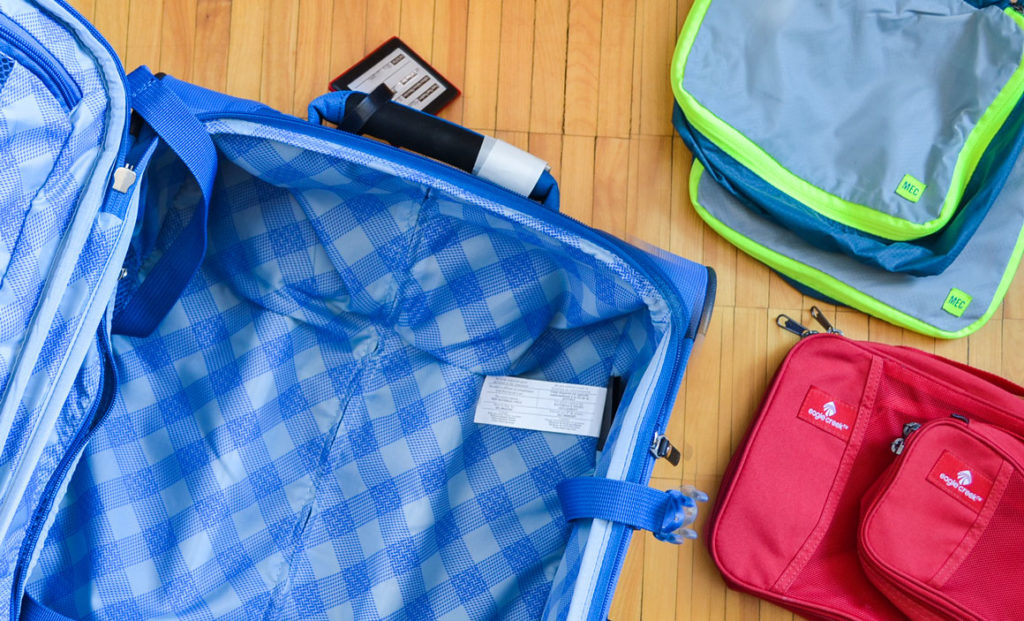 The Chosen Brand
By Flight Crew
Now I'm not sure how credible this stat is, but I still think it's very interesting. When I suitcase shopping I went to my local luggage store where the shop owner told me that Travelpro was the chosen brand for flight crew.
If that doesn't say a lot about this brands quality I don't know what does! I mean, it's the chosen brand for people in the travel industry. They probably use their suitcase the most out of anyone and they're choosing to buy Travelpro. There has to be a reason for that!
Plan the ultimate vacation
My digital travel planner template has everything you need to plan your vacation: research templates, travel planner itinerary, travel budget templates…etc. . You can print it out or use it digitally on your phone, tablet, or computer.
Bonus! Travelpro Maxlite 5 Comes In Fun Colours
You want your suitcase to stand out, especially if you're travelling by plane, to spot your suitcase from a mile away. I mean, you part with your suitcase so many times while flying. You leave it at security, you might be checking it, or even if it's a carryon you might have to store it further on the plane from where you're sitting. The point is you want a bright and different colour to be able to easily identify and spot your suitcase!  
There are way too many black suitcases out there. Travelpro Maxlite 5 comes in an array of colours you can choose from. They sell it in blue, pink, and khaki green, but don't worry it also comes in black if you aren't ready for the change.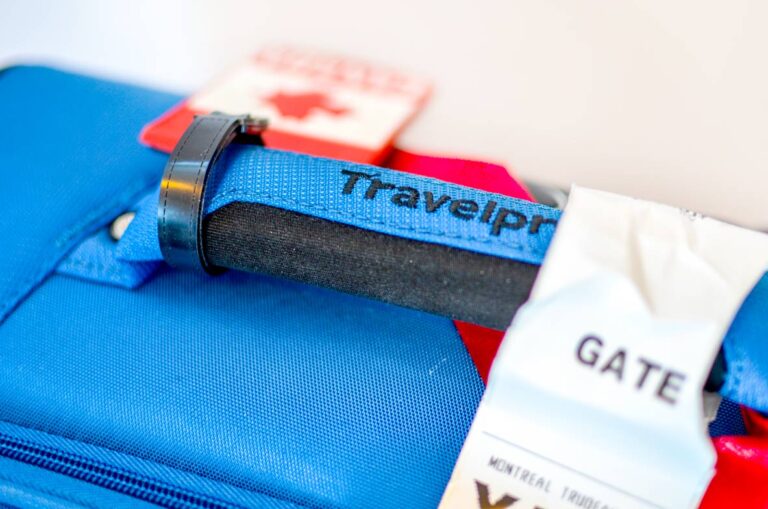 Which Travelpro Maxlite 5 Suitcase Is For You?
As I mentioned, there are several different suitcases to choose from in the Maxlite 5 series. The one you choose will definitely depend on what you need the suitcase for.
Looking for a carryon suitcase? Skip ahead to why I LOVE my Travelpro carryon suitcase.
The Tote & Under Seat Luggage For Shorter Getaways
If you're looking for a small suitcase for short getaways you'll want to look at their travel soft tote and the rolling tote.
The soft travel tote is ideal for short trips and car travel. It's lightweight, and easy to pack in (with a separate shoe compartment!). It also make a great add on suitcase to any trip, with a rear strap to attach it to extended luggage handles. It's sold on Amazon, you can see colour options here.
The rolling tote is really ideal if you're planning on using it on the plane – it's small enough to fit under your seat but you don't have to carry it throughout the airport – which can be quite tiring.It's sold on Amazon, you can see prices here.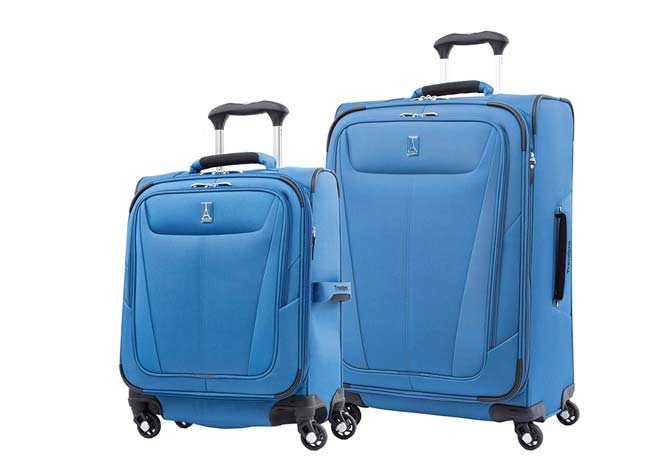 Travelpro Carryon Suitcases
There are two Maxlite 5 carryon suitcases you can choose from: the 19″ spinner or Travelpro Maxlite 5 20″ rollaboard.
I LOVE my Travelpro Maxlite 5 20″ carryon suitcase!
Travelpro Makes One Of The Only Expandable Suitcases
My old carryon suitcases, were all expandable. We didn't have one that wasn't. Needless to say that having an expandable is another necessity for me. It means I have a bit more wiggle room incase I can't pack as tightly on the way home, or I buy a ton of souvenirs (which is more likely than not!).  
When I was shopping around for a new suitcase, I was shocked by my lack of expandable options. The Travelpro Maxlite 5 carryon suitcase doesn't expand as much as my old carryons from them did, but at least it expands a bit.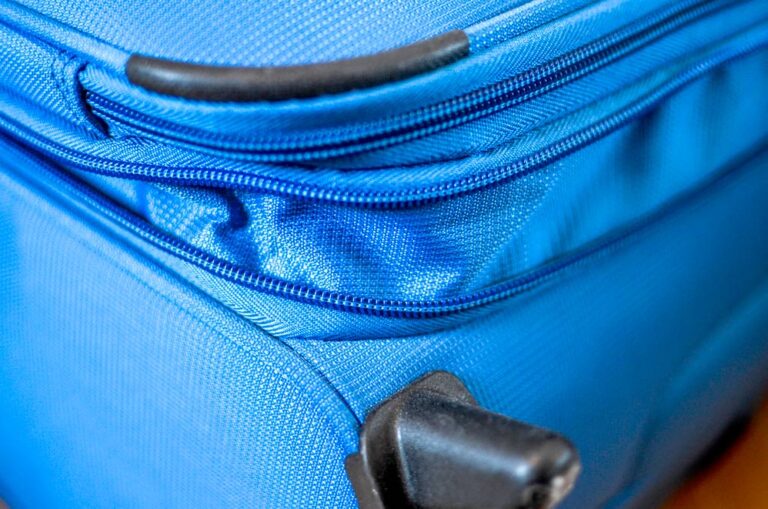 Only Carryon With 2 Wheels!
Not only is it one of the limited expandable carryons, it's also one of the only 2-wheeled carryons. I like 2 wheel 'rollaboard' over 4 wheel 'spinners' for several reasons. Mainly, they're just more durable!
The spinner is constructed with the wheels sticking out of the suitcase. This makes them more susceptible to break off during travel. It's also sneaky, but you end up with more packing space with rollaboards vs. spinners.
The spinners are typically smaller to accommodate for the space to have the wheels. Rollaboard wheels are built into the luggage, I find you end up with more packing space in these. Both options are sold on Amazon. You can find the 19″ Spinner here and the 20″ Rollaboard here.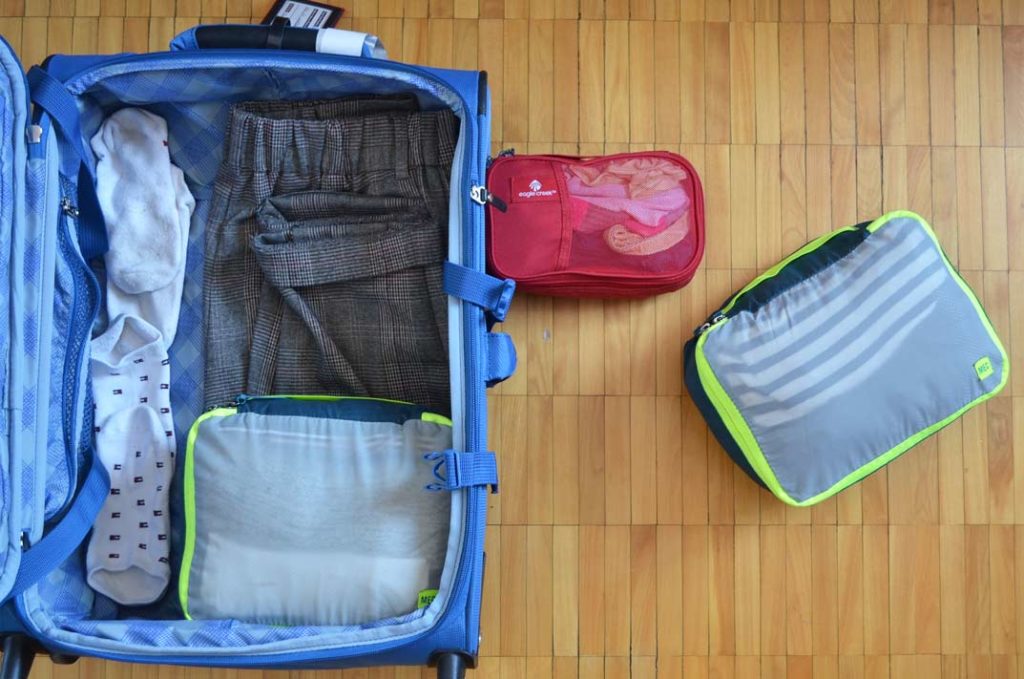 Comparing Travelpro Carryon Suitcase With Popular Leading Brand
I compared the Travelpro Maxlite 5 carryon with a popular hard shell carryon – it's a no brainer which one is better in my mind.
Notice how a hard shell suitcase is heavier, and longer (to accommodate the wheels) and you have less volume/ capacity. Plus, the popular hard shell suitcase is almost double the price for less …
| | | |
| --- | --- | --- |
| | TravelPro Maxlite 5 Carryon | Popular Leading Hard Shell Brand |
| Weight | 5.4 Ibs / 2.4 kg | 3.4 kg |
| Capacity | 45 L | 39.8 L |
| Overall Dimensions: | 21.75 in x 15.75 in x 7.75 in | 21.69 in x 13.7 in x 9 in |
| Price | $164.99 CAD | $295.00 – $325.00 CAD |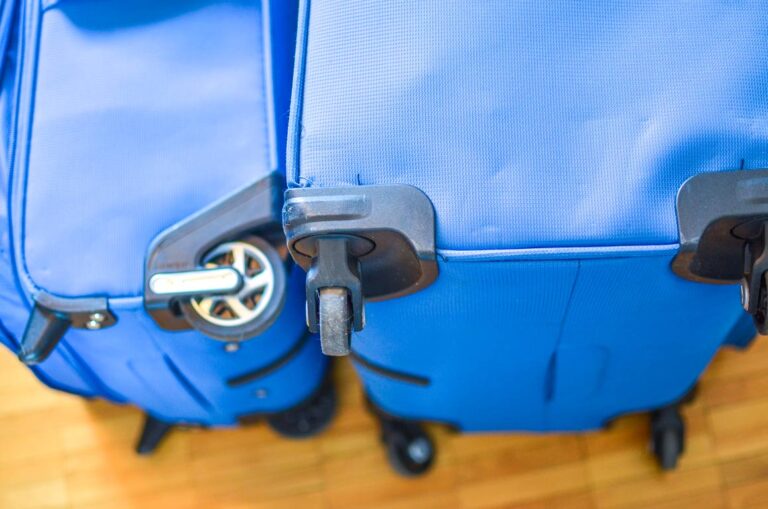 Going A Bit Bigger: Travelpro Maxlite 5 25″ & 26″
The Travelpro Maxlite 5 25″ and 26″ suitcases are ideal for your checked luggage. The difference in size is whether you prefer a rollaboard (2 wheels) or a spinner (4 wheels) suitcase.
The 26″ rollaboard is larger simply because the wheels take up less space outside the suitcase so they're able to make it larger.
As I said, theTravelpro Maxlite 5 25″ and 26″ suitcases are the ideal size for checked luggage. It's perfect if you need more space for longer trips. Both sizes are sold on Amazon. You can see the prices forthe Maxlite 5 25″ Spinner suitcase here and the Maxlite 5 26″ Rollaboard suitcase here.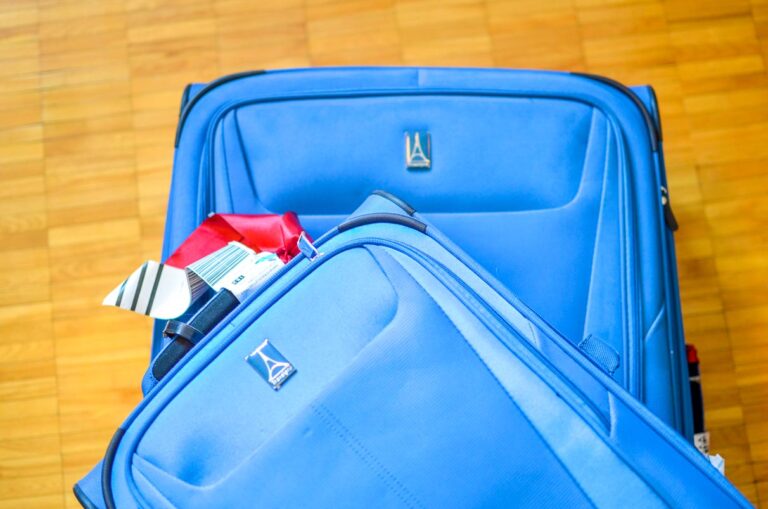 What About The Travelpro Maxlite 5 29″?
The largest suitcase in the Maxlite 5 series is the 29″ Spinner suitcase. I wouldn't recommend buying the 29″ suitcase at all! I have a few issues with the 29″ spinner suitcase, but mainly it comes down to that IT'S JUST TOO BIG!
The 29″ doesn't have a rollaboard equivalent, I have a suspicion it's because it can't be turned on an angle it's so big and heavy.
I bought the 29″ spinner suitcase (well, 2..) for my four months abroad in Europe with my partner. We're not the type to live out of a backpack and I didn't want to be stuck doing laundry every other day, plus I love souvenirs… all that being said, I needed a large suitcase. So the Maxlite 5 29″ seemed like the ultimate size. I didn't think twice about buying it… until the day we left!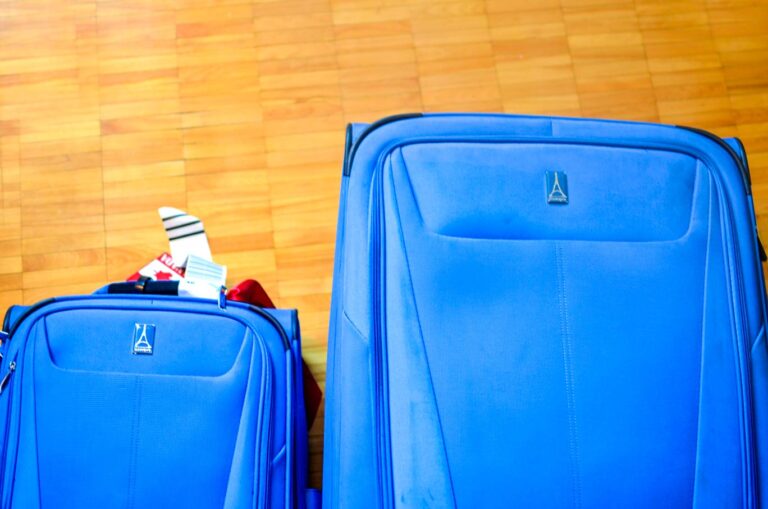 Travelpro Maxlite 5 29″ Spinner Review: Too Big To Fly With
At first glance, the 29″ is AMAZING when you think about how much you can fit. I packed two weeks worth of fall clothing in one suitcase (including several jackets, and a lot of shoes) EASILY. But, then you realize that you can't actually fit that much…
If you're checking your bag, remember the first thing you do when you get to the airpot? Yup, you check in AND weigh your luggage! So although you can fit a lot in terms of space, you can't actually in terms of weight. I ended up having a lot of extra space in my 29″ suitcase, but I had no extra weight. We were also nervous traveling on most airlines about it being oversized.
If we followed the guidelines provided online for each airline, it was in fact always oversized luggage. But in this regard, we were lucky and were never charged because it looked like a normal-shaped suitcase.They only make you bring it to oversize luggage if it's an odd shape.
The other downside is that it's soft shelled. I'm typically a fan of soft shell suitcases over hard shell, but the rule of thumb is to tightly pack your belongings in soft suitcases. If you don't, you risk your suitcase getting damaged en route and your belongings inside getting thrown around EVERYWHERE. Because I didn't have any more weight, I couldn't tightly pack this suitcase at all, it ended up getting a bit destroyed on the flights.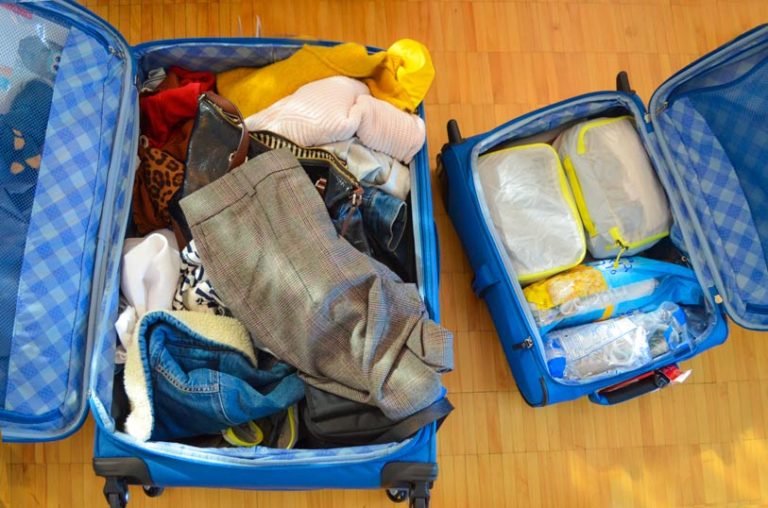 What About Using It For Road Trips?
The reality is that these don't even fit that easily in a normal size car. In fact, it was a struggle getting them to the airport at home, and into every car after that. We didn't run into this issue when we first bought them because we ordered them online. We had to start ordering Uber X (the largest size) just to make sure they would fit. 
We also tried to pack together in one suitcase on our road trip to Prince Edward Island. It took up our entire trunk and it's a HUGE hassle to bring it into your hotel room. I'd make sure that every hotel you're staying at has an elevator otherwise you're in for a real treat.
My partner was stuck carrying this massive load up a narrow staircase. By the end of the trip, we ended up taking out our clothes we needed for that night and packing it in our extra duffel bag, leaving the suitcase in the car.
The Maxlite 5 29″ Has Been Great For Storage…
After all the struggles traveling with this suitcase I've decided that the only thing the MAxlite 5 29″ is good for is storage. But I have to admit, it AMAZING at storage – if you have a place to fit the large suitcase.
Right now I easily store away all my off season clothing and all my travel gear in them. I can even fit extra blankets, or towels … etc.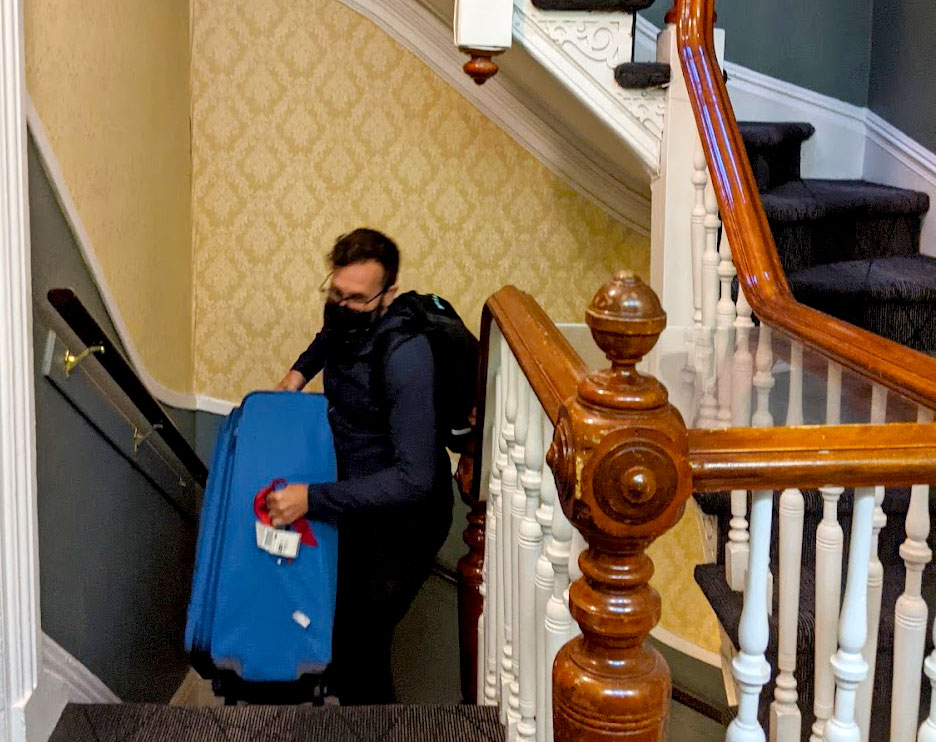 Where To Buy Travelpro Maxlite 5
Buy Travelpro Maxlite 5 Series On Amazon
More Travel Tips!
Share My Travelpro Maxlite 5 Review With Others