Central Coastal Drive PEI: The Top Things To See
The Central Coastal Drive in Prince Edward Island explores, well, the central part of the Island. It's where you'll find PEIs largest city, Charlottetown, the Prince Edward Island National Park, and everything Anne of Green Gables. Don't worry, there's also no shortage of lighthouses either!
It took us several days actually to drive the Central Coastal drive. Even though it's the shortest of the PEI drives, it has the most attractions. I mean, you can spend at least a day in Charlottetown alone!
I'll go over everything there is to do on the Central Coastal drive in a loop starting from Charlottetown.
Psst! This blog post contains affiliate links in it which sends me a bit of extra money if you use them… at no extra cost to you!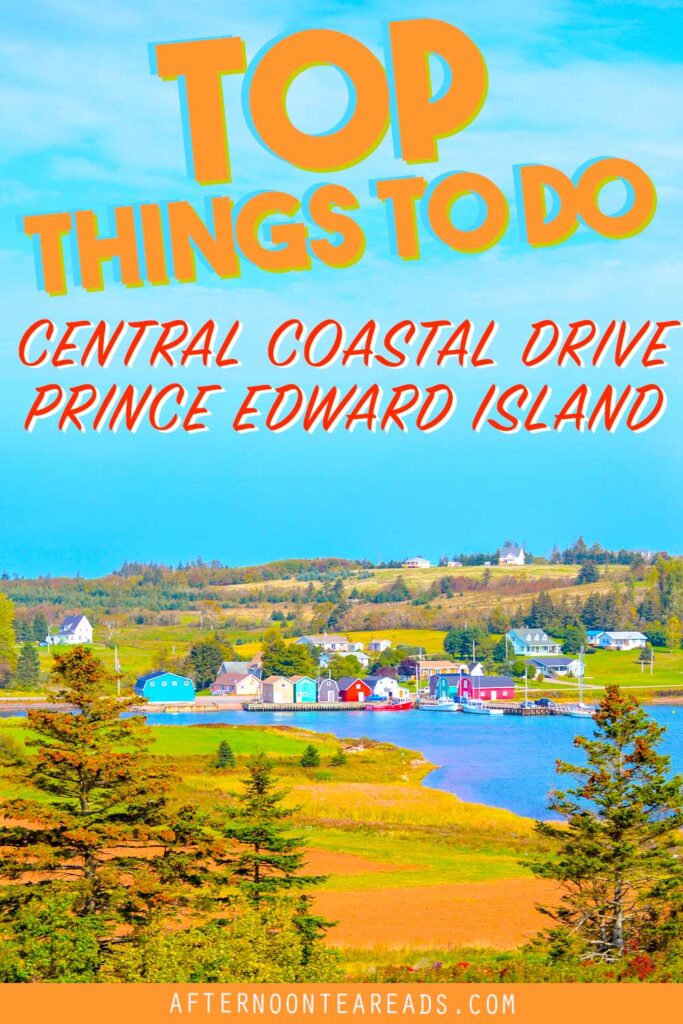 Prince Edward Island Coastal Drives
There are three Prince Edward Island scenic drives that take you all around the Island. The North Cape Coastal drive is the North part, Central Coast is the middle, and Points East is the East end.
There are lighthouses, incredible views, beaches, hikes and so much more on each of these drives. Not to mention the local stores, museums, and restaurants to discover!
You might also be interested in reading…
What To Know About The Central Coastal Drive PEI
If you arrive to Prince Edward Island from the Confederation Bridge, you'll already be on the Central Coastal Drive.
You should spend most of your time on Prince Edward Island exploring the Central Coast. There's definitely the most to do in the smallest area (which means less time wasted driving and more spent on activities!).
The best place to stay if you want to do the Central Coastal drive in multiple days is in Charlottetown. This is the biggest city, and will have the most entertainment and restaurants.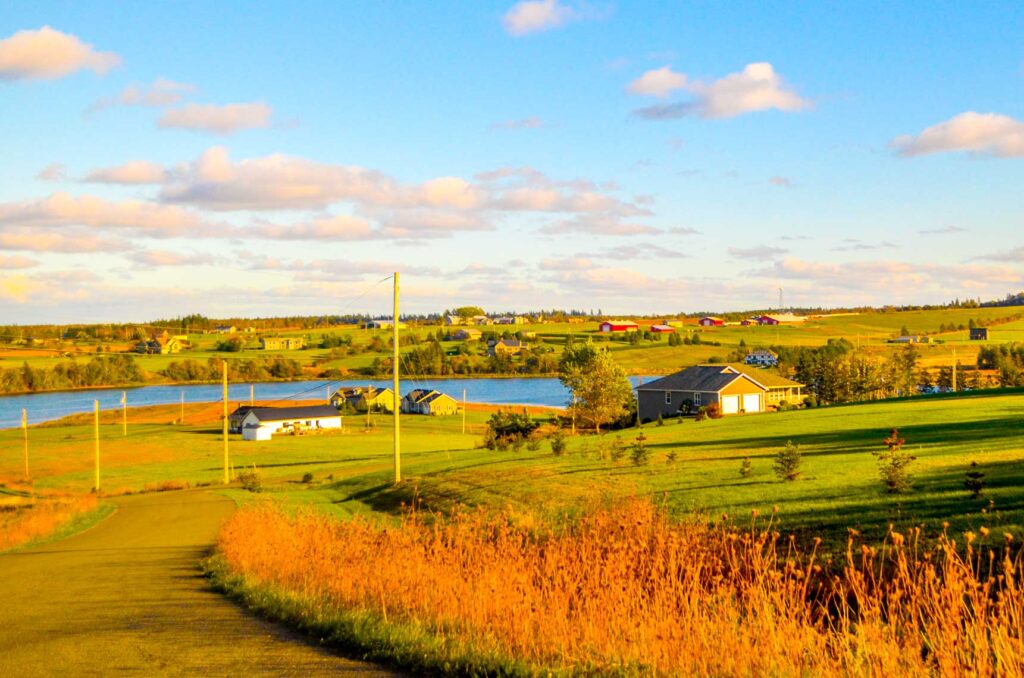 How Long Is The Central Coastal Drive?
The Central Coastal drive is actually the shortest of three Prince Edward Island drives at only 253 km / 155 miles (almost 200 km shorter than Points East Coastal Drive!).
To follow the drive, there are two routes you could follow. There are signs for Anne of Green Gables house, or the image of the red cliffs.
Plan the ultimate vacation
My digital travel planner template has everything you need to plan your vacation: research templates, travel planner itinerary, travel budget templates…etc. . You can print it out or use it digitally on your phone, tablet, or computer.
Can You Do The Drive In One Day?
Depending on what you want to see, you can spend anywhere from a two to three exploring the central coast.
If you're only interested in driving and seeing the sights from the car, then a day is more than enough. But, if you want to enjoy any of the beaches, museums, or hikes, those take a lot of time!
We did the drive in two days, staying in Charlottetown overnight. Because the central coast is so small, Charlottetown is very central and it's more convenient to go back there at night than have to move again.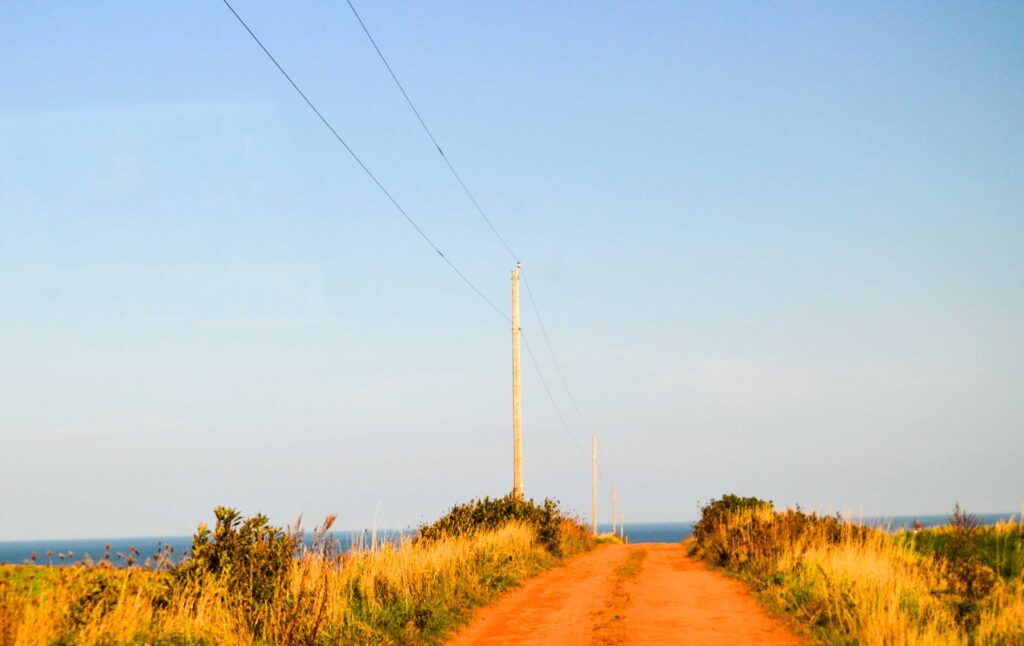 Need A Place To Stay En Route – Central Hotels
This is where you'll find most hotels on the Island becuase, well, it's very central to the rest of the Island.
I recommend staying in Charlottetown, the largest city. We stayed at the Great George and highly recommend it. The boutique hotel just had us wanting more that we even extended our stay there. With freshly made breakfast in the morning and heated bathroom floors. See room rates and availability here.
If you wanted to split up the drive, you could also stay in Summerside, PEIs second largest city. We actually stayed at the Summerside Inn Bed & Breakfast to add a local vibe in a historical house to our stay. See room rates and availability here.
You can also stay in Cavendish, another reasonably central location on the Island and a great place to stay for families. Simply Charming Cottages has space for the entire family and it's in the heart of Cavendish. See room rates and availability here.
For more accommodation options on the Central coastal drive, click here.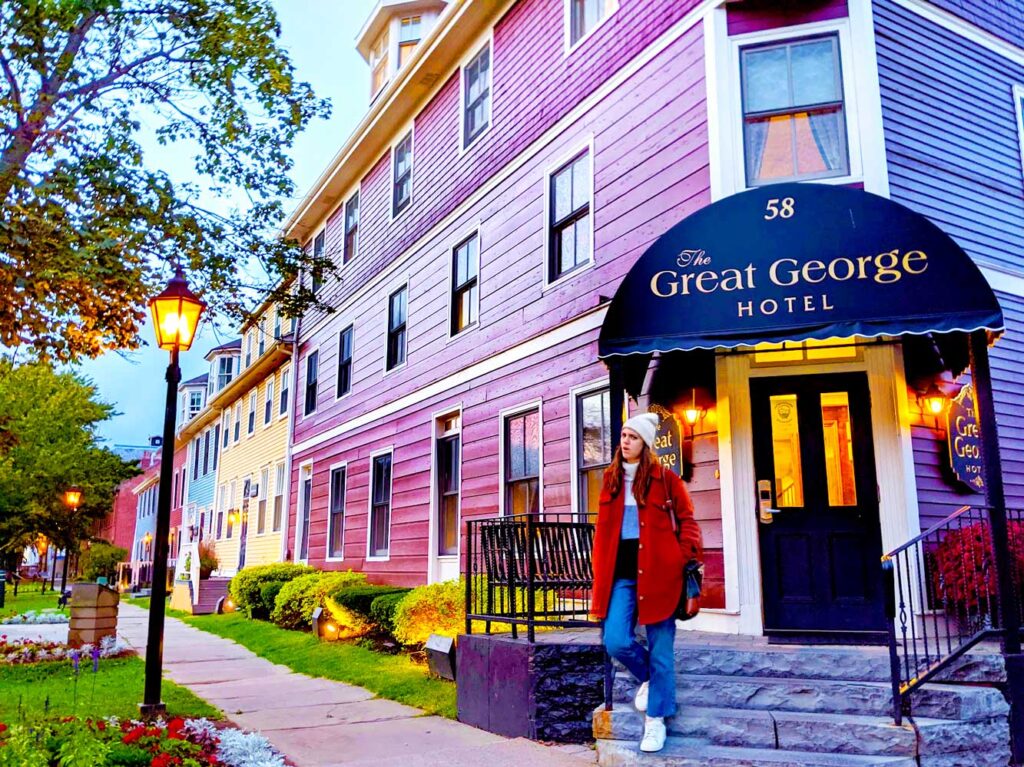 Central Coastal Drive Itinerary
Starting In Charlottetown
Like I said, you could spend at least a day in Charlottetown alone (no seriously, see the top 10 things to do there).
If you have limited time in the city, go on a walking tour (like this one). Walk along Queen Street, Victoria Row, and head down to the Wharf.
You can also go to Brighton Beach on the edge of the city, or you can do that one your way back for sunset!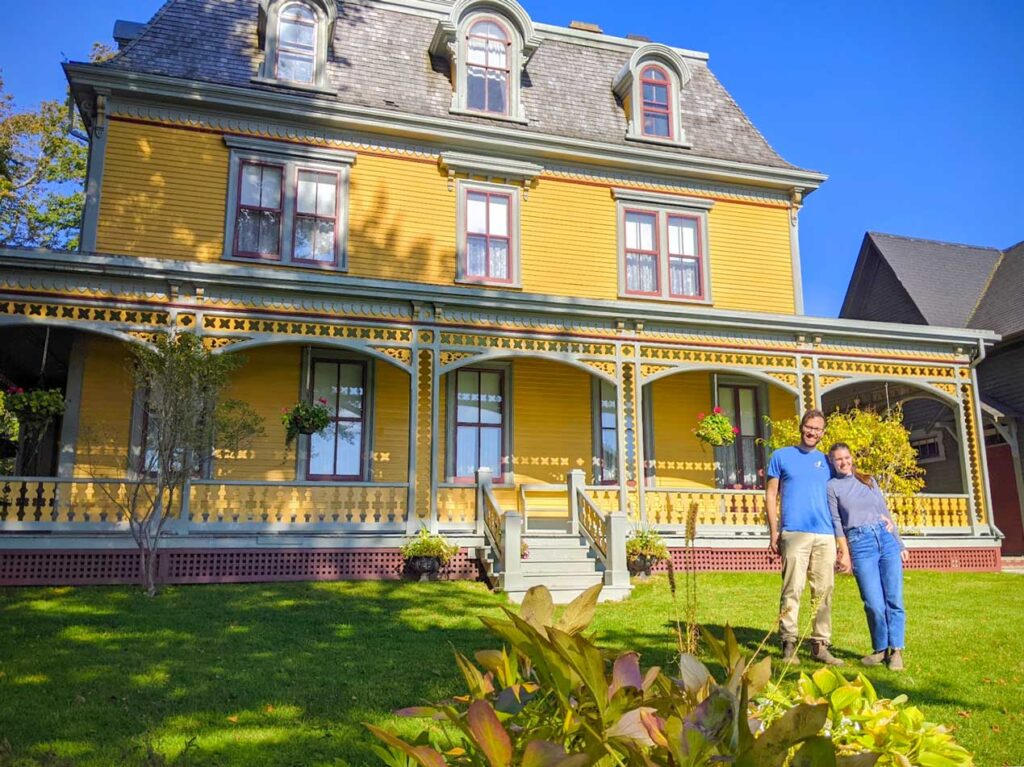 Prince Edward Island National Park (Brackley-Dalvay)
The Prince Edward Island National Park is a HUGE chunk of the Central Coastal Drive. Normal National Parks have you hike or bike to points of interest within the park – not this one! They actually recommend that you DRIVE through most of the National Park. You can still bike it if you want to, but I think walking would take yo WAY too long.
I'd start with the Brackley-Dalvay section of the park. There are a few stops en route to park and snap some pictures. From Charlottetown, I recommend driving to Dalvay-By-The-Sea.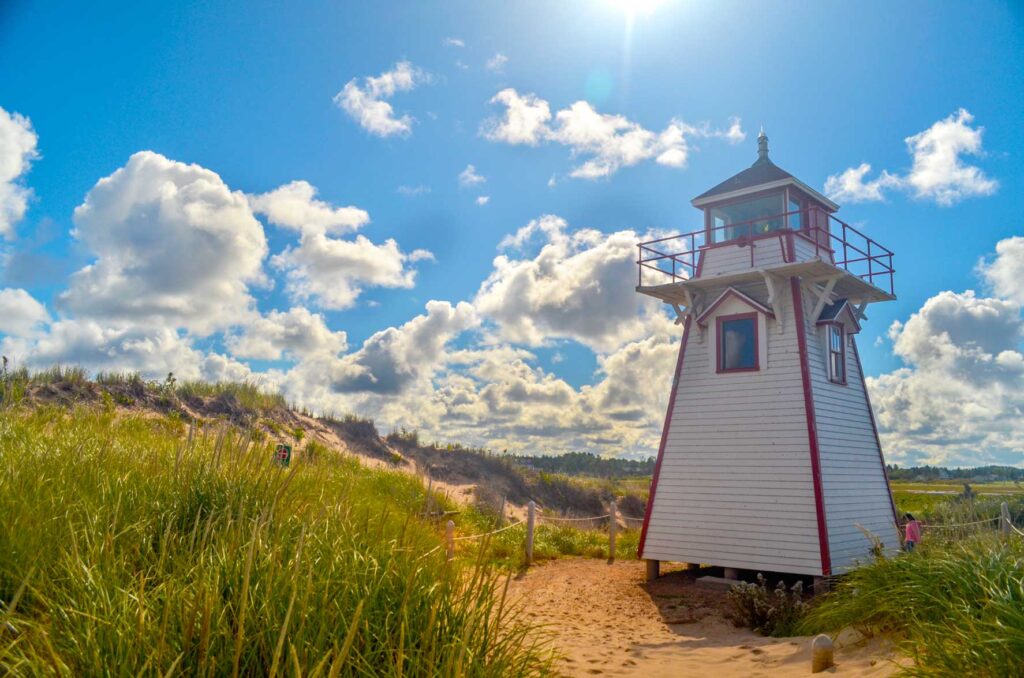 From there, you'll also want to make sure to see the Covehead lighthouse. If you picture a PEI lighthouse, this is THE Lighthouse! You have the ocean, the sand dunes, and red and white lighthouse! It's picture perfect!
If it's nice day, you can opt to just spend the day at the beach or go on a hike in the park. We went to the very end of the National Park to walk the Robinsons Island Trail. You get some stunning views, and a nice shaded walk. Plus, you might even be able to get a private beach here.
On your way out of the National Park, stop at The Dunes Studio Gallery & Cafe. It's a great spot to pick up a local souvenir, or a coffee or snack before the rest of your drive. They have gorgeous gardens to wander through or just look out on while sipping your coffee. But if you can wait, the next stop is also food and souvenir related!
Confused About The Prince Edward Island National Park?
The Prince Edward Island National Park is SO confusing – you're not alone! There is only ONE National Park on Prince Edward Island… it's just in three sections (Brackley-Dalvay, Cavendish-North-Rustico, and Greenwich).
Two out of the three sections are drivable and are a part of the Central Coastal Drive that you'll see today. The third section (Greenwich Dunes) is a part of the Points East Coastal Drive.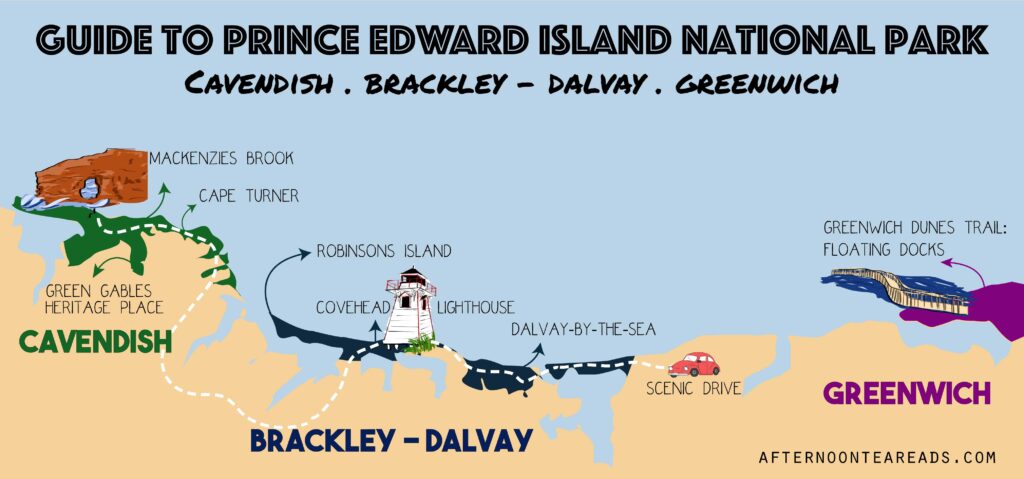 Prince Edward Island Preserve Company
This is THE spot for souvenir shopping in Prince Edward Island and afternoon tea (if you're lucky). Come here to shop local teas, jams, and art (For more inspiration for PEI souvenirs, click here). Then, if you're feeling peckish enjoy some delicious afternoon tea. I was so upset, they had closed for the season a few days before we got to PEI.
The tea room overlooks the gardens (which are free to wander through as well) and the river. I have to say, it's a very peaceful location. Refuel though because we have part two of the Prince Edward Island National Park coming up…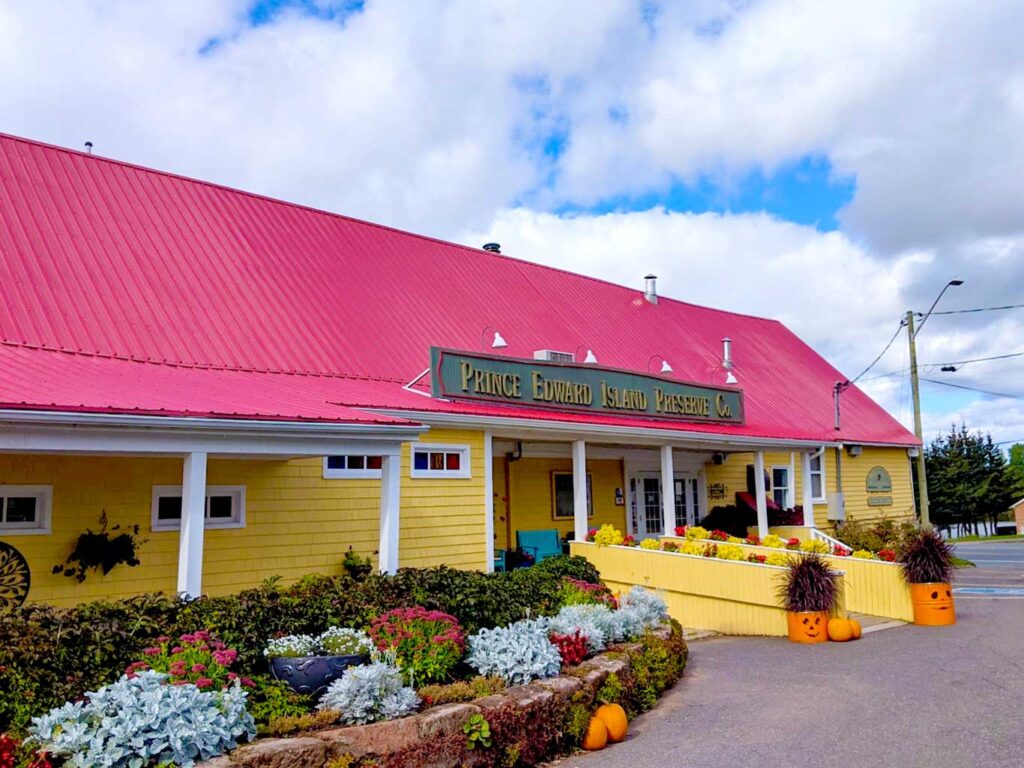 North Rustico Fishing Village
The second part of the Prince Edward Island National Park starts in North Rustico. Before heading into the National Park though, spend some time exploring the fishing village of North Rustico. I'll admit, when we visited, the village was a bit deserted… but I think during high season it's probably very lively.
You'll want to make sure see the North Rustico Harbour as well once you're here. You can walk from the Harbour along the North Rustico Harbour Trail to the fishing village. Although remember, if you walk there, you also have to walk back and it isn't close!
I'd recommend driving about halfway and then walking along the trail to the village. Keep an eye out for the Rustico Fisherman in the water on your walk! In the village, walk to the lighthouse as well.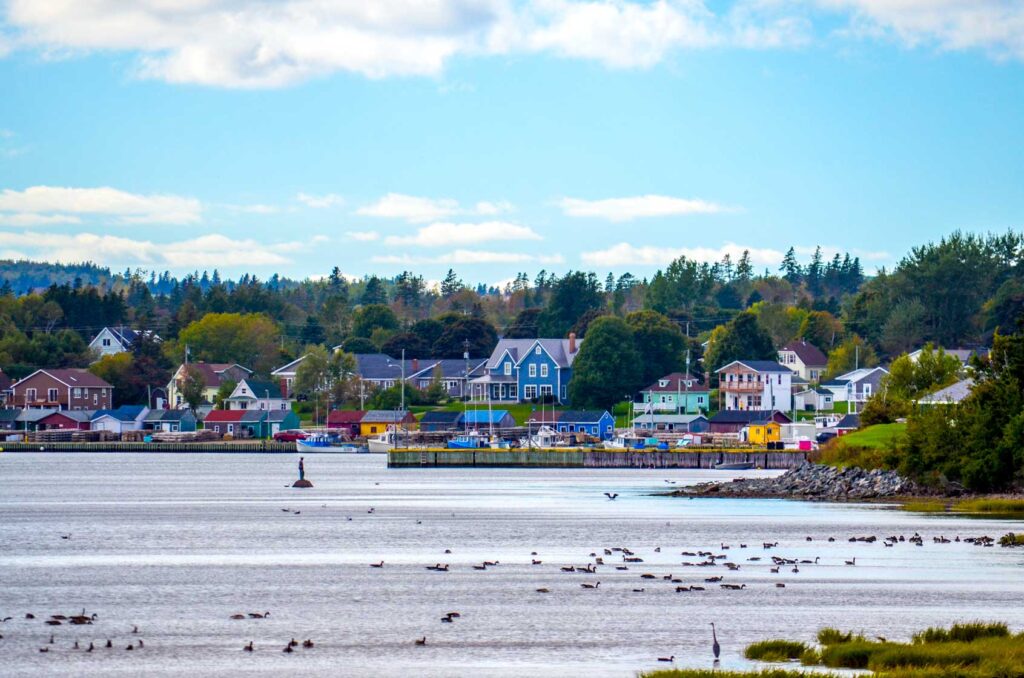 Prince Edward Island National Park (North Rustico-Cavendish)
North Rustico brings you right into the Prince Edward Island National Park. There are a few scenic points to stop on the drive where you'll want to park and get out for some photo opportunities.
From North Rustico, you'll want to stop at Cape Turner, Orby Head, and MacKenzies Brook. These are all look out spots, this section of the park doesn't have any real beaches.
You can walk down to the shore to see MacKenzies Brook, although, do so at your own risk! There are stairs leading you down to the shore but make sure you check the tide that it's low tide.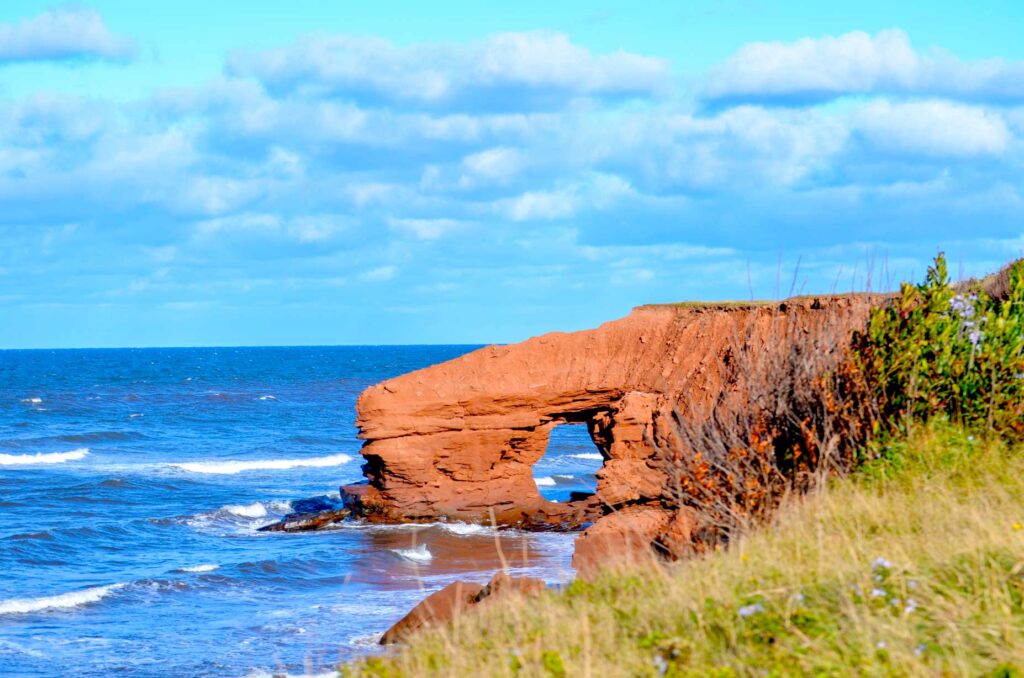 Cavendish
The road will lead you out of the National Park into the town of Cavendish.
This is a very touristy town on Prince Edward Island, and you'll have few options of things to do here.
You can either continue down the road to go back into the Prince Edward Island National Park. Or you can go into the town and check out some Anne of Green Gables and L.M. Montgomery…
Plan the ultimate vacation
My digital travel planner template has everything you need to plan your vacation: research templates, travel planner itinerary, travel budget templates…etc. . You can print it out or use it digitally on your phone, tablet, or computer.
The National Park Cont'd.
If beaches were what you were looking for, this is the section of the park you want. This is Cavendish Beach with ocean waves, a relaxing beach to enjoy, and sand dunes in the background.
Once you're here, you'll also want to check out the floating docks over looking the Lake of Shining Waters. Don't be confused though, this doesn't have anything to do with Anne of Green Gables… you can see the actual inspiration for the novel later on the route.
You can also go hiking in this section (or biking). A popular choice is the Homestead Trail.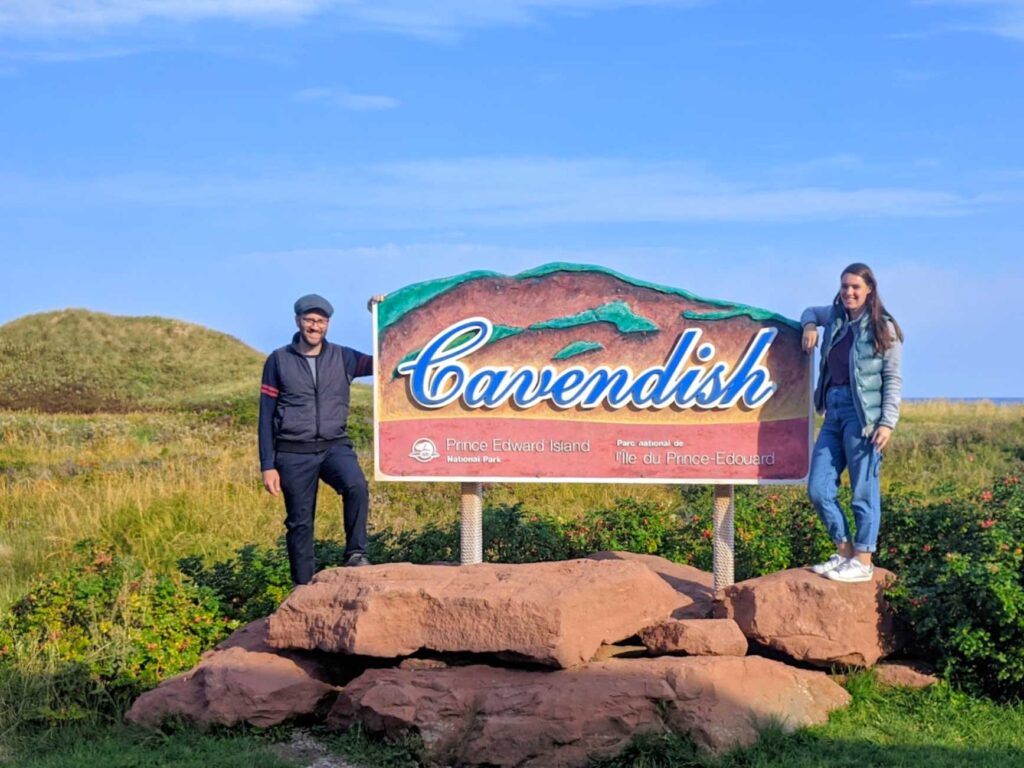 Explore The Town Of Cavendish (Anne Of Green Gables)
The town of Cavendish is really only popular because of Anne of Green Gables. It really isn't much of a town and it's very touristy. While on your Central Coastal Drive, the main site is the Anne of Green Gables Heritage Place.
This is the original farm house of L.M. Montgomery's cousin and was the inspiration for Green Gables. Parks Canada has turned it into the actual Green Gables from the storybook. You can see Anne and Matthew's rooms, walk down the inspiration for Lovers Lane and the Haunted Woods.
Once you're in Cavendish, you can also stop by L.M. Montgomery's grave and her memorial statue in the park across the street from the cemetery. In town, you'll also find the church where she got married and her funeral took place.
If you're travelling with kids, there are a bunch of amusement parks here to enjoy. Or make sure to stop by Avonlea filled with shops and restaurants.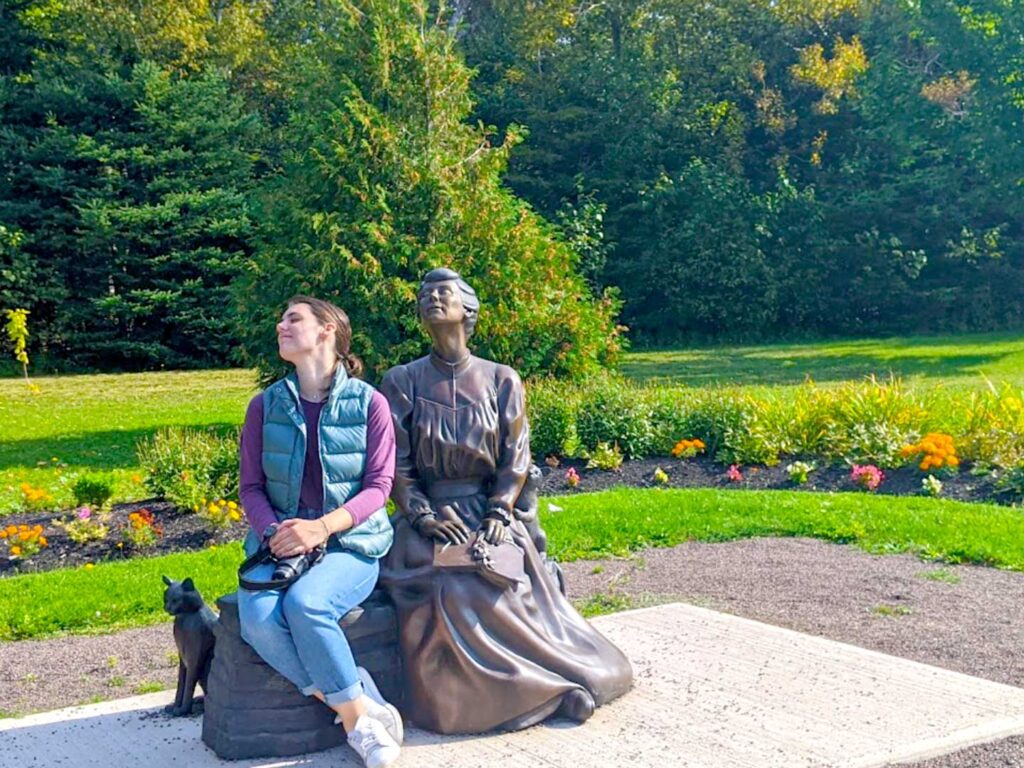 L.M. Montgomery Birthplace
The next few stops are also Anne of Green Gables themed. The L.M. Montgomery birthplace is, of course, where Lucy Maude Montgomery was born. She didn't live here very long before she moved in with her grandparents in Cavendish (her actual childhood home was torn down).
Her birthplace has been turned into a museum dedicated to her life. If you're interested in real life instead of seeing the fictional story, this is the museum for you.
P.S. If you make a stop here (and you're ready for more food) stop at the Blue Winds Tea Room. Of course it was closed when we drove by but I would have killed to enjoy some tea in this adorable blue house!).
Hostetter's Viewscape
This is quite possibly my favourite view in all Prince Edward Island (and that says a lot considering how beautiful the province is).
We almost missed this view because it's easy to drive by right! Thankfully PEI knows the beauty of this view so they've set up a parking lot for you to stop and take it all in. It's a quick pit stop off the side of the road but it's hella worth it!
It looks over the French River harbour (which you'll then drive right by for a close up!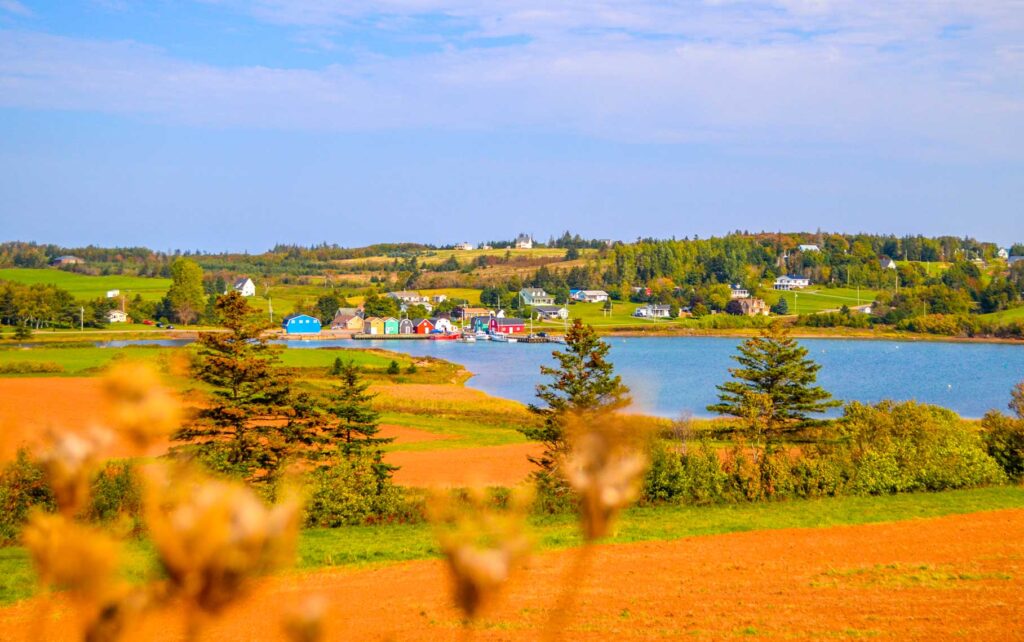 New London Lighthouse
I know what you were thinking, it's been way too long since you've seen a lighthouse on the Central Coastal Drive. Thankfully PEI has you covered, and you never go too long without one!
The New London Lighthouse is en route to your next destination so it isn't out of your way to get too (or on any terrifying roads to drive on!)
I really like the New London Lighthouse because it offers such a different landscape than the other lighthouses on the Island. The foreground is filled with wheat grass and you can barely make out the river in the background (almost makes you wonder why there's even a lighthouse here in the first place!).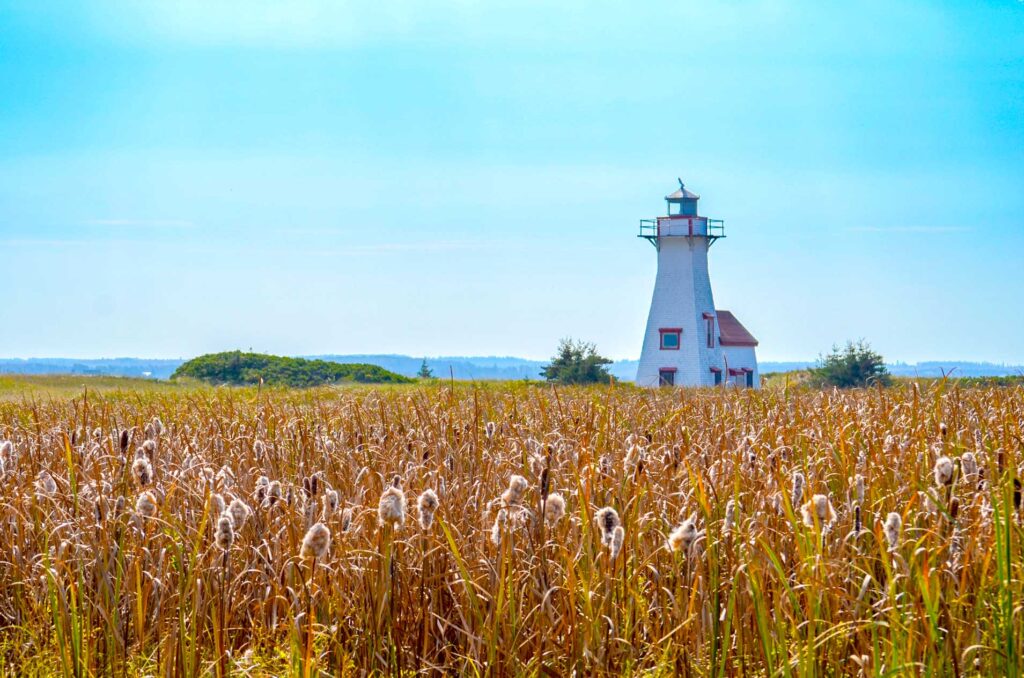 Cape Tryon
There haven't been any lighthouses for a while so now you need two in a row! Although, I might recommend against visiting Cape Tryon lighthouse…
This one is definitely less than ideal to get to, let's just say you feel like you're driving off the edge of a cliff… So the views are both terrifying and amazing.
The only thing, if you're driving in a Sedan, avoid this lighthouse at all costs. We made it down in our rugged Subaru Crosstrek, and boy was it a trek! You're driving on a two way – one lane red dirt road, with A LOT of holes in it! Let's just say it was a bumpy ride to say the least!
But once we made it there, I didn't want to leave!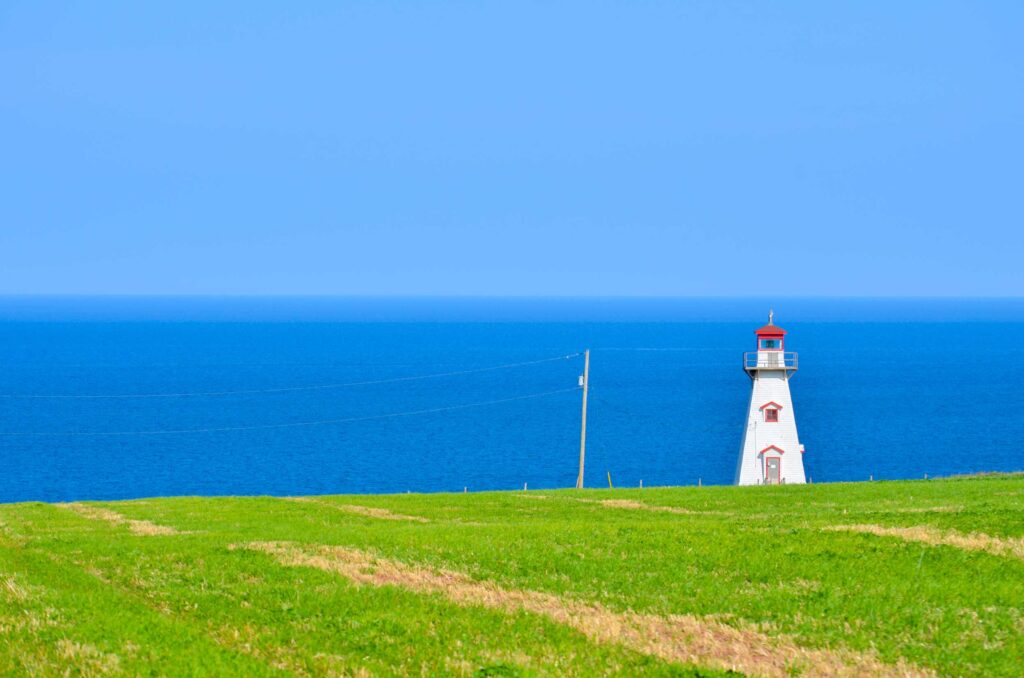 Anne of Green Gables Museum
Didn't I say it's an Anne of Green Gable day! The Anne of Green Gables Museum is a mix between real life and fiction.
The museum is set up at Silver Bush farms – the Campbell family farm and Montgomery's cousin. She often visited and said this was her favourite place in PEI. So, it's no surprise that she drew a lot of inspiration from it. In fact, this is the true inspiration for the Lake of Shining waters!
Like is said, Silver Bush farm is a good mix of both fact and storybook. You can learn some more about the author, but then you can go on Matthews Hay Ride!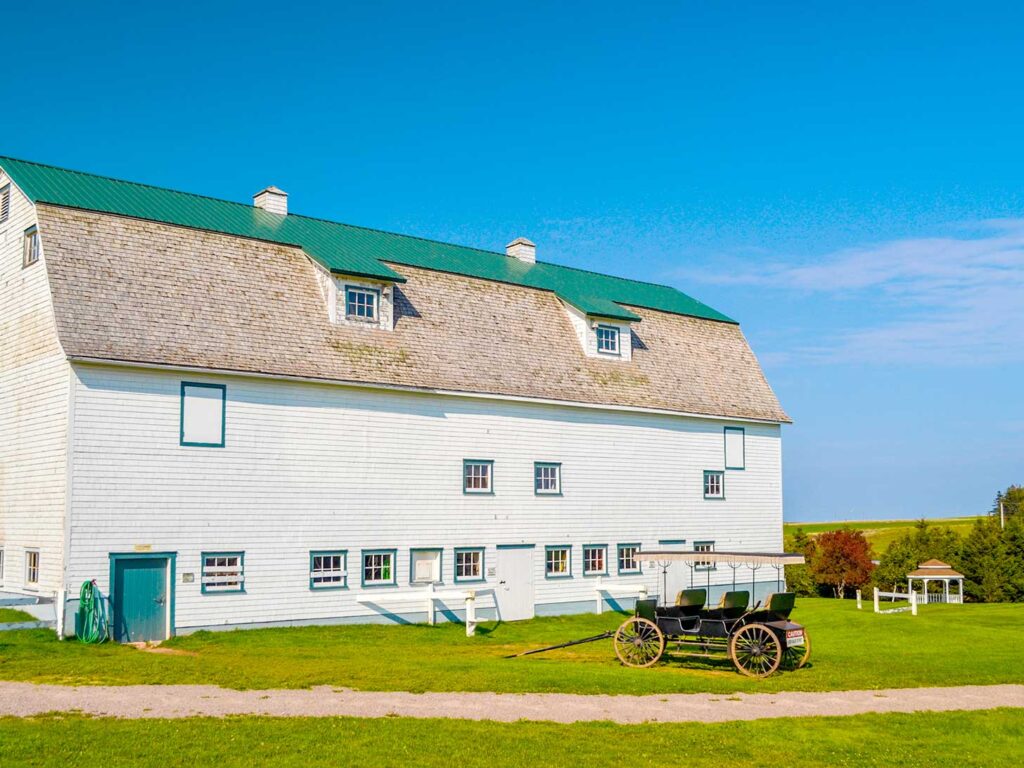 Thunder Cove Beach & Teacup Rock
If you didn't stop at the beach before, maybe you'll want to take a break now because it's another beach stop (although I wouldn't necessarily recommend this one!).
Thunder Cover Beach is a very nice beach to relax on … although just a bit hard to get to. That's because most of the access points to the shore are down steep red cliffs. There's one small path that you can use that everyone seems to use to access the beach, and it still isn't the best.
The main attraction ta the beach though is Teacup Rock. A rock formation that well, looks like a teacup. But there's another catch! If you thought the beach was hard to reach, Teacup Rock is worse. It's about a 15 minute walk along the shore and then across some slippery rocks before finally reaching Teacup Rock.
If you do happen to go, just check the times of the tide beforehand to plan it for low tide.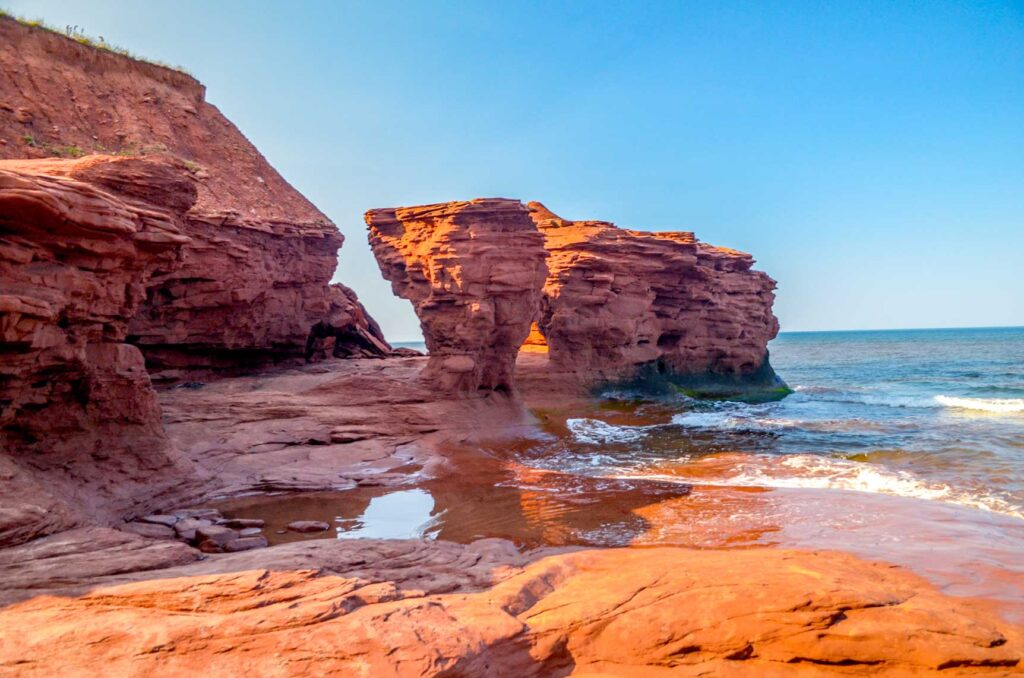 Kensington
Kensington is a small quaint Central town, so that means it isn't a fishing village! But, there are a few gems to discover in town.
I would primary stop here to check out the old train station. It has links to L.M. Montgomery and was used as a filming location in the Anne of Green Gables movie.
But, I would come here for a coffee and soup or scone at the The Willow Bakery & Cafe.
If you're interested in spooky things though, you can also check out the famous Haunted Mansion.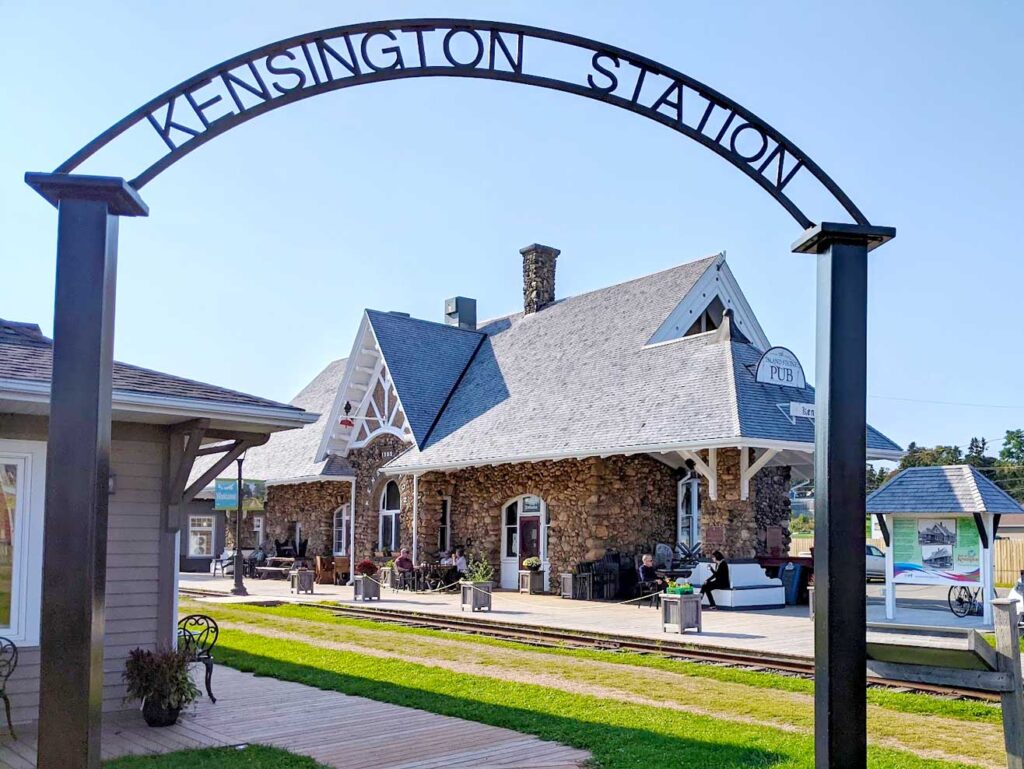 Seacow Head Lighthouse
If you're all about chasing lighthouses on the Central Coastal drive then the Seacow Head Lighthouse is next on the list.
We didn't stop here because it is quite out of the way and there isn't anything else nearby.
Gordon Cove Beach
If the other beaches weren't up to standards, this is your last chance for a beach for the day, and let me tell you, it ain't bad! This beach has the best view of the Confederation bridge disappearing into the distance.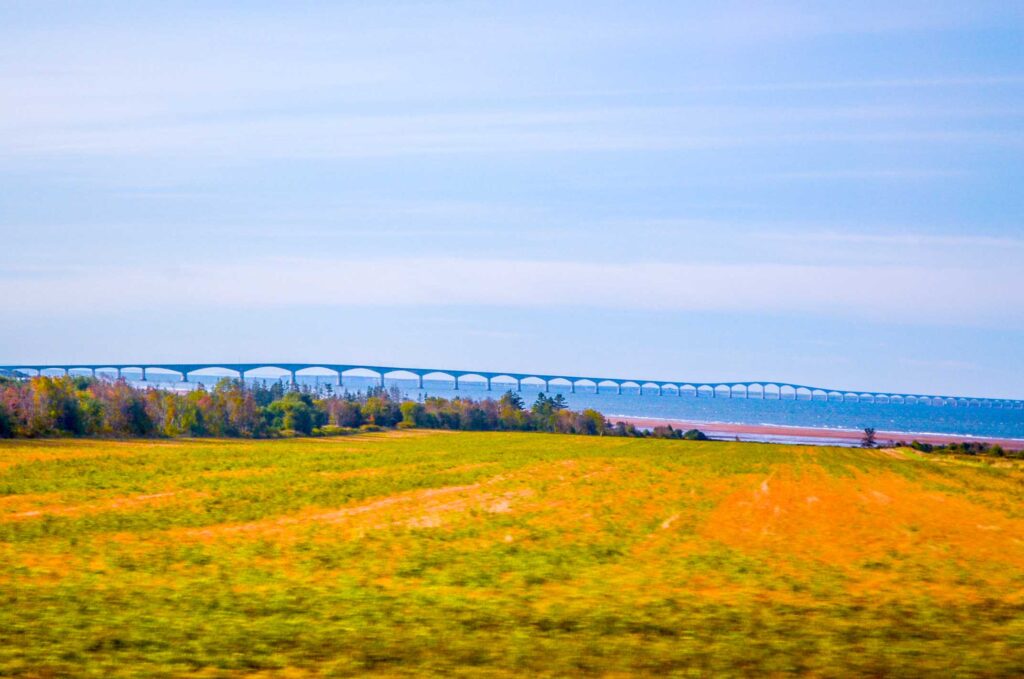 Confederation Bridge & Port Borden Back Range Light
If you drove onto Prince Edward Island, this is where you would have entered – on Confederation Bridge. This is the longest bridge over ice covered waters.
Now it's time to really appreciate the bridge by stopping in Borden-Carleton at the Port Borden Range Lighthouse.
I mean, what's a more typical Prince Edward Island view than this!? Confederation bridge AND a lighthouse!? They also have some picnic tables set up here for a picnic stop!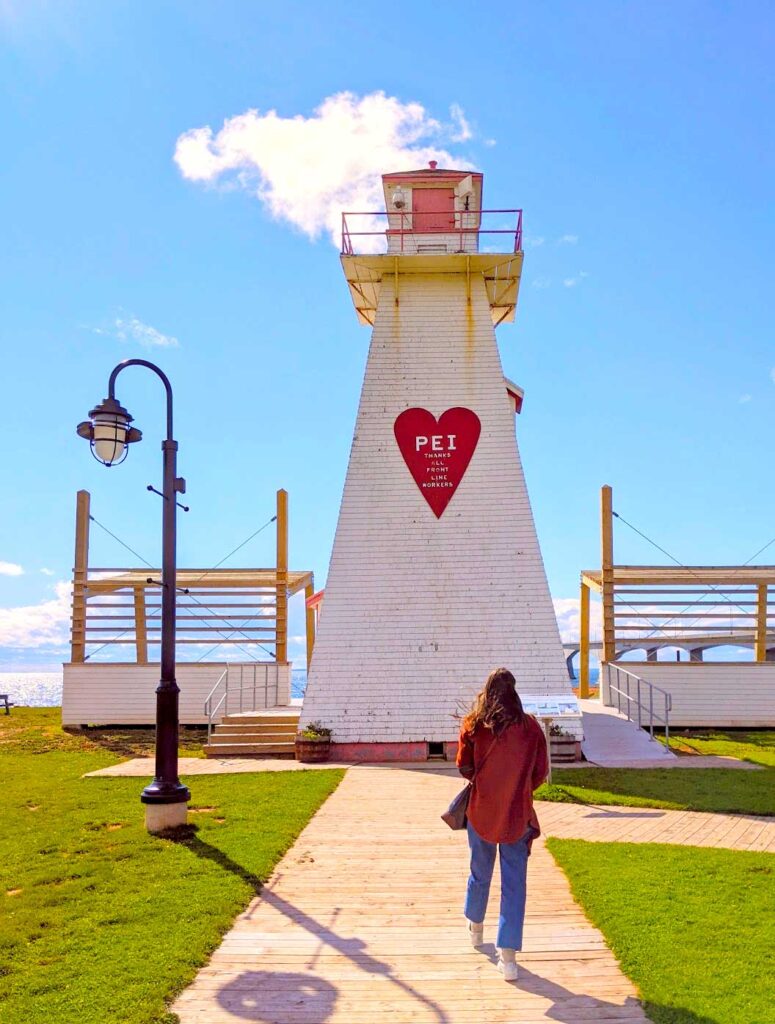 Victoria-by-the-Sea
Victoria is another one of those picturesque fishing villages on the Island. I think this is another one of those cases where it's MUCH livelier in the summer months than when we visited in the fall. So we were kind of disappointed with it. Most of the restaurants were closed, but I will say, I was very happy with our only option for lunch.
We ate on the wharf at Casa Mia, overlooking the water – it was the perfect Welcome to PEI lunch! (plus I would go back for the food alone – delicious and very nice portions!
You can walk around the (very) small town and do some local shopping. Make sure to see the lighthouse (which you can usually go inside and it's a museum).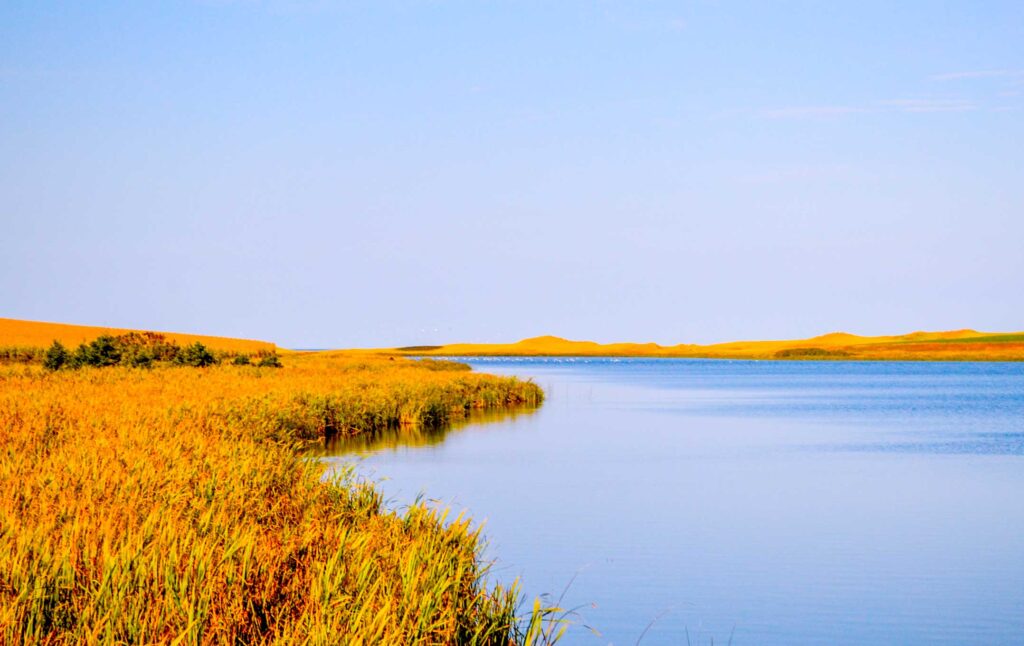 Skmaqn–Port-la-Joye –Fort Amherst National Historic Site
This is one of the most historical places on the Island. The only downside is that it's a bit out of the way if you're heading back to Charlottetown.
This is where the French settled in 1720 and then later deported by the British in 1758. But, today it's commemorated as the place where the Mi'kmaq and French formed an alliance.
You can wander the grounds for free, so bring a picnic and enjoy the views of the Charlottetown port and Brighton Beach. Don't forget to visit Rocky Point and Blockhouse Point Lighthouse.
For more information, click here.
Brighton Beach Boardwalk & Lighthouse
Before heading back to Charlottetown for the night, stop at Brighton Beach. This is the ultimate spot for an evening sunset stroll along the boardwalk.
You'll see the Brighton Beach Lighthouse, the floating dock, and the battery. At the edge of the boardwalk, there's also the Governors House and Beaconsfield House.
You might also be interested in reading…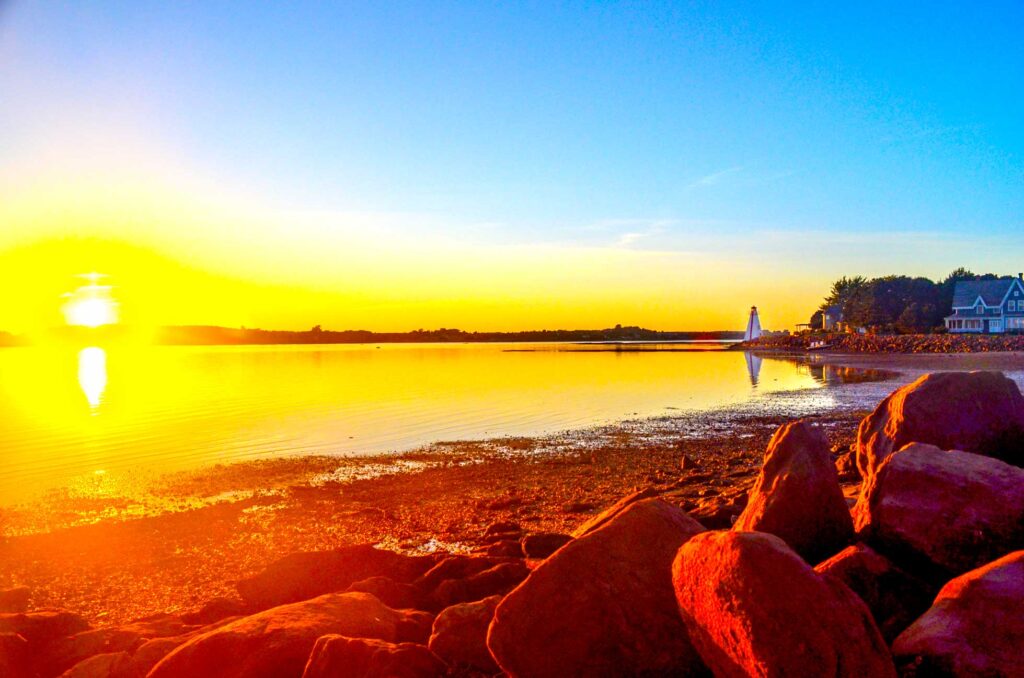 Quick Links – My Amazon Travel Favourites
Related Posts
Click Image to Share Or Save Post For Later