North Cape Coastal Drive PEI: Top Things To See
The North Cape Coastal drive PEI takes you to (you guessed it!) the North of the Island. It's different than both the other Prince Edward Island drives (Points East and Central coast).
The North Cape Coastal Drive really lets you dive in to Acadian culture. On this route is Prince Edward Island's second largest city, Summerside, the Northern most tip of the Island, and one it's most famous Lighthouses!
Psst! This blog post contains affiliate links in it which sends me a bit of extra money if you use them… at no extra cost to you!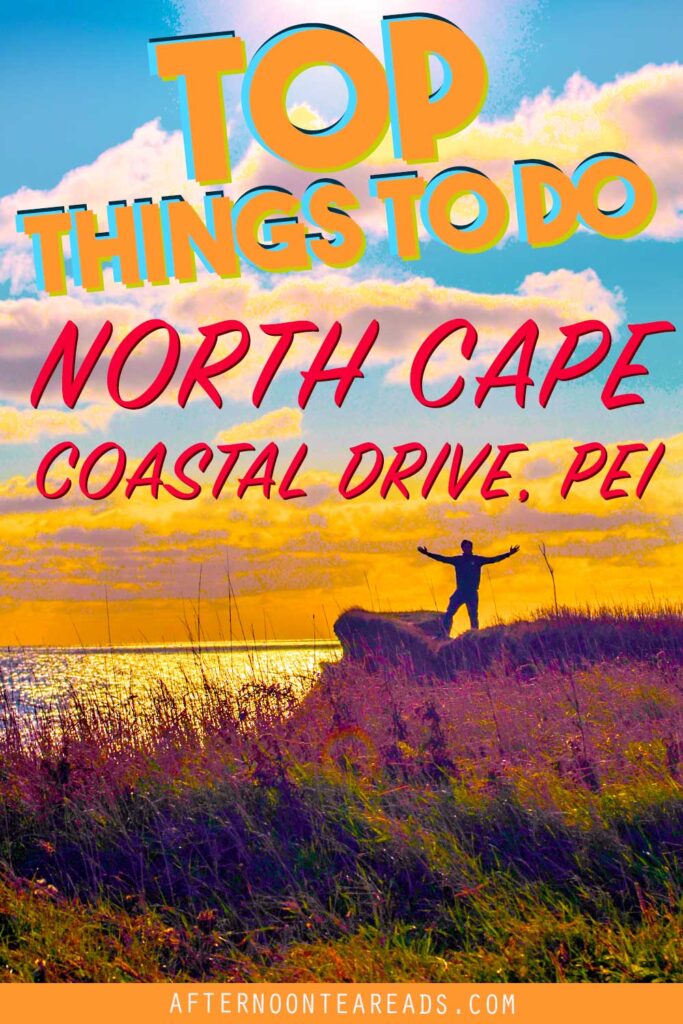 Prince Edward Island Coastal Drives
There are three Prince Edward Island scenic drives that take you all around the Island. The North Cape Coastal drive is the North part, Central Coast is the middle, and Points East is the East end.
There are lighthouses, incredible views, beaches, hikes and so much more on each of these drives. Not to mention the local stores, museums, and restaurants to discover!
You might also be interested in reading…
What To Know About The North Cape Coastal Drive PEI
We had a lot of issues driving the North Cape coastal drive in October. This was the start of low season, so a lot of attractions were closed. The good news is that with most things in PEI, it can mostly be enjoyed from the outside. The main problem was finding a bathroom during our 8 hour day trip…
So, if you're travelling during low season, be aware that a lot of things close on the North Cape. High season is from June to September.
To follow the North Cape Coastal Drive, the sign is a picture of some red cliffs, a lighthouse, and sunset.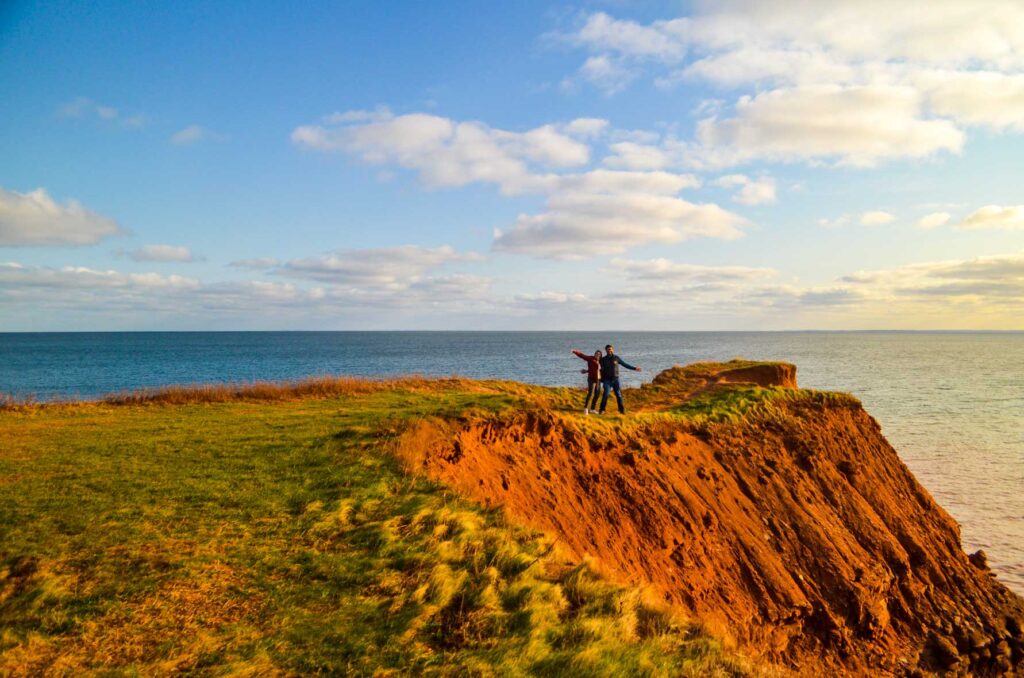 How Long Is The North Cape Coastal Drive?
The entire length of the North Cape Coastal drive is 350 km long (about 215 miles!)! That would take you about 3 hours to drive (not including stops!).
Choosing The Direction Of Your PEI Coastal Drive
The direction of which you start your drive should depend on what your priorities are. If you want to make sure you see a museum in time, start with that… Or if you want to be at a specific location for sunset, start in the opposite direction…etc.
We took a very strange route for our North cape Coastal drive because our main priority for the day was the Canadian Potato Museum. We were visiting on the last day it was open so this was our priority so we made a point to go there first.
Double check opening hours for everything to make sure you can plan the most optimal route for your day!
Choose the route that works best for you!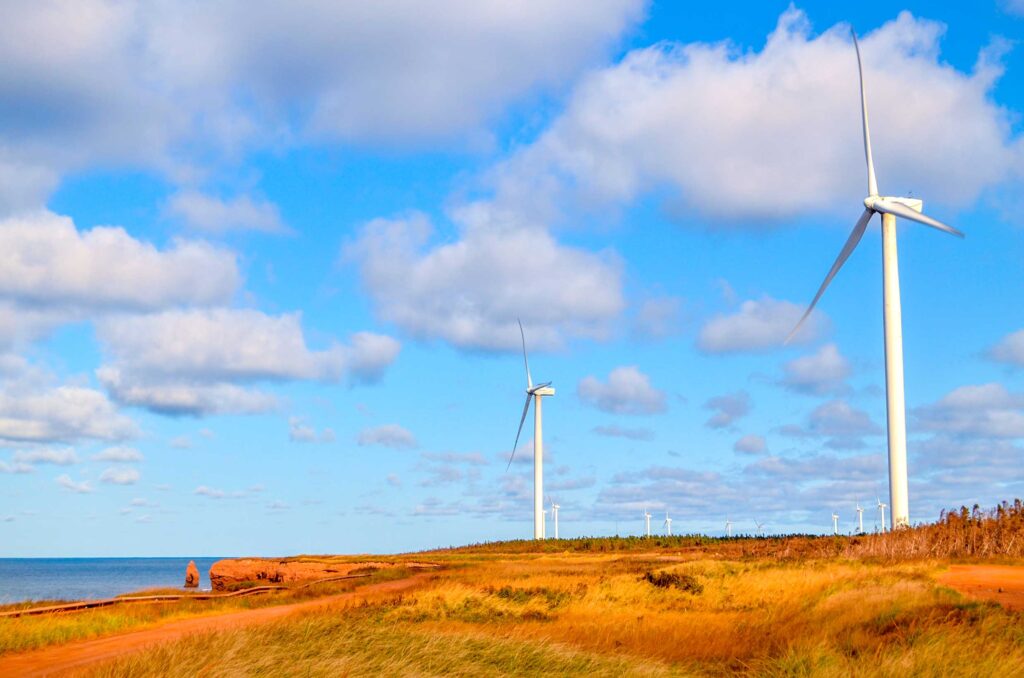 Can You Drive The North Coast PEI In One Day?
We split up the North Cape Coastal drive into two days, just to make it easier for ourselves. And we also didn't spend a lot of time in each stop because, like I said, most things were closed.
It also wasn't beach season when we visited, so we didn't need to spend any time relaxing on the beach either. If you are interested in this, and seeing some more museums, you might want to consider splitting up the drive into three or four days.
Plan the ultimate vacation
My digital travel planner template has everything you need to plan your vacation: research templates, travel planner itinerary, travel budget templates…etc. . You can print it out or use it digitally on your phone, tablet, or computer.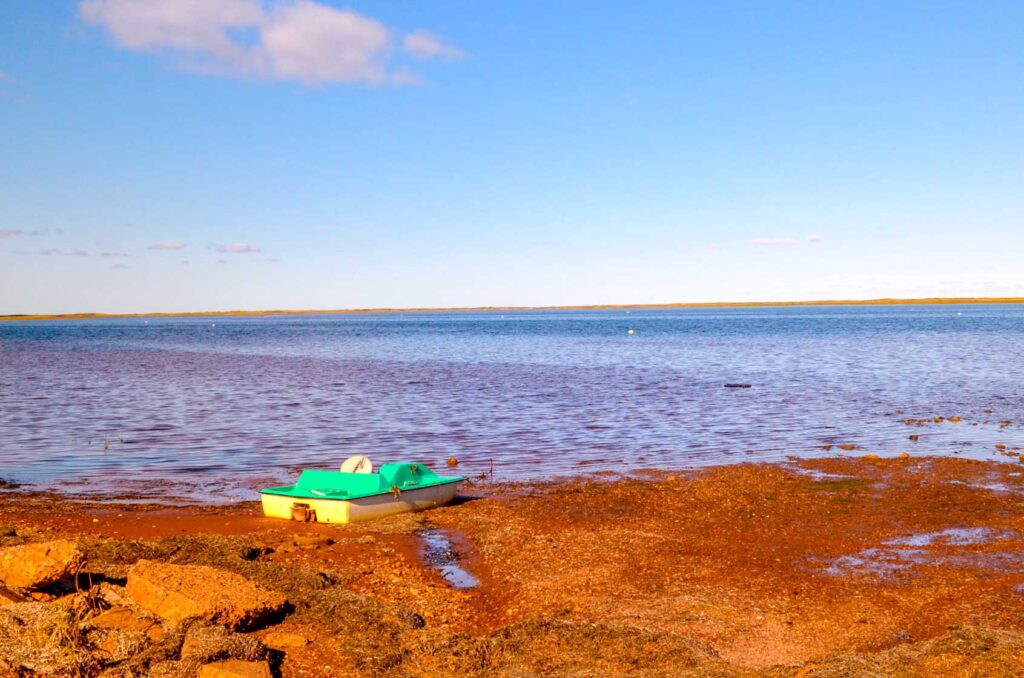 Need A Place To Stay En Route – North Cape Coastal Drive Hotels
We came back and stayed at the Summerside Inn Bed & Breakfast in Summerside and would highly recommend it. It's in a beautifully renovated home with a delightful host. See room rates and availability.
If you want to do the entire North Cape coastal Drive in two days, you don't have too many options for hotels on this part of the Island. Mill River Resort is in O'Leary – a good midway point on the drive. While you're here enjoy the luxuries of the resort – 18-hole golf course, indoor swimming pool, and spa! The only problem – you might never want to leave! See room rates and availability here.
Another option, if you're looking for a truly unique hotel along your drive, book a room at the West Point Lighthouse. Yup! You can stay in a lighthouse for the night. Find more information here.
For more accommodation options in Prince Edward Island, click here.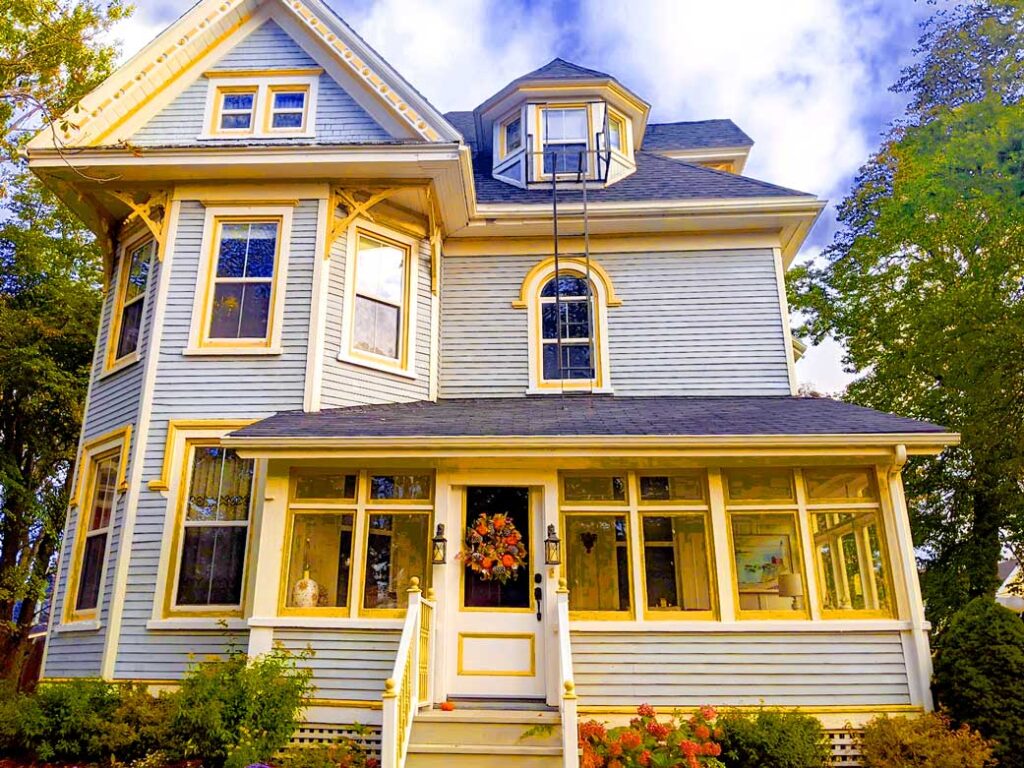 North Cape Coastal Drive Itinerary
Like I said, we split up the North Cape Coastal drive in to two days. The first day we focused on the West side and on the second day we drove straight to the Northern tip and made our way back from there.
Here's the North Cape coastal drive itinerary if you were to do it all in one day.
Starting In Summerside
We did an entire loop, so we started and ended in Summerside. If you aren't staying in Summerside though, make a point to stop here.
You'll want to stop at Spinnmakers Landing, shops and restaurants on a large floating dock! If you have some more time, head up to walk along Water Street, stop for breakfast or a coffee at Samuel's Coffee, before making it to the Boardwalk.
If you continue along the boardwalk, you'll make it to the Sumemrside Lighthouse! See if you can spot the Indian Head Lighthouse in the distance!
If you're pressed for time, you can also just drive to the lighthouse!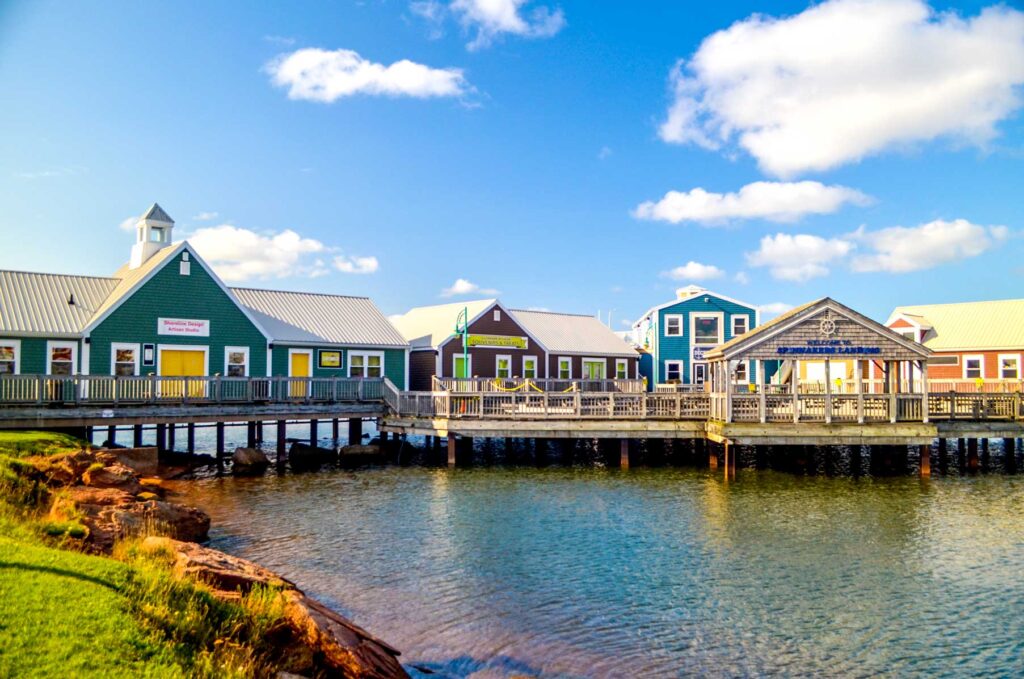 The Acadian Museum
We tried to add in the Acadian Museum to our trip but we found out about it too late, it's just outside Summerside.
If you want to get a well rounded history of the Island, the Acadians are a huge part of its history. The opening hours are a bit odd (closed Saturday and Monday and it's only open in the afternoon on Sunday). Just double check if it's open before you visit!
Bideford Parsonage Museum
The next big stop is the Bideford Parsonage Museum. L.M. Montgomery's first teaching assignment was at the Bideford school from 1894 to 1895. During her time teaching, she lived at the Parsonage.
You can tour this beautiful and historical home that's frozen in time. Find out more information here.
P.S. On Your Prince Edward Island Drive…
Along your route to the Bideford Parsonage Museum is the Tyne Valley cafe. If you happen to be driving by on the weekend (Friday, Saturday, or Sunday), I'd stop here for a light snack and pick me up!
If you aren't interested in either the Acadian Museum or the Bideford Parsonage museum, there's also the PEI Shelfish Museum in the area (more info here!)!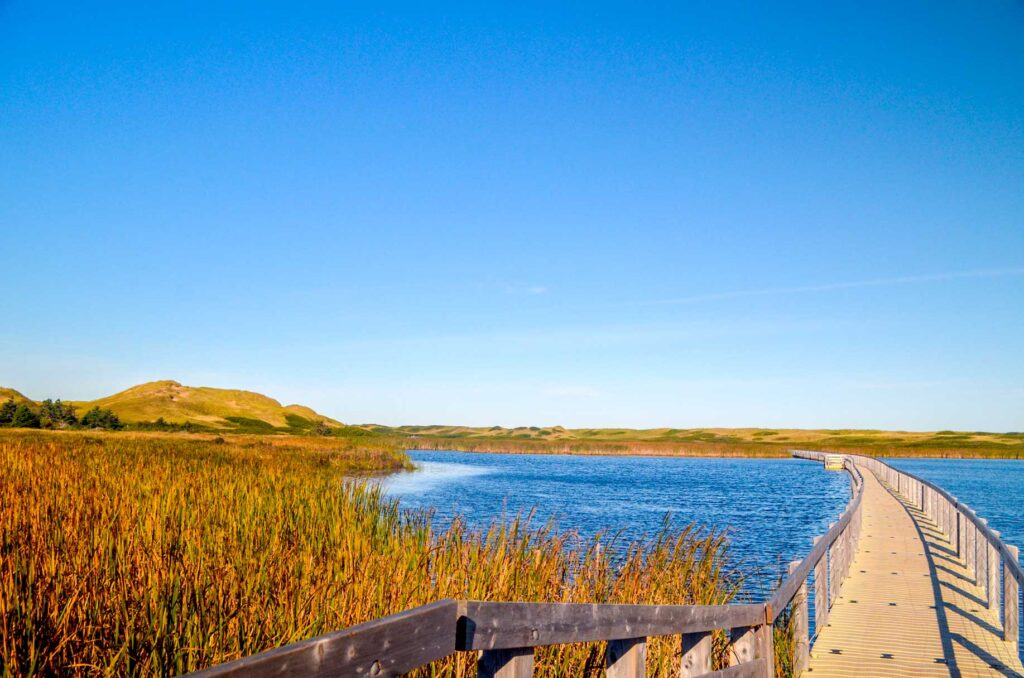 Canadian Potato Museum
This is the only potato museum in the world (and maybe for good reason!). I mean if you're a potato fan, then this is where you need to be!
As a person who admires the convenience of potatoes, it was an interesting museum to go to. As someone who loves going to the strangest themed museums I could find, this was up there on the list!
So needless to say, we made this a priority to go to. Oh and also to get a close up with the giant potato outside the museum!
I'll admit though, considering the subject matter, it's a bit of a long museum… and not really close to anything else on the North Cape Coastal drive itinerary.
If you have some extra time, I would come here, but I wouldn't rush here just for this.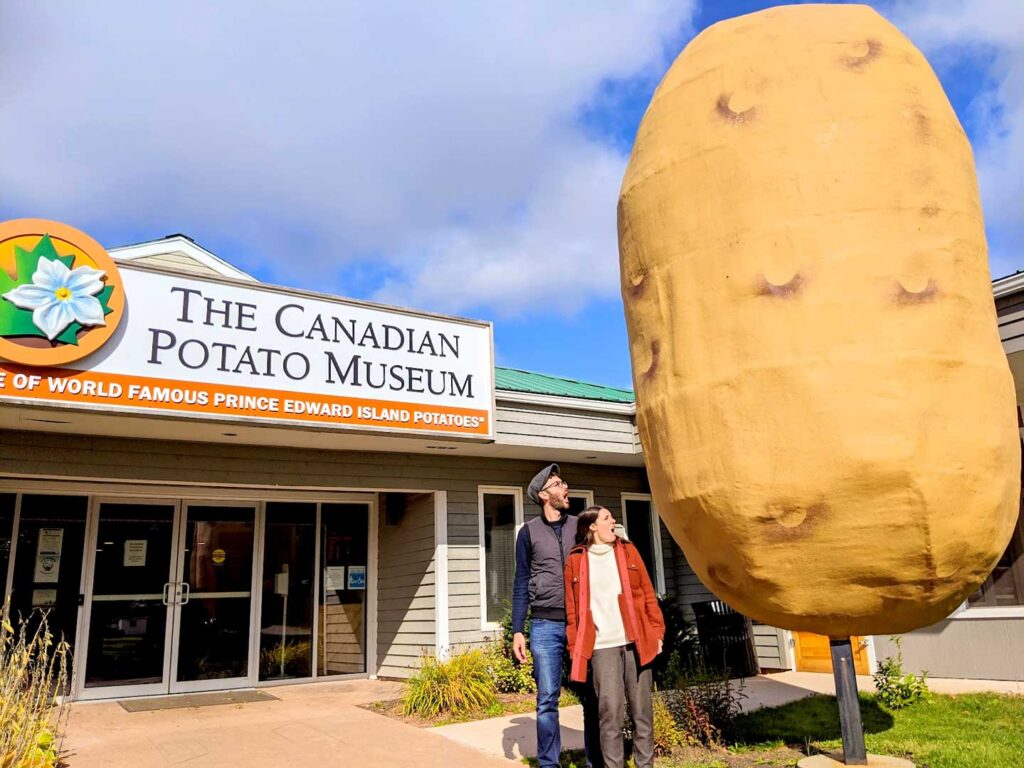 Cascumpeque Lighthouse
The next stop on your North Cape Coastal drive is simply a photo op but it isn't out if your way at all – and it's pretty cool!
Ready to see a floating lighthouse!? Cascumpeque lighthouse is on the sand dune in the river. It's privately owned and the only way to get there is by boat. (Make sure you bring your telephoto lens for this one!).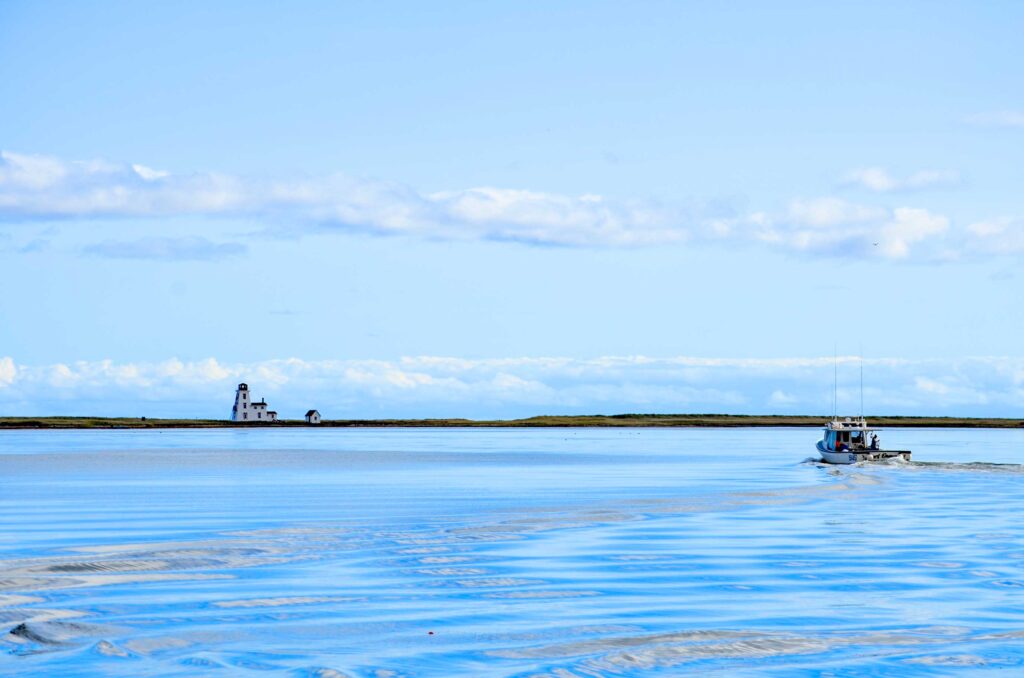 North Cape Hiking Trail, Lighthouse, Interpretive Centre
Now you've finally made it to the edge of the world! The North Cape is the entire point of the North Cape Coastal drive – and they make it worth the drive (at least in the summer months!).
I think if you wanted to, you could spend the entire day here (which is why we originally did the drive in two days!). Obviously, there's a lighthouse to admire and you can walk along the North Cape reef of red rocks!
The North Cape is a must see in PEI, even though it's so far to get to. This is the longest rock reef in Canada, which you can walk out onto during low tide. During high tide though, you can watch the tides of the Gulf of St. Lawrence and the Northumberland Strait crash into each other.
While you're here, visit the wind energy museum, and walk along the hiking trail for even better views. There's even a restaurant here, or pack a picnic lunch to set up.
Unfortunately, everything was closed when we visited….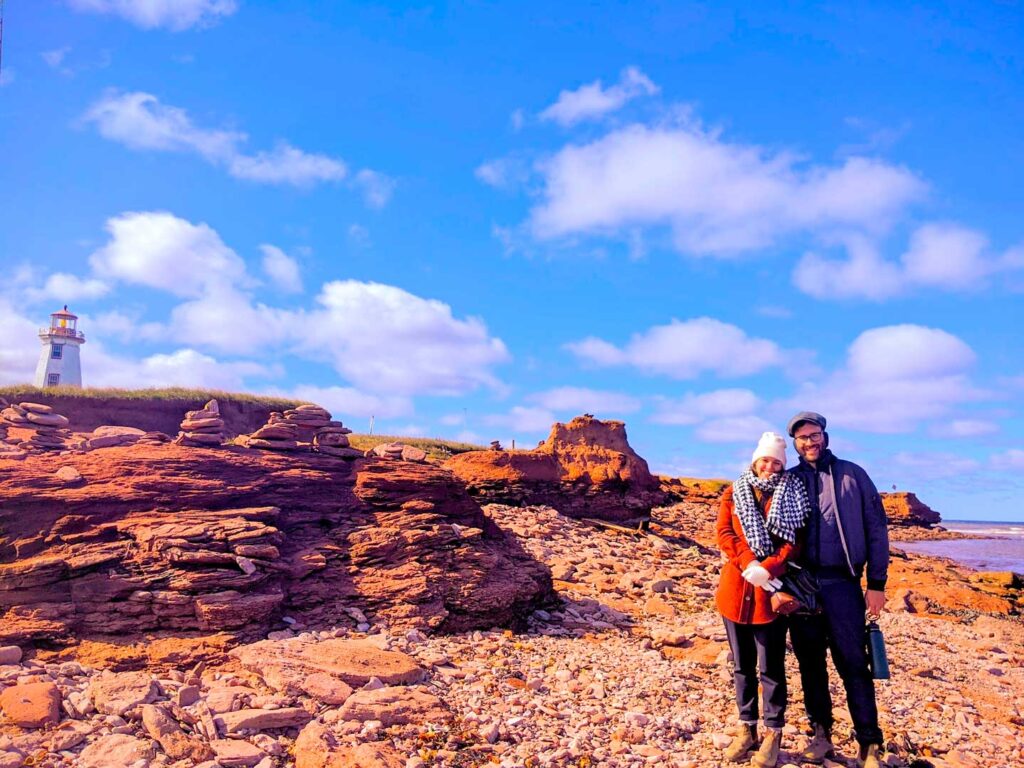 West Point Lighthouse
Next you're driving all the way from North Cape down to West Point Lighthouse. This is a favourite lighthouse on PEI (probably because it differs from the regular red and white paint).
You can actually spend the entire afternoon here during high season as well. The lighthouse and beach are a part of the Cedar Dunes provincial park where you can sit and enjoy some beach vibes with a view!
If you're looking for a place to stay on your the North Cape coastal drive this is the spot! You can either book a campground at the Cedar Dunes provincial park, or a room in the lighthouse!
During high season, the lighthouse is also home to a museum about lighthouses that you can peruse.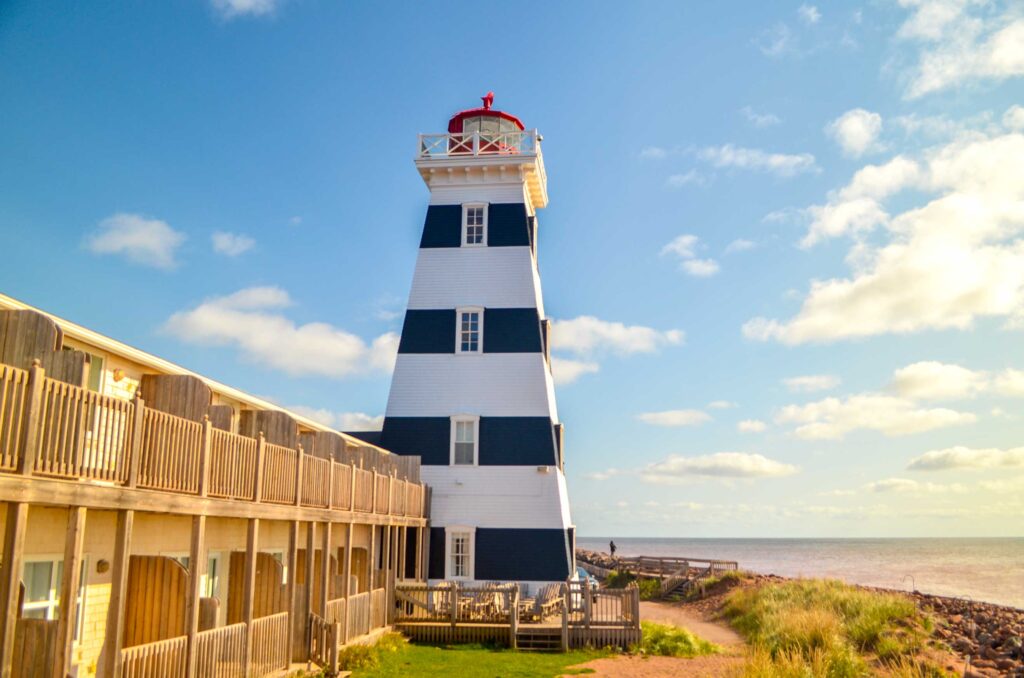 Moth Lane Brewing
We wanted a break (and some bathrooms – up until this point everything had been closed for us!). So we took a bit of a funny route and cut across to Moth Lane Brewing. It's right next to Bideford Parsonage museum but when we drove by it was just a bit too early in the morning for beer!
Now, after lunch, it was a much better time to enjoy a beer. I have to say, what a unique spot for a brewery. We got some seats on the top balcony which was overlooking incredible Prince Edward Island landscapes. There isn't a much better place to enjoy tasting a local flight of beer!
P.S. The downside is that we didn't love their beers. If you a fan of hoppy beer (I.P.As), then come here! If you aren't, you'll struggle to find some good non I.P.A options to order.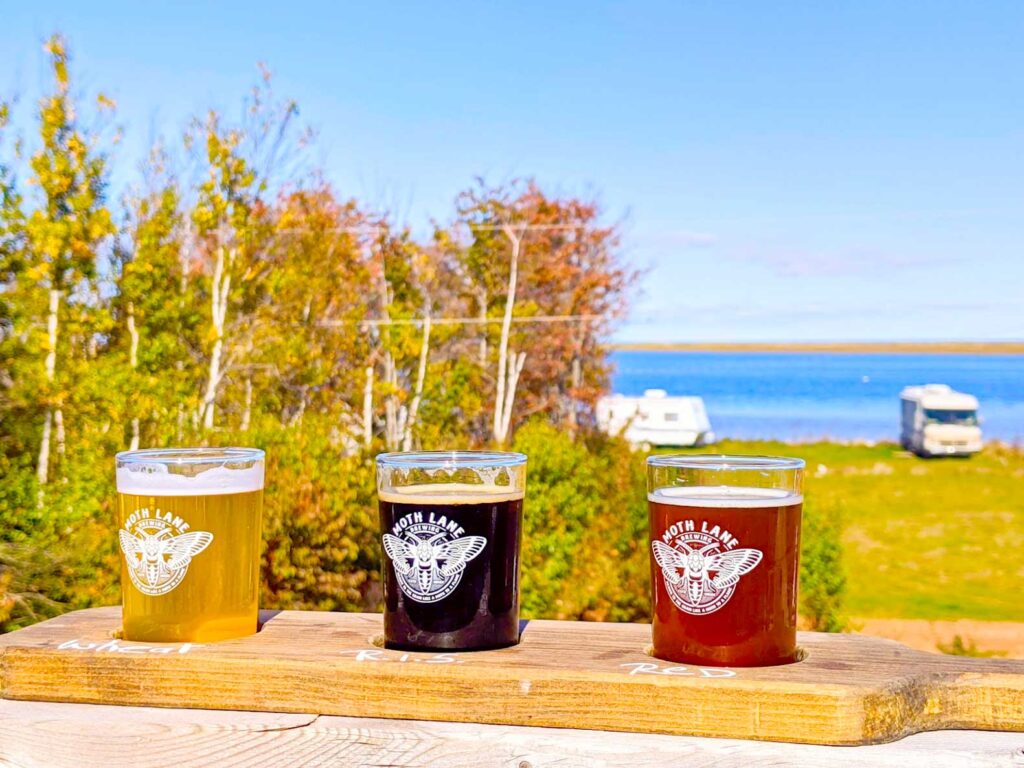 Cape Edgemont Lighthouse
If you went to Moth Lane Brewing, you'll have to make your way back to the other side of the Island (luckily, it isn't that far!).
I like Cape Edgemont lighthouse for a few reasons… First, I love the way it's painted – to represent the Acadian flag.
Plan the ultimate vacation
My digital travel planner template has everything you need to plan your vacation: research templates, travel planner itinerary, travel budget templates…etc. . You can print it out or use it digitally on your phone, tablet, or computer.
Second, it reminds me of a few other lighthouses that we visited that make you feel like you're on the edge of the world. There are cliffs all around it (like Cape Tryon) but it's a LOT easier to get to, and not as high up so maybe you feel a bit safer.
Third, if you're brave enough to look over the cliff, you can spot a mini Mackenzie's Brooke!
And finally, it's just beautiful! You can also stop here for sunset if you time it right!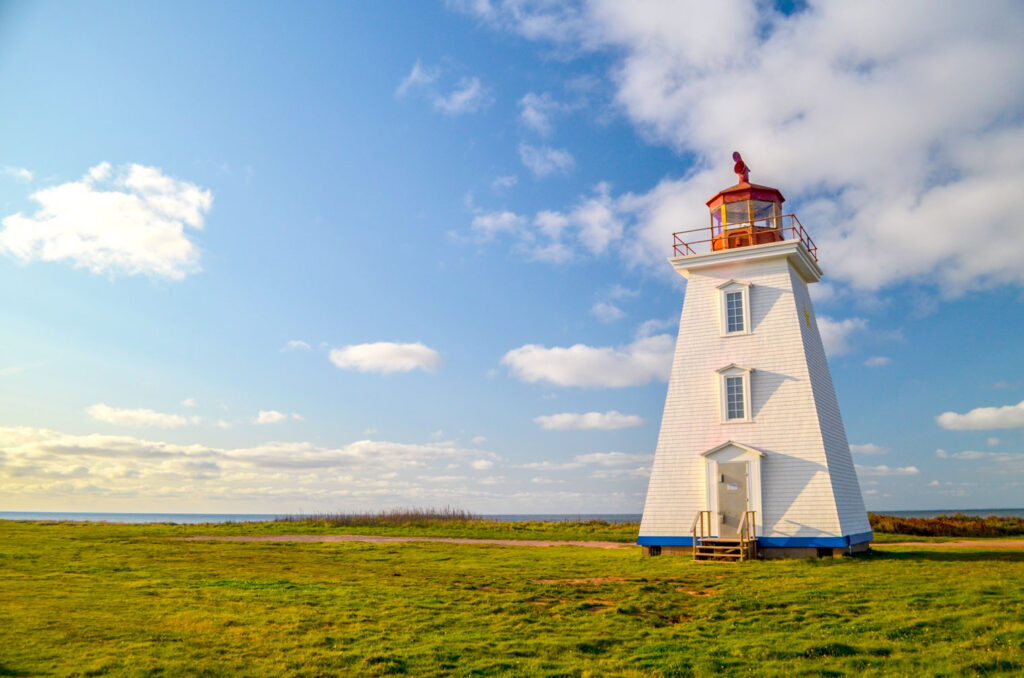 Bottle Houses
And finally, the last stop on your North Cape Coastal drive – the bottle houses. These are the real deal compared to Hannah's Bottle Village. But, if you've seen Hannah's I think they're very similar.
Depending on how badly you want to see the bottle houses, I'd recommend coming here first. You don't want to rush the end of your day just to make it here in time before it closes.
Back In Summerside For The Night
If you're back in Summerside for the night, I'd recommend heading to Evergreen breweries (if you missed Moth Lane Brewing …Everlane is much better!) You might have to make a reservation in advance depending on how many people you are and the day of the week. It was PACKED when we visited and we almost didn't get a table.
If you're travelling with the family, another fun option is to go to a drive in movie at Summerside Drive in. They have food and drinks here also so it's a fun night eating in the car (p.s. you don't even have to leave, you can order it online and they'll bring you your food!).
You might also be interested in reading…
Quick Links – My Amazon Travel Favourites
Related Posts
Click Image To Share Or Save Post For Later