The Points East Coastal Drive PEI: Top Things To See
Points East Coastal Drive is the most popular coastal drive on Prince Edward Island.You can walk on water, drive to the Eastern most tip, and to the oldest lighthouse on the Island,.
I'm not really sure why they had to confuse everyone and call it Points East Coastal drive instead of East Point Prince Edward Island coastal drive…. anyway that's besides the point.
This is my recommended route, where we went and stopped along the this PEI coastal drive.
Psst! This blog post contains affiliate links in it which sends me a bit of extra money if you use them… at no extra cost to you!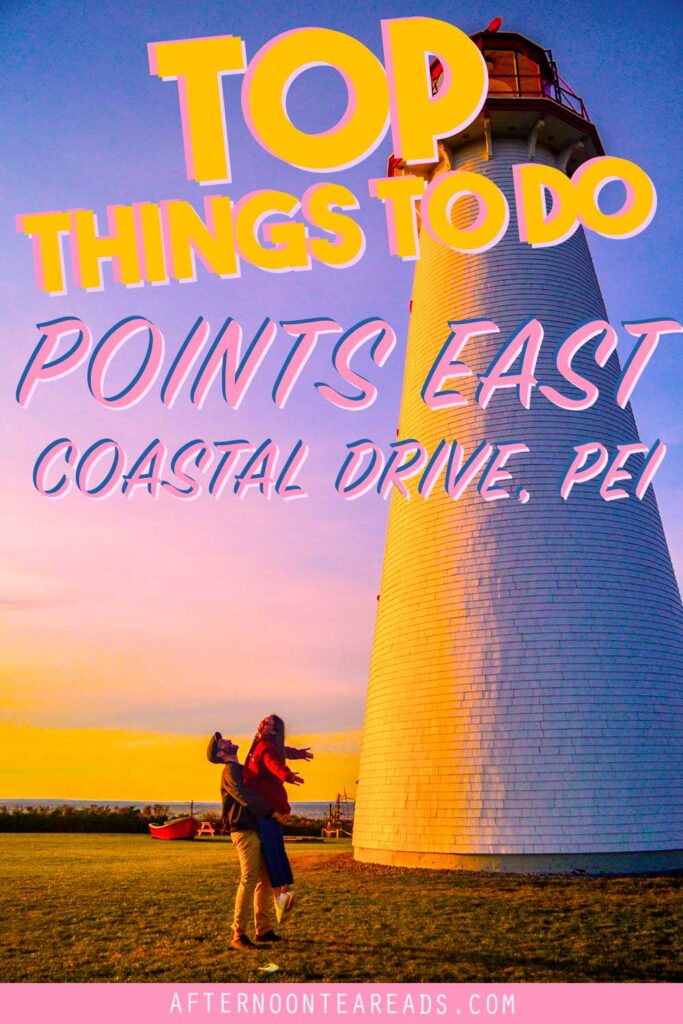 Prince Edward Island Coastal Drives
There are three Prince Edward Island scenic drives that take you all around the Island. The North Cape Coastal drive is the North part, Central Coast is the middle, and Points East is the East end.
There are lighthouses, incredible views, beaches, hikes and so much more on each of these drives. Not to mention the local stores, museums, and restaurants to discover!
You might also be interested in reading…
What To Know About The Points East Coastal Drive
How Long Is The Points East Coastal Drive?
The entire length of the Points East coastal Drive is 475 km long (almost 300 miles!)! That would take you about 4 hours to drive (not including stops!).
You don't even need Google Maps, just follow the very simple marked road signs for the Points East Coastal Drive – a star fish!
Choosing The Direction Of Your PEI Coastal Drive
We were most interested in the National Park so drove directly to Greenwich Dunes from Charlottetown. But if you're more interested in things that we did towards the end of the day, switch you're driving route to start with either Point Prim or Orwell House…
The direction you go in should depend on what you really want to see, and if there's a place you want to end up in for sunset (for us that was Point Prim!).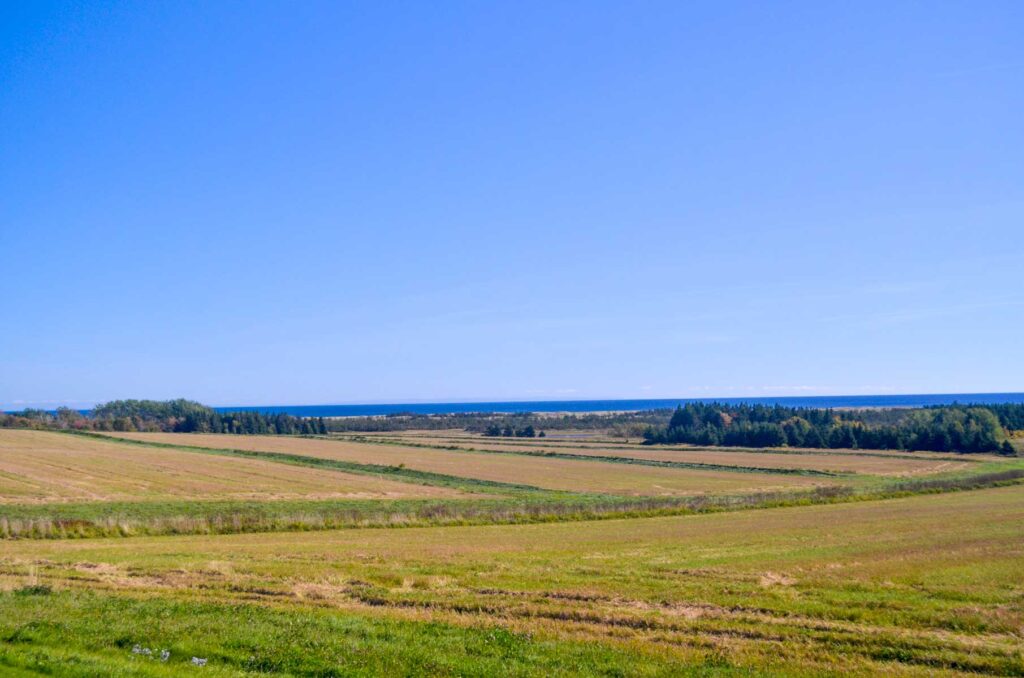 Can You Drive The Points East Coastal Drive In One Day?
We did the entire drive in one day, but we also visited in October when it wasn't beach season and some attractions (like museums) were closed.
If you were interested in spending some more time on the beach, or at local museums, you might want to consider splitting up the drive into multiple days…
Need A Place To Stay En Route – Points East Coastal Drive Hotels
We stayed at the Great George hotel and would highly recommend it. It's in a historical building in Charlottetown that's been completely renovated into a boutique hotel. I felt the luxury staying here, with heated bathroom floors, and friendly staff at all times! See room rates and availability.
If you want to do the entire Points East coastal Drive, without having to go back and forth to Charlottetown, there are also a few places to stay along the route. I'd recommend the Small Town Bound Inn for a personal experience halfway on your drive in Montague. See room rates and availability here.
Another option, if you're looking for a larger hotel at a more reasonable price is the Rodd Brudenell River Resort. They're fully equipped with an on site restaurant, indoor and outdoor pools, and rooms overlooking the river. See room rates and availability here.
For more accommodation options along your Points East Coastal Drive, click here, or see the map below.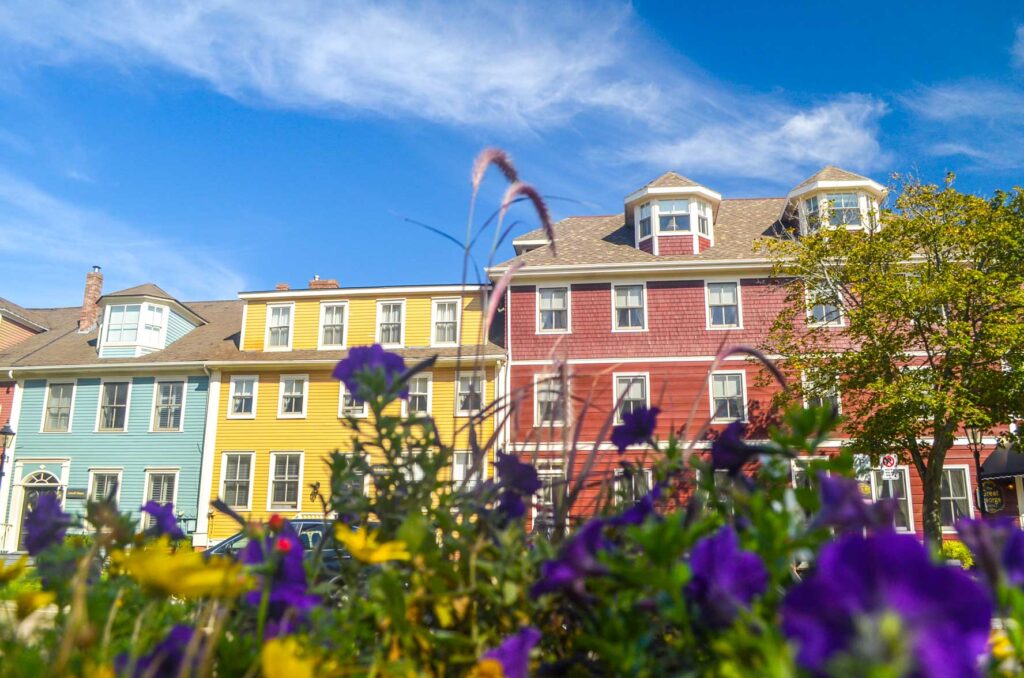 Points East Coastal Drive Itinerary (Starting From Charlottetown)
We started our Points East coastal Drive from Charlottetown, Prince Edward Islands largest city. Charlottetown makes a great home base for Prince Edward Island to see both the Central Coastal Drive and Points East Drive. From Charlottetown, this is a full day trip, we left in the morning and only arrived back in Charlottetown after sunset.
We did the Points East coastal Drive in one day, but cut out a lot and didn't spend any time relaxing on beaches. So keep in mind, if you want to see EVERYTHING on route, you'll most likely need two days to see it all.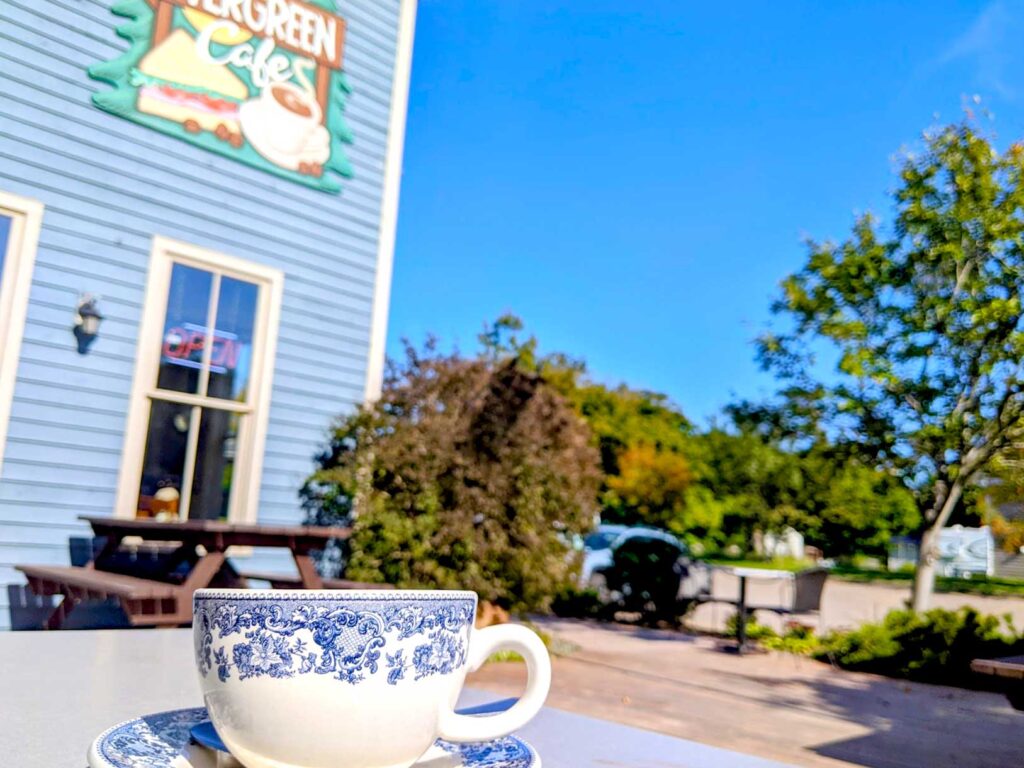 Charlottetown To St. Peters Lighthouse
St. Peters Lighthouse is a bit out of the way, but I would recommend stopping here. It looks like it's close to your next stop, but you can't drive straight there, so you are making a bit of a detour.
I like this spot because it sets the tone for the rest of the day. For starters, it takes you down this secluded red dirt road (which is so PEI!). Next, it's almost a hidden lighthouse, unlike the others that you'll be seeing today.
It offers a beautiful reflection on the water with the sand dunes in the background. To me, it's such a beautiful Prince Edward Island landscape view.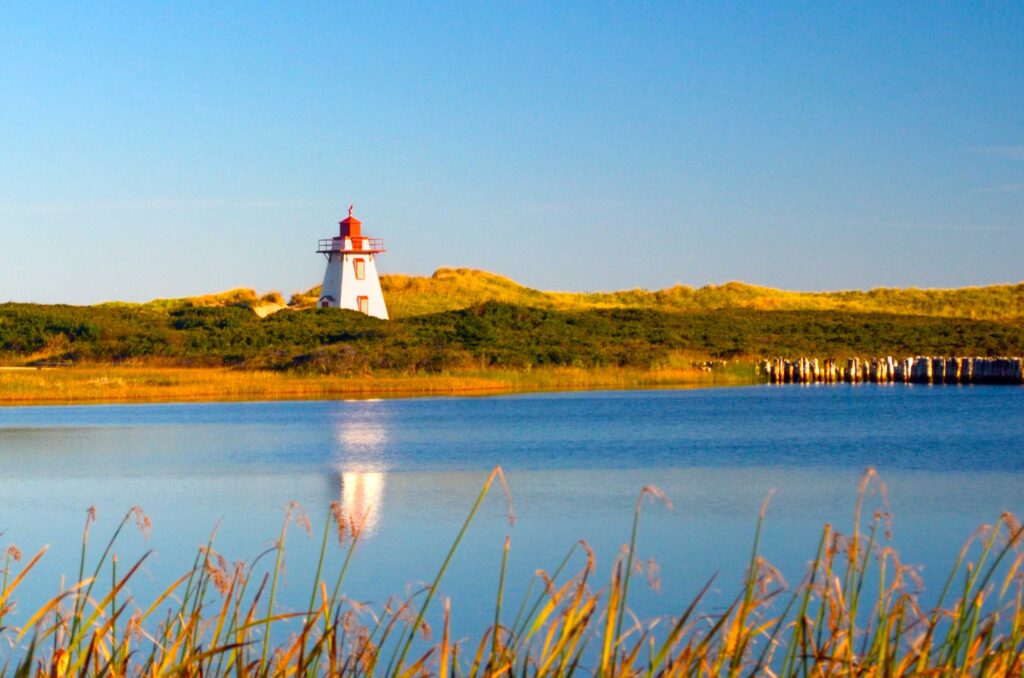 Prince Edward Island National Park: Greenwich Dunes
Next up is a main site along the Points East Coastal Drive – Greenwich Dunes at the Prince Edward Island National Park (the third section of the National Park).
The hike you're interested in is the Greenwich Dunes hike with the floating docks. Unfortunately, it's a good 20 minute walk before you make it to the floating docks (but trust me, it's still worth it!).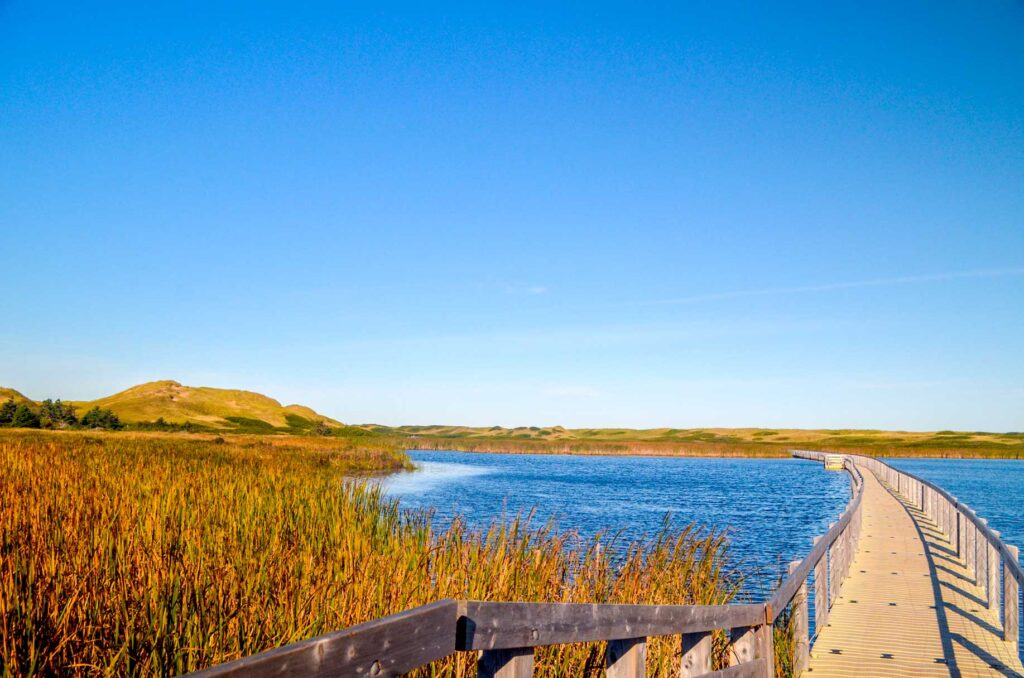 North Lake Boathouse Harbour Eatery
After your walk at the National Park, you've probably worked up an appetite. So the next stop on the Points East coastal drive itinerary is the North Lake Boathouse Harbour Eatery.
Along the route, you could also stop at the Shipwreck lighthouse, but it looked like it was in someones backyard and like it had seen better days. I would skip it if I went back!
North Lake Boathouse Harbour Eatery is the place you'll want to stop for lunch. If you're there before lunchtime, you can still stop here for a coffee and snack, or even breakfast if it's that early! We opted for a delicious mix of fish cakes and pancakes. But seriously, this was the best fish cake I'd ever tried!
It's the local atmosphere and setting that sets this place a part from anywhere else! Everyone knew each other in the restaurant (we were definitely the odd ones out!). It's also in such a unique location, hidden in the harbour!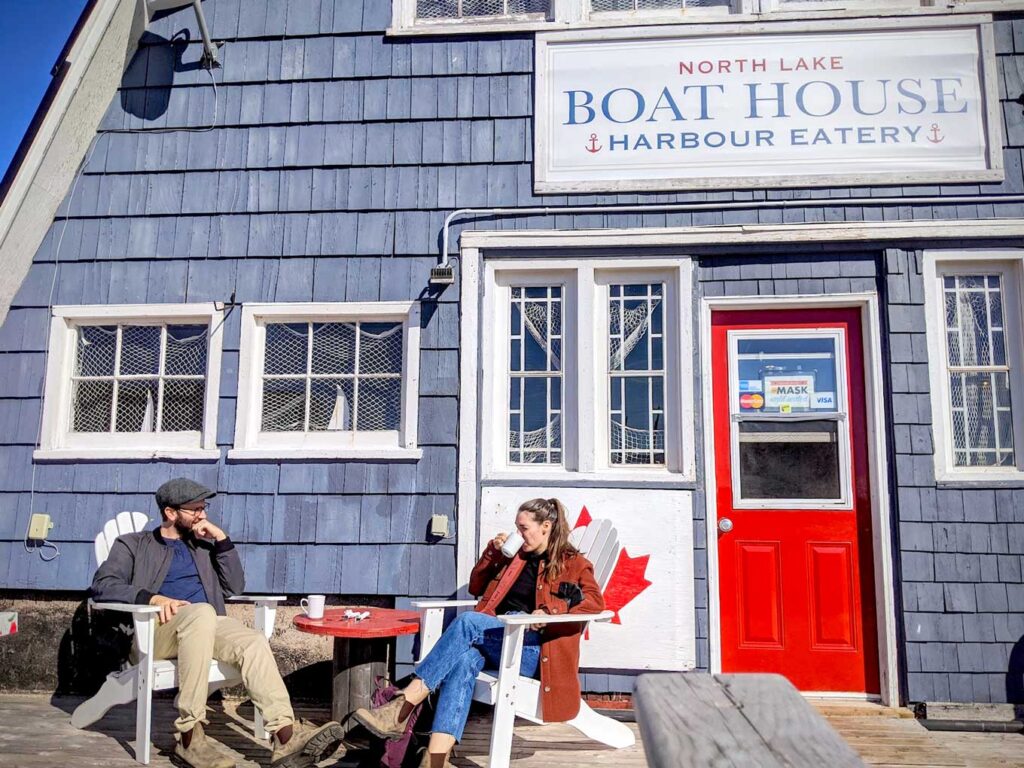 East Point Prince Edward Island
This is the main attractions on the Points East Coastal Drive – the East Point Lighthouse! I have to admit, it's very cool to say that you made it to the Eastern most tip of the Island. If you skipped the last stop, or weren't hungry yet for lunch, there are picnic tables that you can enjoy a packed lunch with a view here.
During high season, you're able to go inside the Lighthouse. If not, there's always a gift ship to wander through.
Here, you'll also see an example of a fog horn from the lighthouse!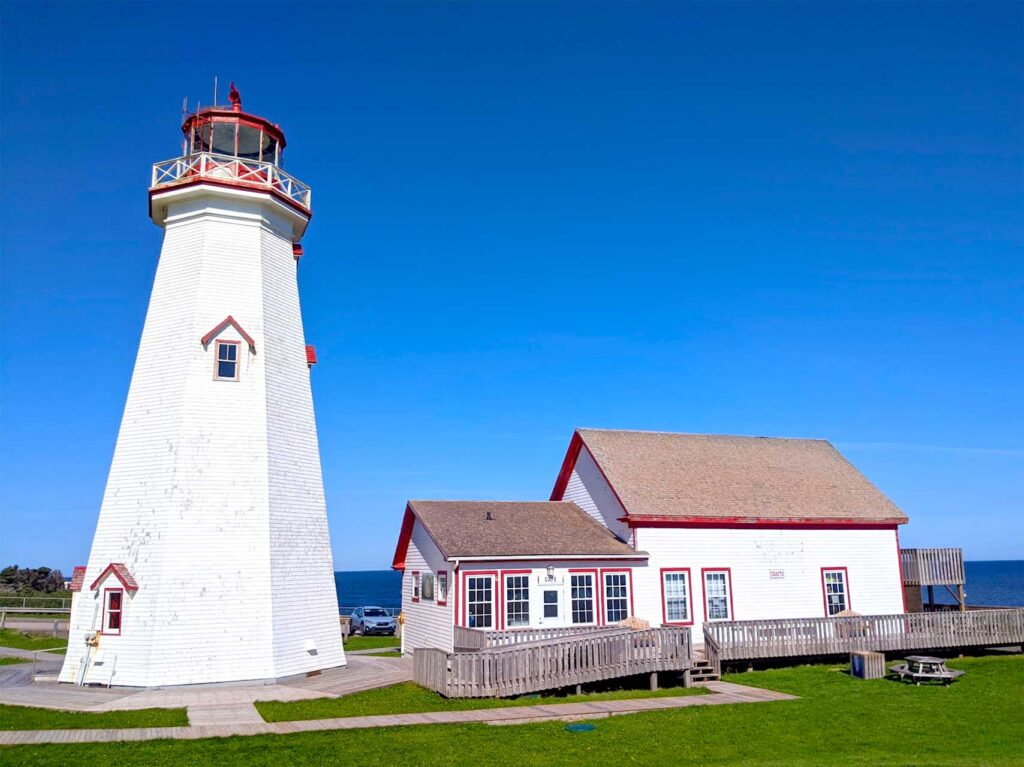 Basin Head Fishery Museum
Next en route is the Basin Head Fishery Museum. Having travelled during low season, the museum was closed, but I imagined this would be a great stop if you need a break from the sun, or want a beach stop along your drive.
This is another good location for lunch as well, as they have a few restaurants here.
Souris
Souris is a small fishing town (as are most places in PEI!). This is the only lighthouse that if you're travelling during low season might still be open. We were able to go inside, tour the little museum they had and go to the top of the lighthouse (it was only slightly terrifying!).
You can also head to the small town (which is really only one street) if you want to walk around. We stopped at the Evergreen cafe for a delicious coffee and break off our feet!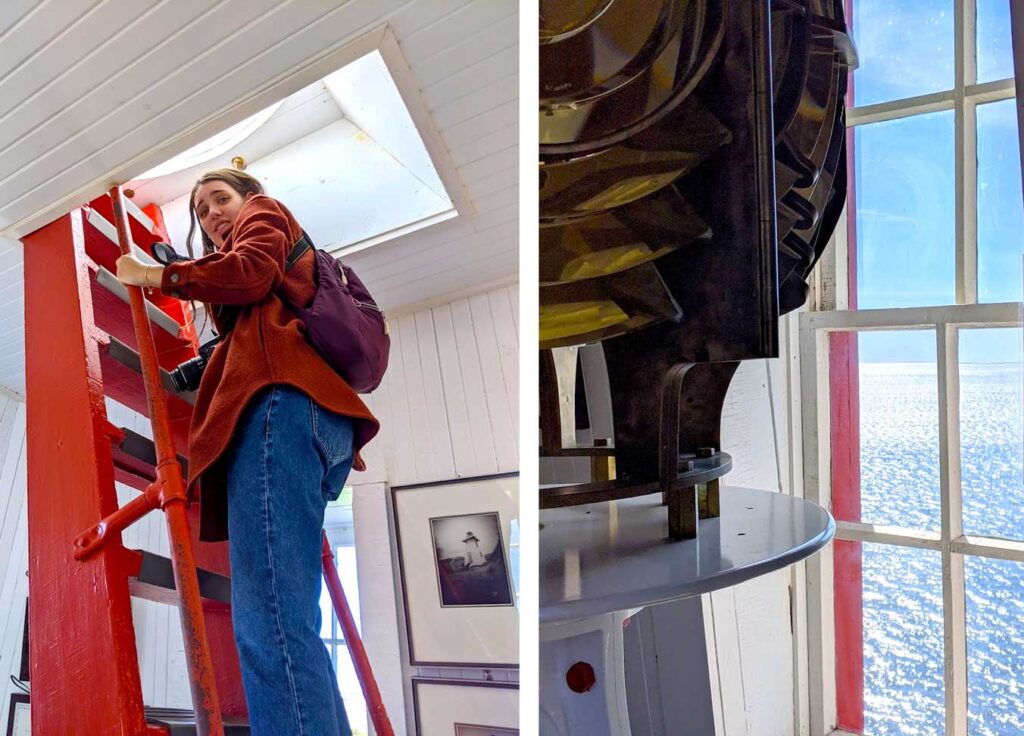 Myriad View Artisan Distillery Inc.
This is a quick pit stop at a local liquor store – the main thing to buy here is some moonshine! We didn't have a chance to check it out as they were closed because they were re-paving their driveway. Yep, that's PEI for you!
Cardigan River Lighthouse
We thought this would be a quick stop at another lighthouse… only problem… we couldn't exactly find the lighthouse.
We walked along the beach and could not for the life of us find this lighthouse! I think it's probably in someones backyard again… but if someone knows where it is, please let us know!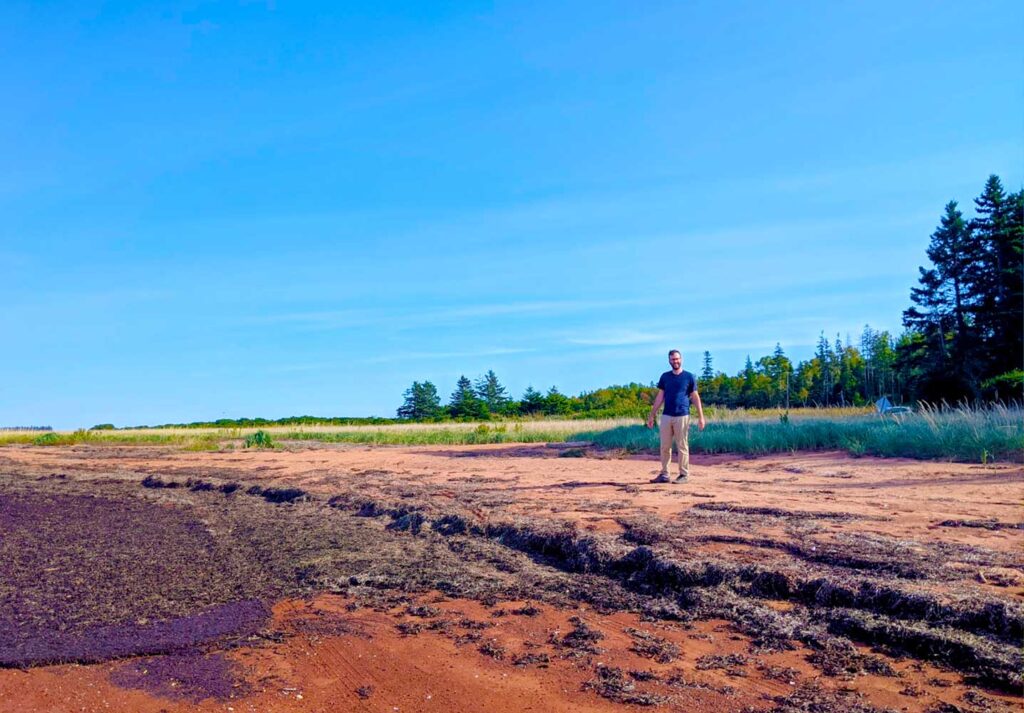 Points East Coastal Drive PEI: Explore Georgetown
Georgetown is main small fishing village on the Points East Coastal Drive, which means it's a bit bigger (and there are a few more things to see in the village!).
The top attraction is the Kings Playhouse, which you should be able to go inside to see. Sometimes they have local art exhibits set up as well. But, it's really the history of the Playhouse that makes it stand out…
The original Playhouse was from 1887 but it completely burned down in 1983. It only took a year to fully rebuild and reopen it. That just shows you how the community here really comes together!
Plan the ultimate vacation
My digital travel planner template has everything you need to plan your vacation: research templates, travel planner itinerary, travel budget templates…etc. . You can print it out or use it digitally on your phone, tablet, or computer.
Besides the Playhouse, the village is very nice to walk through. Enjoy the Japanese inspired A.A. MacDonald Memorial Gardens behind the playhouse, walk down to the harbour where there's also a small boardwalk and beach to walk along as well. Or opt to walk through the town instead to see some local art shops and bakeries.
If you're interested (and have the time), this is where you can also go on private deep sea fishing tours. Or just outside the town, you can also sign up for local horse back riding at Burdenell Stables.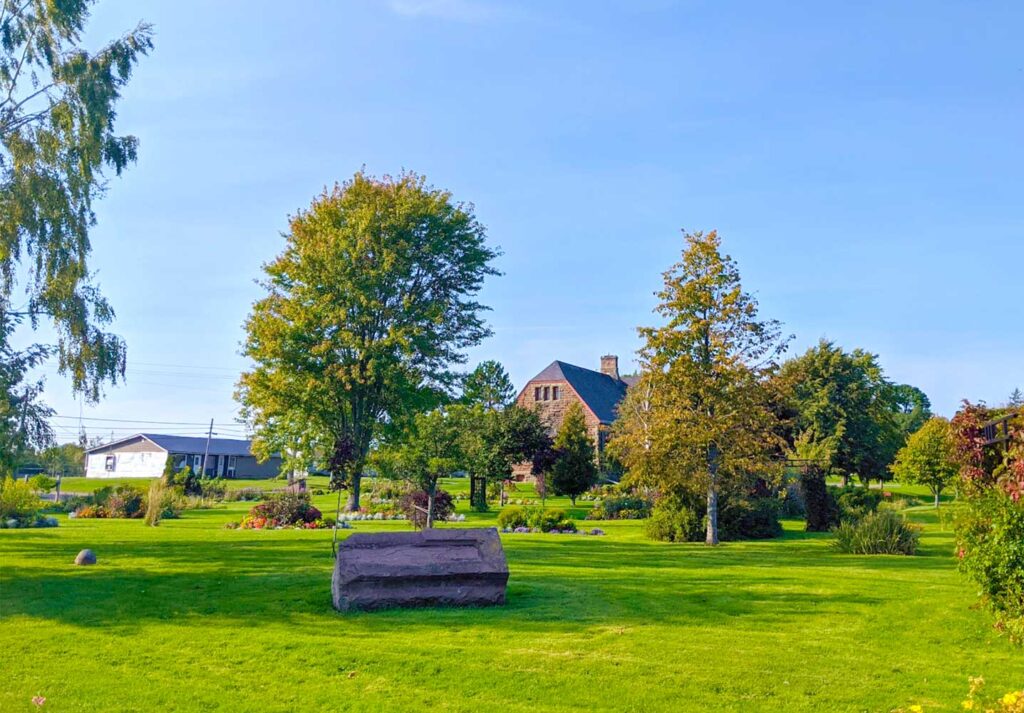 Georgetown To Montague (Knox dam)
The next stop is just outside the Montague Village (another very cute village with delicious looking restaurants to try!).
If I did this route again, I would skip Knox Dam though. It wasn't really that interesting… basically just a dam, that was also kind of dangerous to visit.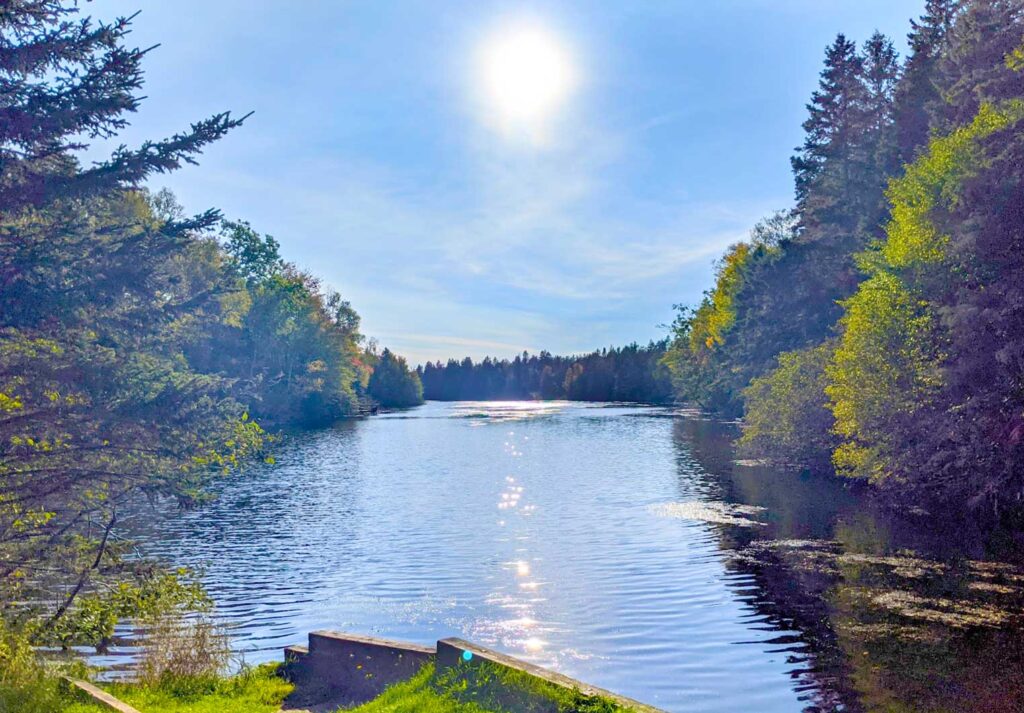 Panmure Island & Lighthouse & More
I regret missing Panmure Island and Lighthouse as this is another main lighthouse on Prince Edward Island (that during high season, you're also able to go inside).
Just passed the Island you'll want to drive through or stop at Murray Harbour before reaching another lighthouse – Cape Bear lighthouse. Opening in July, this will be another lighthouse you can go inside and walk to the top (there's even an outdoor lookout you can use!).
If you're interested, you can also stop at the local Rossignol Estate Winery for some wine tasting.
We cut straight across after Knox Dam to the Wood Islands Lighthouse skipping an entire section of the drive.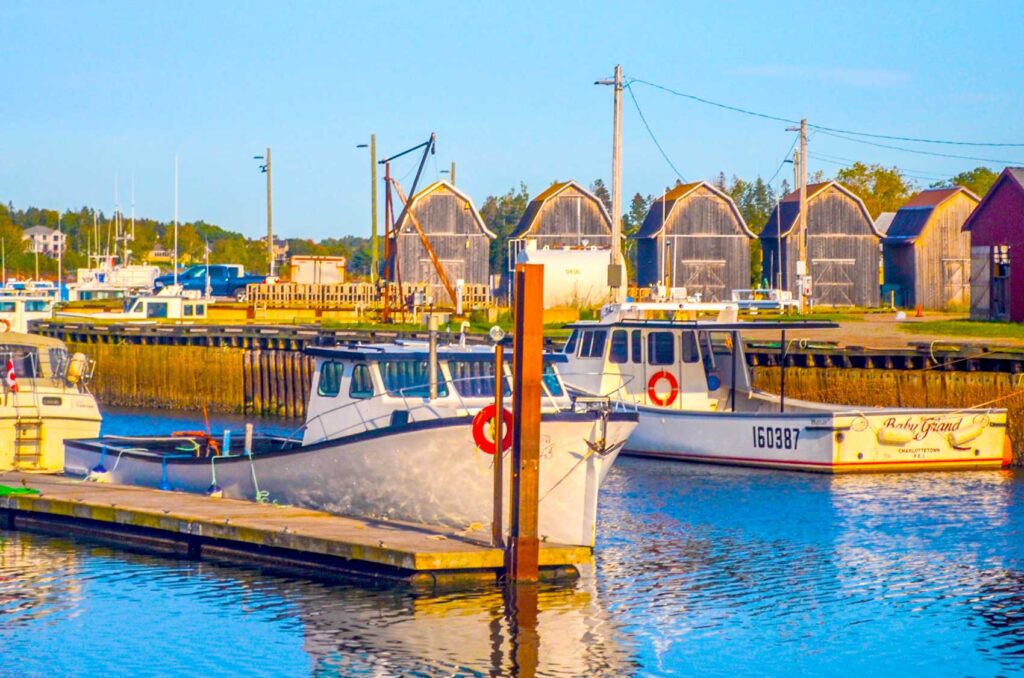 Wood Islands Lighthouse
From Knox Dam, we cut straight across (missing Panmure Island Lighthouse, Murray Harbour, and Cape Bear Lighthouse) straight down to Wood Island Lighthouse.
Wood Islands Lighthouse is actually three different lighthouses (you can also go inside the main one during high season!).
It's also where the Northumberland ferry docks. If you have some time, it's relaxing to watch the ferry come in (although you might want to make sure to leave before they let the cars off, otherwise you might get into a bit of traffic there!).
This would also be a good spot for a picnic dinner and watching the sunset, but for us, we had other plans…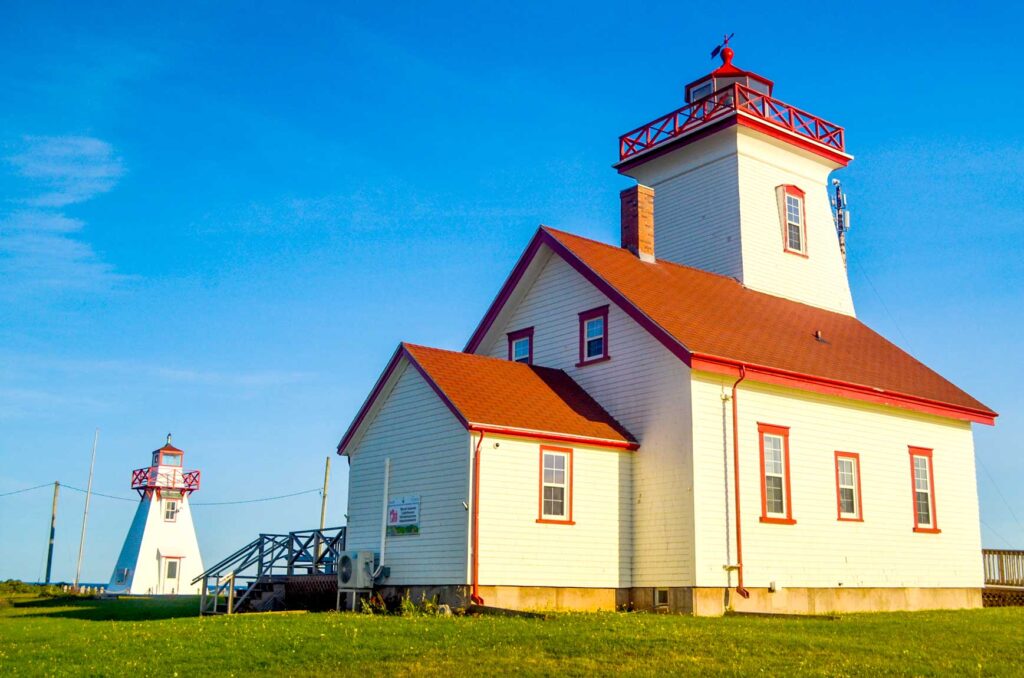 En Route: Belfast
We skipped this next stop in lieu for time, but there's a few things to do in Belfast. A popular souvenir stop is at the Belfast Mini Mills where they make their own wool and products. If it's in season, you can also stop at the Belfast corn maze.
Point Prim (& Hannah's Bottle Village)
This is la pièce de resistance and our final stop on our Points East coastal Drive. Hannah's Bottle village is in someones backyard, it was their hobby to make a village out of bottles, and it's spectacular!
Make sure to visit when it's sunny so you can truly appreciate the bottle structures with light shining through.
It's also right before Point Prim making it a no brainer stop en route.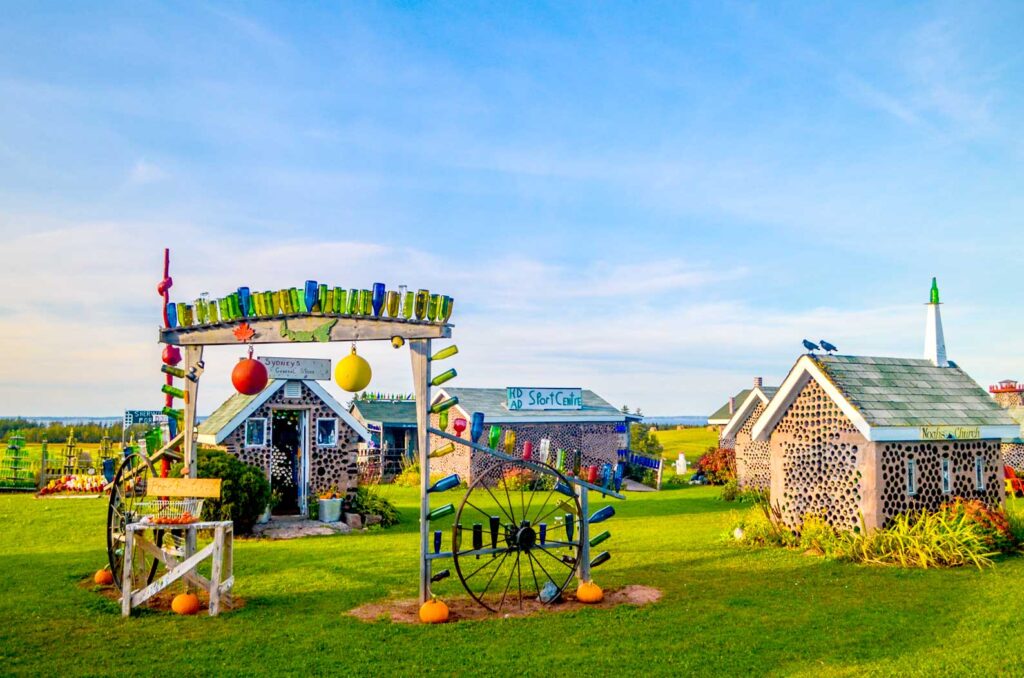 Point Prim is must see lighthouse on the Island. It's the first lighthouse that was ever built, and the only one using red sand stone for bricks (although that didn't work out so well and needed to be reinforced later on – so you can't even see it anymore!)
The plan was to set up a picnic dinner here and watch the sunset – it is an unbeatable place to watch the sunset if it weren't for the mosquitos. They were so bad that we had to eat in the car to watch the sunset instead (don't worry ,we still managed to snap some out of this world pictures!).
During high season, you can also get a bite to eat at Point Prim Chowderhouse, with sunset and lighthouse views!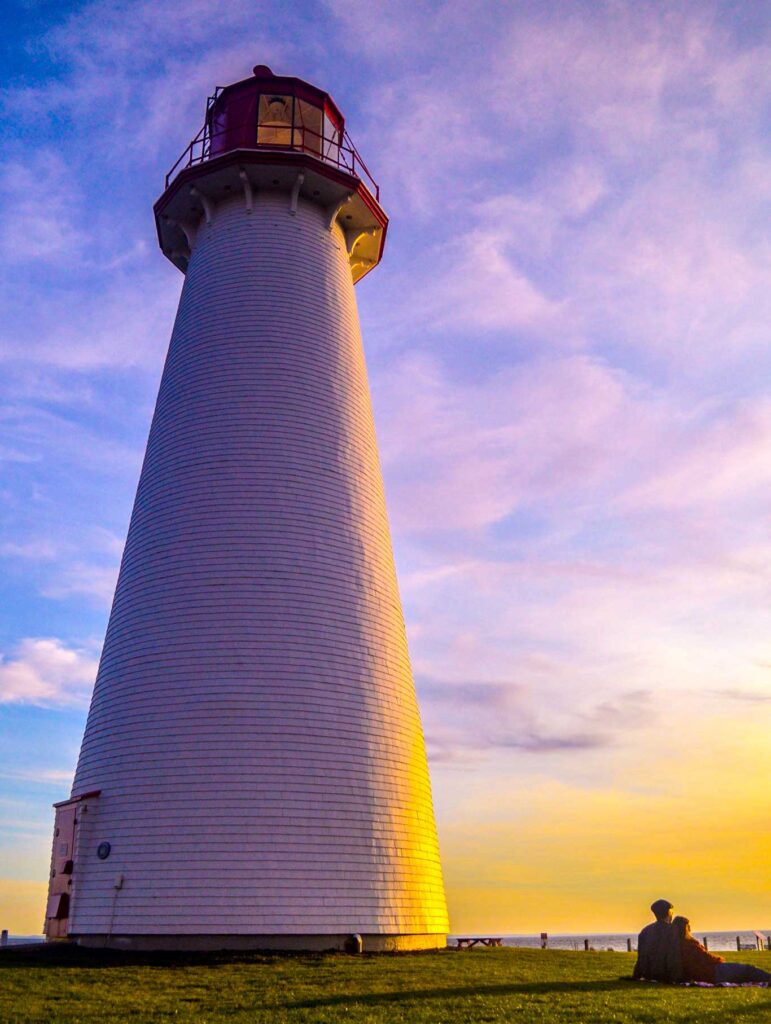 Museum Visits: Orwell Corner Historic Village & Sir Andrew Macphail Homestead
En route back to Charlottetown there are two museums you can stop at on the Points East coastal drive.
If you're travelling with the family, you might be interested in Orwell Corner historic Village. At Orwell Corner Historic Village you're stepping back in time to the 1890s Prince Edward Island. Actors are dressed up to depict the time period, you can visit the old school house, church, blacksmith shop and more! It's a live interactive museum to learn about what life was like on Prince Edward Island.
If you aren't interested in actors in costumes but are still interested in seeing a historical PEI house from 1850s, head to the Sir Andrew Macphail Homestead instead.
You might also be interested in reading…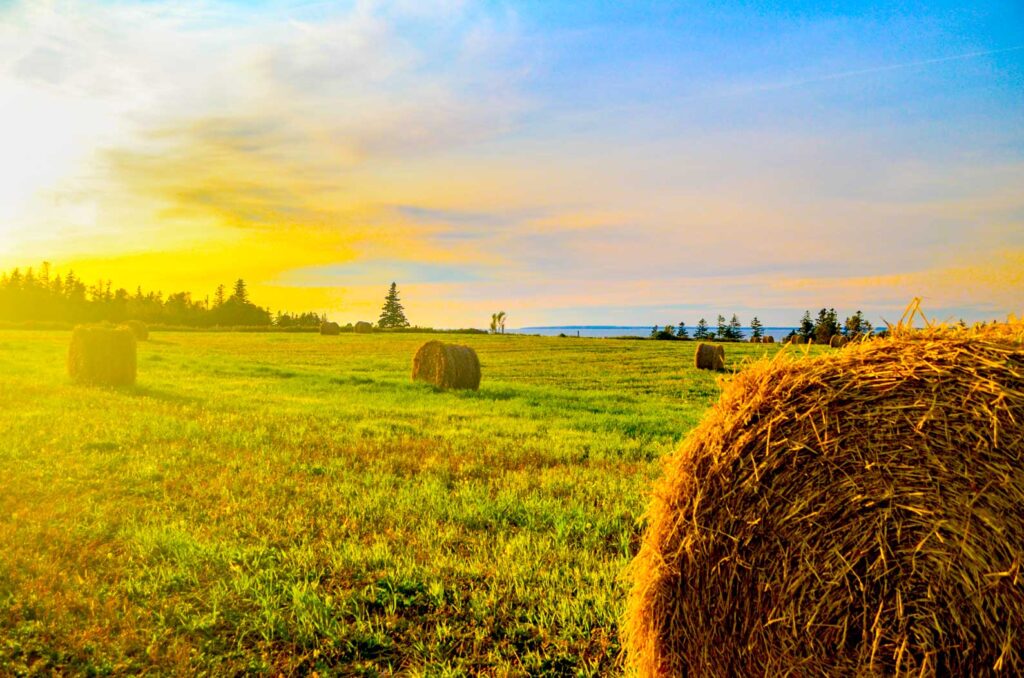 Spend The Night In Charlottetown
If you still have the energy and aren't just crashing on your bed from exhaustion after a PEI coastal drive, spend the night in Charlottetown. Head to one of the many restaurants in the city centre, like Gahan House, or my favourite, Hive & Hollow for board games and painting ceramics.
Quick Links – My Amazon Travel Favourites
Related Posts
Click Image To Share Or Save Post For Later