13 Barcelona Souvenirs That Are Practical & Unique
Wondering what to buy in Barcelona? Barcelona has some GREAT local shopping and unique things to bring back home. With so many options though, it can also be kind of overwhelming.
Souvenir shopping in Barcelona is all about finding affordable, locally sourced, and good quality products. You'll want to bring back a few products that Barcelona is known for, like you can't leave without Gaudí Barcelona souvenirs. But you'll also want to shop for Catalan souvenirs, like a traditional porrón,caganer, or Tìo.
To make sure you bring back the best souvenir from Barcelona, these are my tips for where to shop and what to look for while you're visiting.
Psst! This blog post contains affiliate links in it which sends me a bit of extra money if you use them… at no extra cost to you!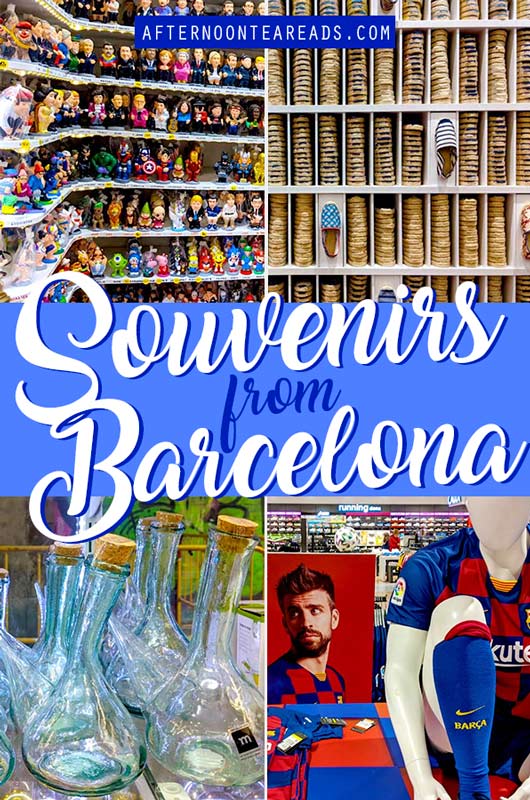 Where To Shop For Barcelona Souvenirs?
Two neighbourhoods stand out to me for buying Barcelona souvenirs: Gràcia and El Born. Both neighbourhoods are filled with local and affordable boutique stores that you can only find in Spain or even Barcelona.
Gràcia is a bit further out of the way from the Barcelona city centre (all the way at the end of Passeig de Gràcia) but it's worth making your way there. Because it's a bit further, you're leaving all the other tourists behind! You'll definitely find that truly one of a kind souvenir from Barcelona here.
You don't just have to go to Gràcia for souvenir shopping either, there are delicious restaurants to try as well, markets to enjoy, and so much more. We even stayed in Gràcia when we visited Barcelona and would highly recommend it.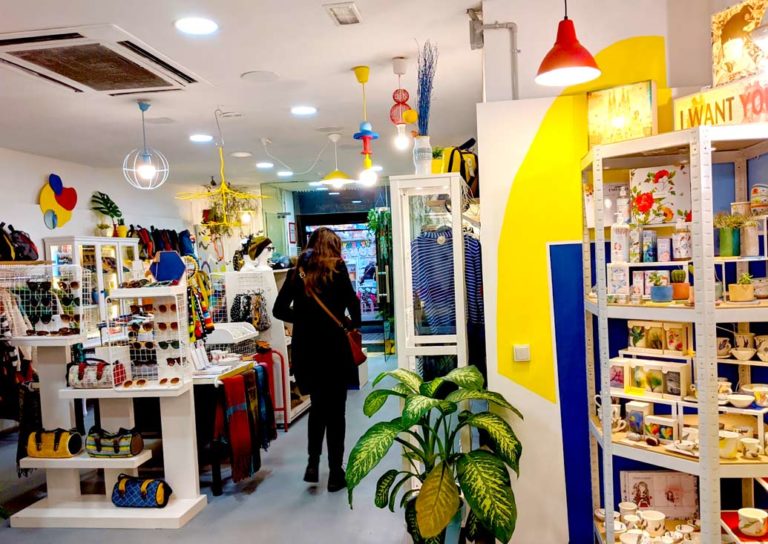 If Gràcia is a bit too far for souvenir shopping, El born is another great option. El born is a lot closer, it's basically an extension of the Gothic Quarter on the other side of Via Laietana.
There are a lot more art stores in El Born but I noticed that the clothing stores were also on the pricier side compared to those in Gràcia.
Stores that stand out to me are d*Lilrio for beautiful Spanish jewellery and fashion items (both in El born and Gràcia), VAV in El Born for ceramic tile art, and OMG BCN in El Born for everything made in Barcelona.
Barcelona also hosts some local markets over the weekend which is a good spot to pick up some of those one of a kind Barcelona souvenirs as well. One to look out for is the Palo Alto Market, see if it's on when you're visiting.
Stay In Gràcia Barcelona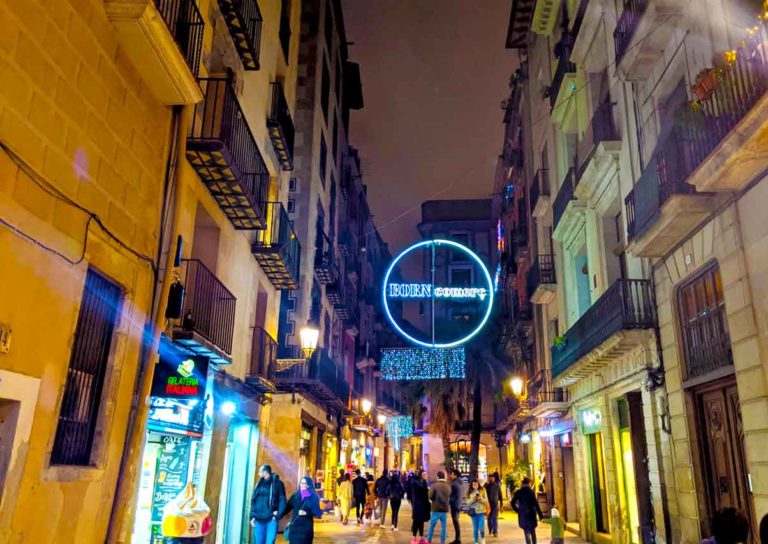 Need A Place To Stay In Barcelona?
I stayed at an Airbnb in Gràcia for a more home away experience. I highly recommend booking a stay in Gràcia to experience more of the local Barcelona life. Book a room at Casa Gràcia – See room rates & availability here.
If you're looking to stay closer to the city centre, a great neighbourhood is El Born. Stay in a local apartment El Patrón with friends or family. With a fully equipped kitchen, 2 bedrooms, AND 2 bathrooms! See room rates & availability here.
Or why not stay like royalty at Hotel Royal Passeig de Gràcia in Barcelona. This is the nicest street in Barcelona! See room rates & availability here.
For more accommodation options on Booking.com here, or book find one of the top 3% of home rentals on Plum Guide here.
Want The Benefits Without The Risks?
Plum Guide is all about quality over quantity. They vet every single home so you don't have to and only accept only the top 3% of house rentals.
See accommodation options on Plum Guide here.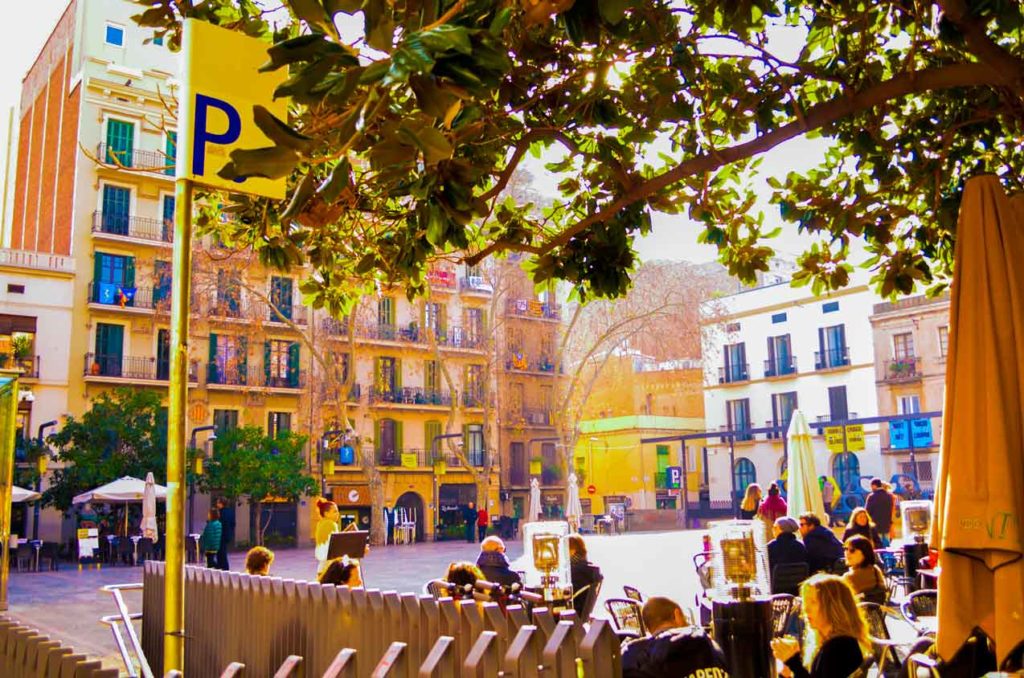 The Best Souvenirs To Bring From Barcelona
1. Buy (or Make) Your Own Espadrilles In Barcelona
Locals have been wearing Espadrilles in Spain for centuries. These days, you can most likely find Espadrilles outside of Spain, but there's something about buying a pair from where they originally came from.
The defining characteristic of the Espadrille is the esparto rope sole. The original style sells for €10- €20 (depending on where you find them), and these are meant to be worn as beach shoes. They're flat so they don't offer much support.
If you don't live next to the beach, there are nicer styles that you can buy that you can actually walk in. These will cost you more, closer to €50- €70, but you're investing in a good sole.
Barcelona Souvenir Travel Tip
If you don't have space to bring back an extra pair of shoes, most local Espadrille stores also have an online shop. Try them on in the store to know your size and style, then order this Barcelona souvenir online!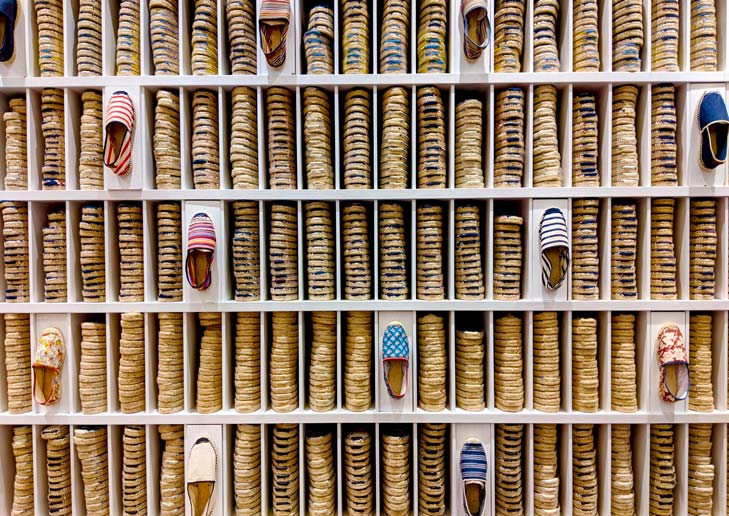 I bought espadrilles as my Barcelona souvenir at Handmade Barcelona in the Gothic Quarter (but they have a few locations around the city).
I bought them at Handmade because they're ethically made in Spain. Plus, the staff is incredibly friendly, showing me all the traditional ways to tie my espadrilles!
An even more unique souvenir from Barcelona is to make the Espadrilles yourself! Most Espadrille shops in Barcelona also offer workshops to make your own shoes (I know Handmade Barcelona does). Imagine, you can bring home a pair that you made yourself!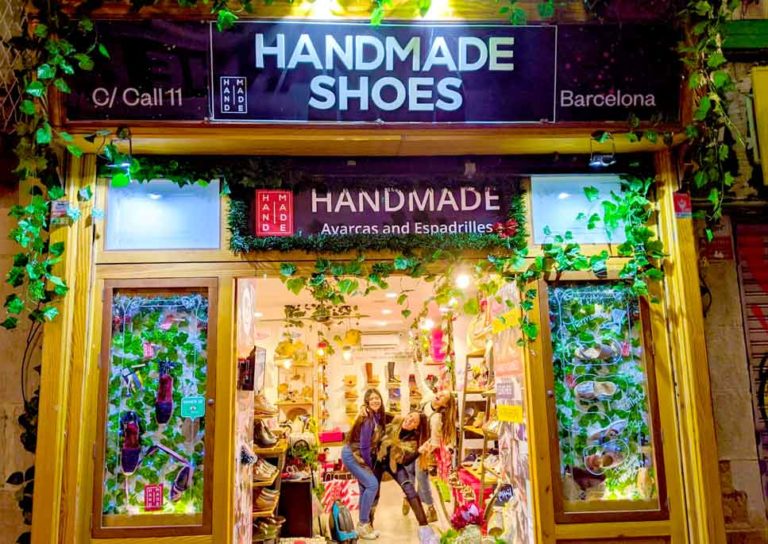 2. Local Spanish Fashion & Jewellery
In most other European cities, I wouldn't dare walk into a boutique shop. They're always so intimidating because no one else is inside and it's usually way out of my price range for souvenirs.
But this was not the case in Barcelona. The local boutique shopping is for the people, and it's all very reasonably priced. Plus, everything is either made in Spain or you can even find things specifically made in Barcelona.
There are some local chains that you can shop in, like D*lirio (and by chain I'm talking 3 stores around the city). But others will be a one of a kind!
For clothing and jewellery I prefer Gràcia over El Born, it seemed like there were a bit more options, and it was even a bit cheaper.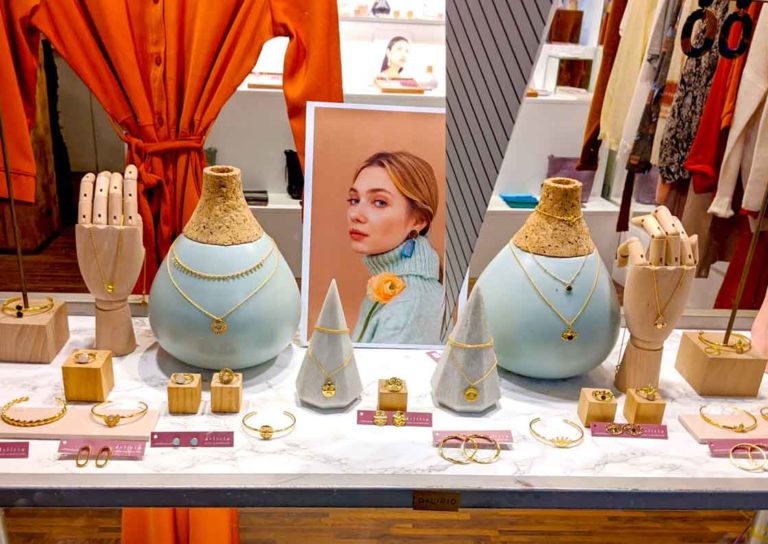 3. FCB Merch (Barcelona Football/ Soccer Team)
Like most of Europe, Barcelona's obsessed with football (for my North American friends, I'm talking about soccer). They have one of the biggest stadiums in the world, holding over 100 000 raging fans!
So, if you're a sports fan, or know someone who is, then souvenirs to bring back from Barcelona is FCB (Football Club Barcelona) merch. You can find specific FCB stores to shop in, or you can find FCB merch at the Spanish department store, El Corte Ingles.
One of the best players in the league is on their team, Messi, so you can buy his jersey if you want a player to support.
Plan the ultimate vacation
My digital travel planner template has everything you need to plan your vacation: research templates, travel planner itinerary, travel budget templates…etc. . You can print it out or use it digitally on your phone, tablet, or computer.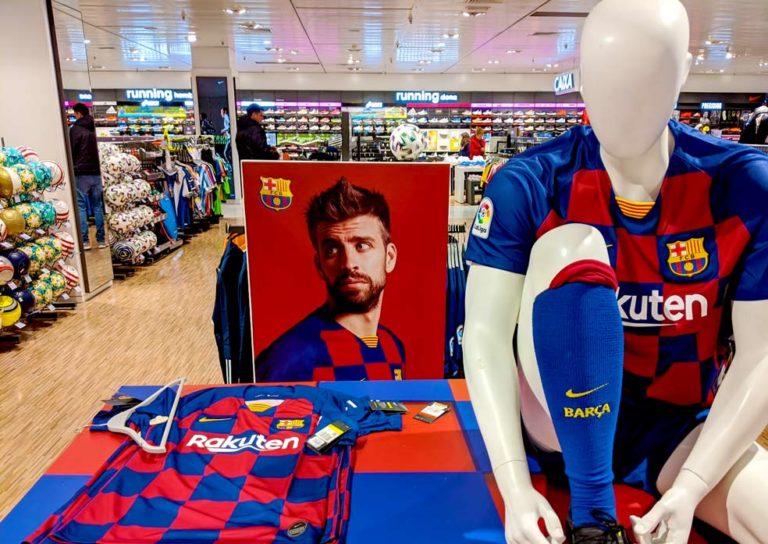 4. Lolea Sangria From Barcelona
Sangria's from the South of Spain which means it's not a traditional Catalan drink. You can of course still find Sangria around Barcelona but if you want a local option, look for Lolea Sangria.
Lolea is a Barcelona company with two restaurants in the city, and even more delicious Sangria. You can buy a bottle at select stores around the city, or even go to one of the restaurants to buy a bottle. In fact, we enjoyed a bottle at the restaurant and you're allowed to take the bottle home with you as a nice souvenir from your night.
We wanted to take the bottle home because a) it's adorable, and b) it's reusable! We fill it up with water to keep in the fridge at home. But you can also use at as a vase!
You don't have to even buy it in the city, they also sell it in the duty-free so you don't have to worry about it breaking in your luggage. This also makes it a great gift from Barcelona to bring back for family or friends to try!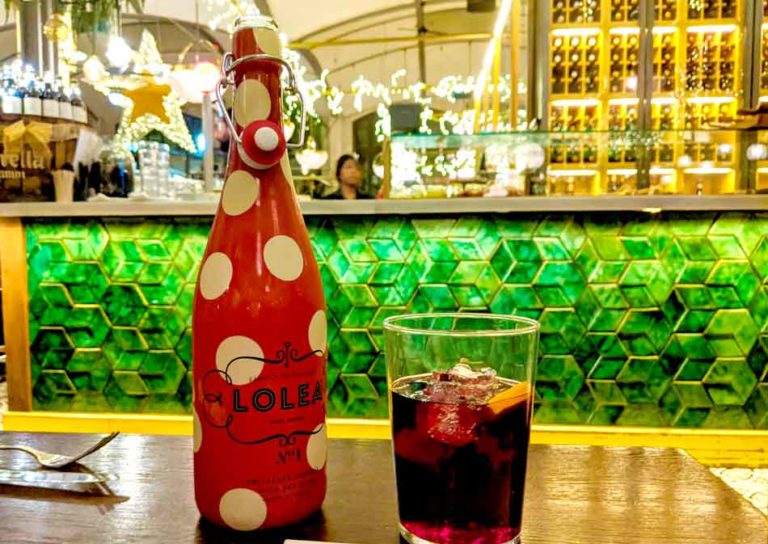 5. What To Buy In Barcelona: A Traditional Catalan Porrón
Ah, a porróns – you've probably never heard of these before which makes it a truly unique Barcelona souvenir! So what is a porrón? Well it's kind of like a wine decanter that you actually drink from.
Porróns were supposedly invented to share sangria at parties instead of giving everyone their separate glass (because then there's less to clean?). So it's the Catalan way to share sangria around the table!
For some reason though I find this tale hard to believe…. I don't think cleaning glassware was a big concern back in the day…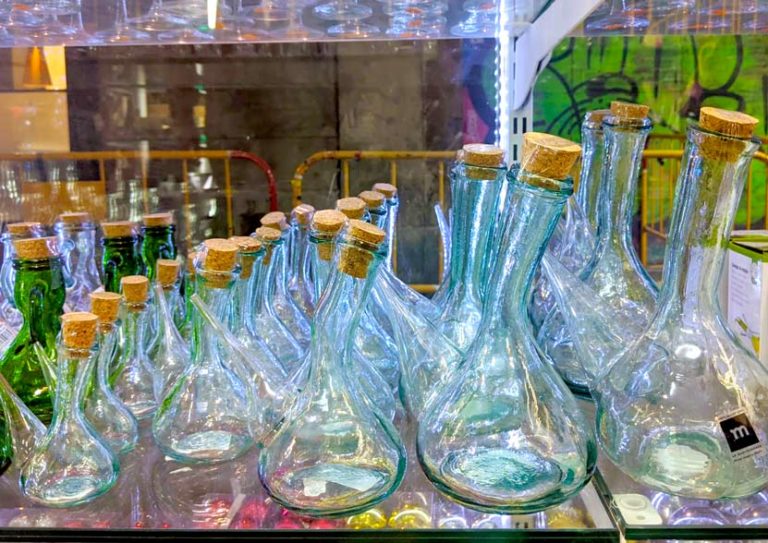 So although I'm not sure how traditional porróns are, they sure are a lot of fun to try and make an even better souvenir from Barcelona to bring back for friends and family to try (and hopefully make a fool out of themselves!).
I'd recommend using white wine or even water until you're confident in your porrón skills. Using a porrón takes some practice, and some need more than others. I got water in my eye instead of my mouth the first time.
We had some trouble finding a porrón to bring back because you won't find them in most tourist shops. They have them at El Corte Ingles but without a cork (which isn't the biggest deal if it's the only one you can find). We ended up finding them at a random store in El Born close to the Picasso Museum.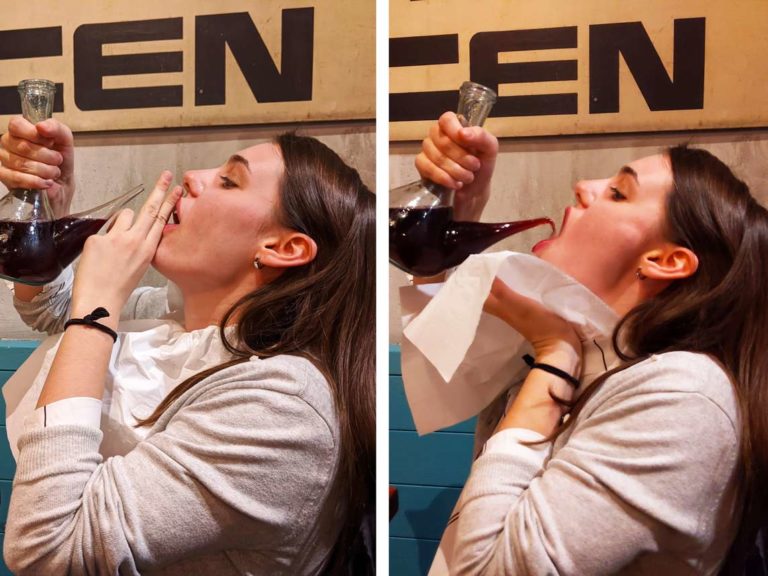 6. Best Barcelona Souvenirs For Gifts: Catalan Liqueurs
If sangria and porróns aren't for you, Catalonia also has a lot of local liqueurs to try and bring back. It's similar to limoncello from Italy, except there are 10 other flavours to choose from.
The most famous one is ratafia, a walnut herb liqueur, but my favourite is crema Catalana liqueur. It's like their famous crema Catalana but in liquid form (with alcohol).
In case you didn't know, creme Catalana is Catalonia's own version of Creme Brulée, no one really knows which one came first.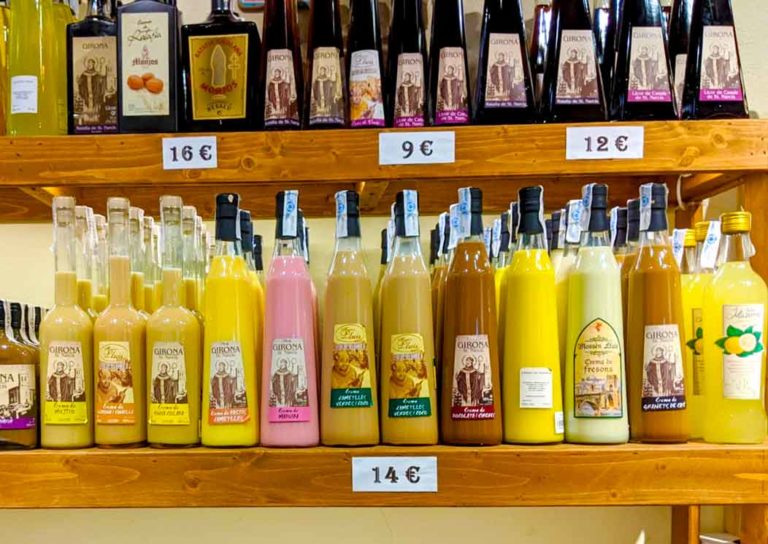 7. Tea Blends Souvenirs To Bring From Barcelona
Spain isn't exactly known for tea but to fuel my tea obsession, I always like to pick up a local blend to try. Plus it's always an easy souvenir to find and bring back.
The Tea Shop in Barcelona is the perfect place to do that. They have 5 different Gràcia blends to choose from: Black, Green, White, Red, and Roobois.
You can either buy a package of your favourite one, or buy a taster set with all of them included.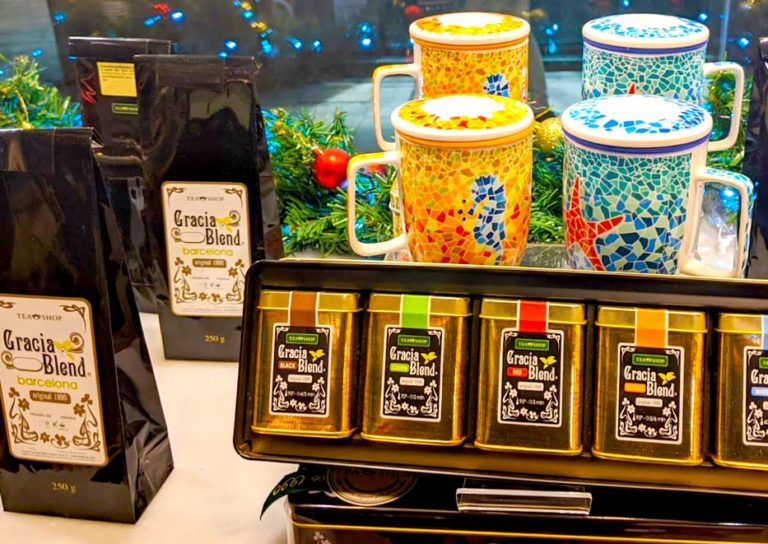 8. Handmade Grated Plate For Pan Con Tomate
If you know anything about local Catalan cuisine, it's pa amb tomàquet or pan con tomate. Essentially, it's Catalonia's version of bruschetta, and it literally translates to tomato bread!
It's very simple to make; rub tomato and garlic on a toasted piece of bread, pour some olive oil on top, and sprinkle some salt. Voilà, pan con tomate!
You don't need any fancy appliance to make this, but if you wanted, you could buy a handmade painted grated plate. Instead of rubbing the tomato and garlic directly on the bread, you make your spread in the plate first.
I like this souvenir from Barcelona because you can use it to make pan con tomate at home, but it isn't just limited to that. You can use it any time you need minced garlic or even ginger. Now it becomes a multi-use, local Barcelona souvenir! Plus, find a design you like then you can even leave it on display!
This also makes a wonderful gift from Barcelona because it's handmade, and something they can use!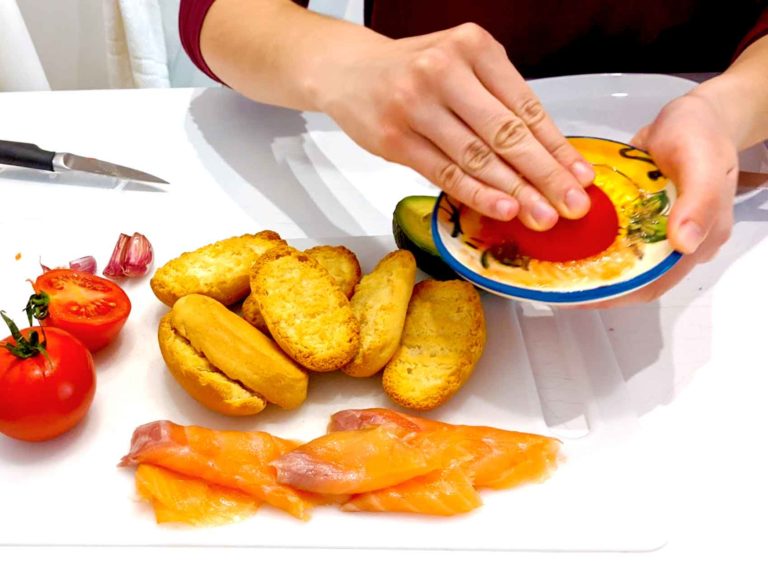 9. Tapas Recipe Book (Barcelona Souvenirs Online Idea)
Now that you already know how to make the most important Catalan tapas, pan con tomate, you have to learn how to make others.
If you're looking for what to buy in Barcelona, why not bring back a beautiful tapas recipe book. This way you can bring home the taste of delicious Spanish home cooking with you!
Don't want to carry a heavy recipe book back home with you? You can most likely find these Barcelona souvenirs online, order them to have them waiting on your doorstep when you get back!
I bought Tapas and other Spanish Plates to Share (shop in Canada) online and had it waiting for me when I got back. I also loved The Book of Tapas (in Canada), but that one is just WAY to big to bring back!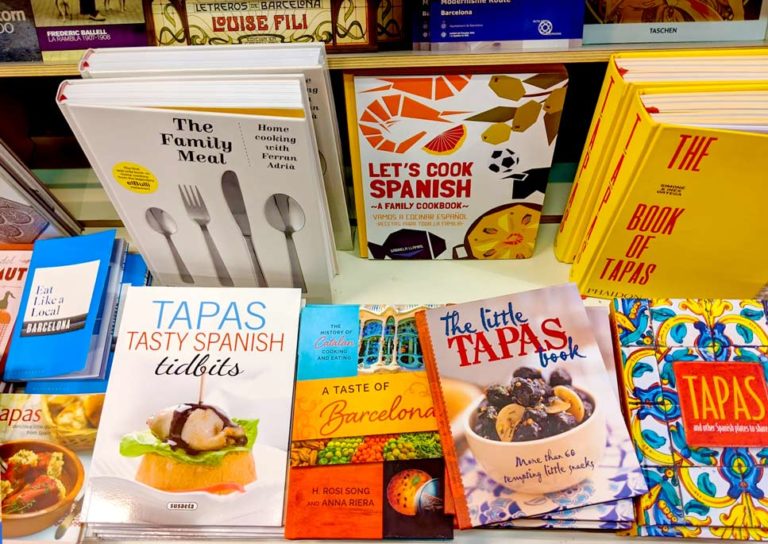 10. Must Buy In Barcelona: Amatller Chocolate
If you look past Gaudi's Casa Batllò, you might notice the house next door. This is Casa Amatller, home to the famous chocolatier, Antoni Amatller. They've been making world famous chocolate for 300 years!
You can't leave Barcelona without trying some of his chocolate. It might not compare to Belgian or even Swiss chocolate, but it's delicious chocolate nonetheless.
I won't lie though, I'm swayed to Amatller chocolate for the beautiful tin design, I just love them!
It also gives a second life to this Barcelona souvenir. First you get to enjoy the chocolates, and then you get to repurpose the tin!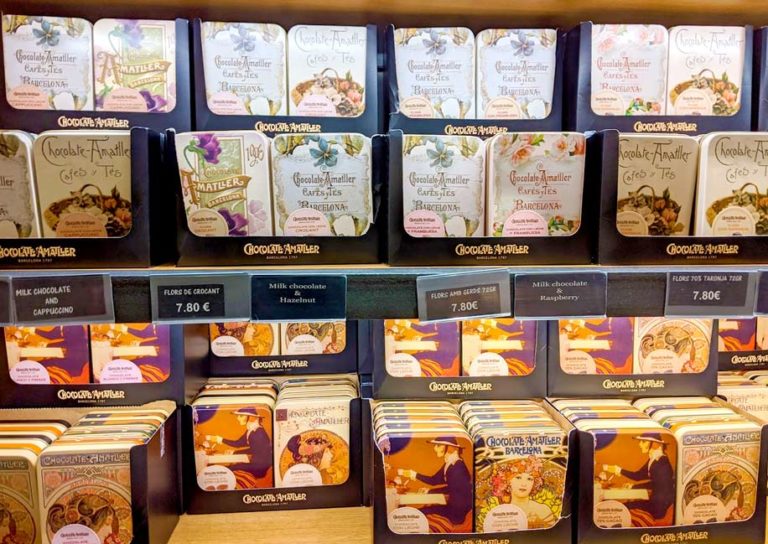 11. Spanish Art! (Upcoming or Picasso)
A timeless souvenir from Barcelona is some art.
Art and Barcelona seem to go hand in hand. From the old to the new, it's all equally as breathtaking and you're bound to find a something that you love.
An interesting Barcelona fact that you may not have known is that Picasso lived and studied art there since he was 6 years old. So a good piece of artwork to bring back is some Picasso. You can go to the Picasso museum and buy your favourite print.
Or you can dabble in some new art that you fall in love with. You'll want to head to El Born for this, there are tons of new artists waiting to be discovered!
12. Gaudí Barcelona Souvenirs To Take Home
Barcelona lives and breathes architect Antoni Gaudí (don't believe me? See everything he designed in the city).
It would be a shame to not bring back at least one Gaudí Barcelona souvenir. And, lucky for you there's no shortage of Gaudí Barcelona souvenirs to choose from... I'm not kidding.
You can find art, paperweights, magnets, even jewellery! We opted for the old coffee table book This is Gaudí (order it online)...! But we loved how it showcased his work and gave us his biography.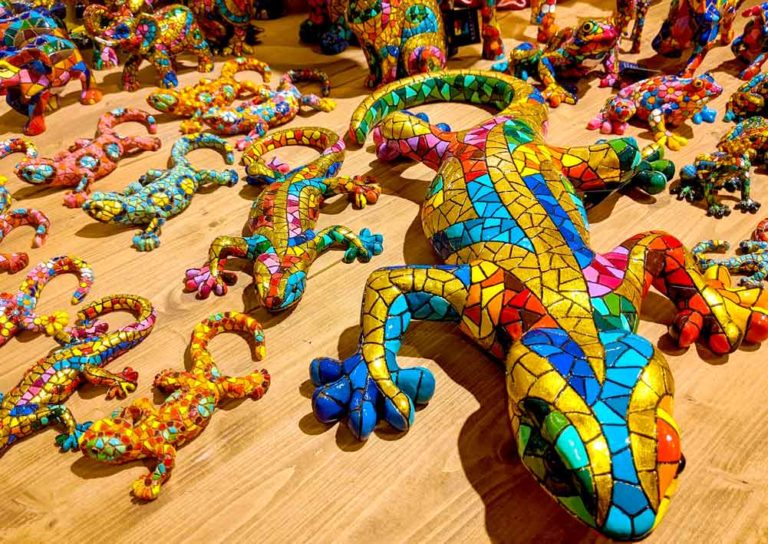 13. Catalan Souvenirs For A Fun Christmas Tradition
You can buy these traditional Christmas Catalan souvenirs items regardless of the holidays you celebrate. We visited Barcelona around Christmas time and every market was filled with caganers and Tìo.
Umm… what??
Let's start with caganers. They're pretty hard to miss when you walk by them because they're someone pooping. Yep, you read that right. They've been placed in Catalan nativity scenes for centuries to make sure everyone is represented.
Although today, this tradition has been slightly blown out of proportion to have anyone you can possibly think of pooping. You can find politicians, celebrities, movie characters, and cartoons! It's a fun gag souvenir from Barcelona to bring back for someone, or even for yourself. Our Airbnb had them in the bathroom, I'll admit, it was quite funny to see every day.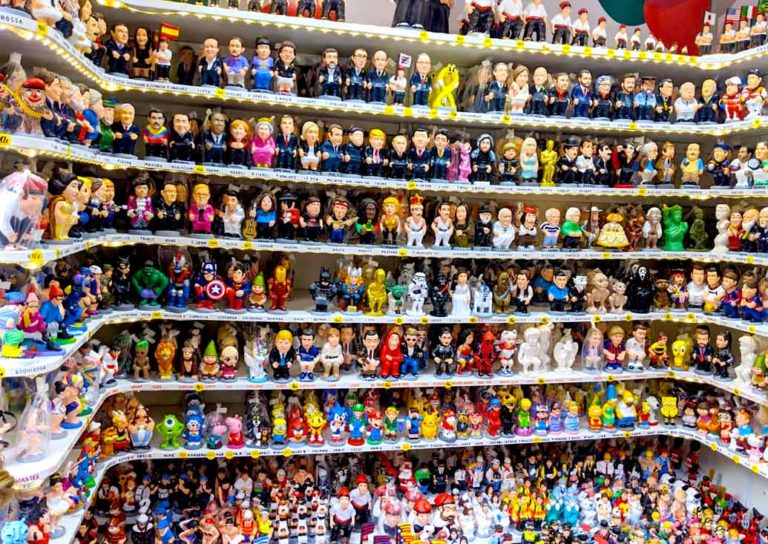 Now let's discuss Tìo. It might not surprise you, but the translation of his name is: The Pooping log.
Every day leading up to Christmas the kids feed him candy, on Christmas, they wack him until he breaks, revealing presents. You can find Tìos of all different sizes, so you can bring a small one back home.
You can most likely find these all year round in different tourist shops.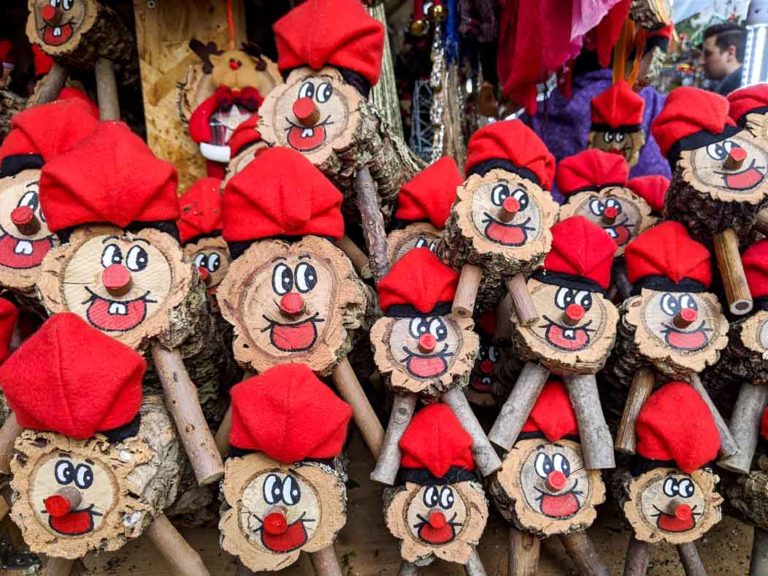 Bonus: Free Business Postcards
If you want a free Barcelona souvenirs hack, keep your eyes peeled for local business cards every time you walk into a store.
In Barcelona, I noticed quite a few shops had postcards sized business cards. They put a lot of effort into the designs as well. I took a few home with me to frame because they were art pieces (the ones in the bottom frame)!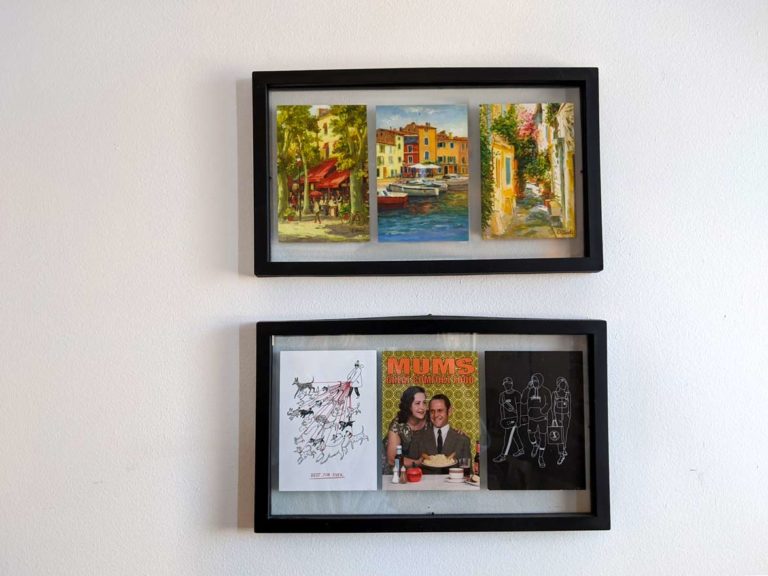 More Barcelona Guides
Save It For Later!