How To Spend One Day In Glasgow (& Is It Worth It?)
If you're visiting Scotland, a must-see is Glasgow. It's the largest city in Scotland, but it doesn't have the best reputation. I had pretty low expectations, having heard that it was very industrial, and less quaint compared to Edinburgh.
I'll be the first to admit, I was pleasantly surprised with spending one day in Glasgow. It's a lot more artistic and cultural than I thought it would be and the city just left me wanting more!
This is how we spent one day in Glasgow, visiting both the East and West Ends. I also gave more suggestions for other things to do in Glasgow as alternatives to what we decided to do.
Psst! This blog post contains affiliate links in it which sends me a bit of extra money if you use them… at no extra cost to you!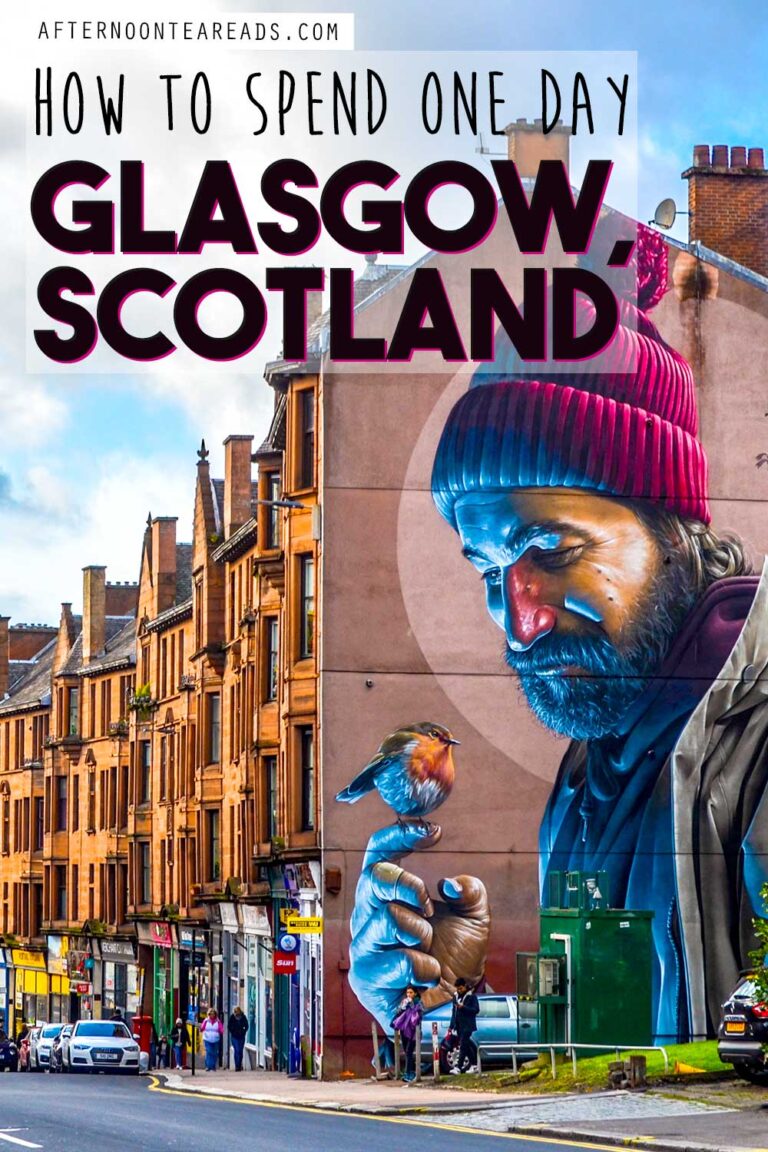 Is Glasgow Worth Visiting?
YES! Glasgow Scotland is 100% worth visiting if you're touring Scotland. Staying in Edinburgh, we were debating on whether or not it was worth it for a long time but I'm SO happy we decided to go.
The day trip there is very easy – it's a short bus ride. Once you're there, transportation in Glasgow is very simple to understand and get around. There's also more than enough things to do in Glasgow that we weren't bored for a second (and even wanted to go back!). But it's also very different from other cities and towns in Scotland. Edinburgh is medieval and more touristy than Glasgow. But that doesn't mean you shouldn't visit Glasgow.
How Much Time Do You Need In Glasgow?
Not only is there SO many things to do in Glasgow, but the city is separated into two very different areas that one day just left me wanting more! So you might want to consider extending your one day in Glasgow to two days…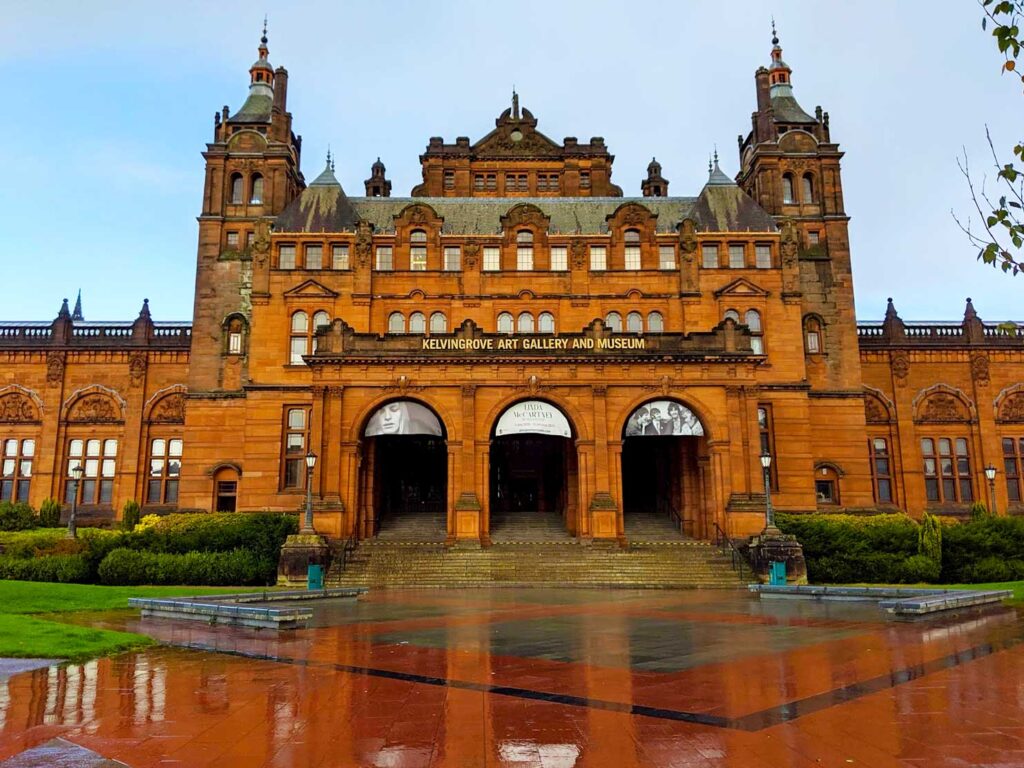 Consider Spending More Than One Day In Glasgow
Obviously, if you're reading to this post, it's probably because you're looking to only spend one day in Glasgow. But I did that, and let me tell you from first hand experience, it was not enough time at all!
I'm no stranger to day trips, it's one of the best ways to explore your surroundings in a new country. Normally a day trip is all you need to see a city, but this isn't the case for Glasgow Scotland. I left wanted to see so much more!
I'll still share my one day in Glasgow itinerary, BUT if you can, I strongly suggest extending your trip by adding at least one day in Glasgow so you're there for two days. The city isn't large, but there are two sides that you'll want to visit (the East and West End). So, it's kind of hard to see two areas with only one day there.
Plan the ultimate vacation
My digital travel planner template has everything you need to plan your vacation: research templates, travel planner itinerary, travel budget templates…etc. . You can print it out or use it digitally on your phone, tablet, or computer.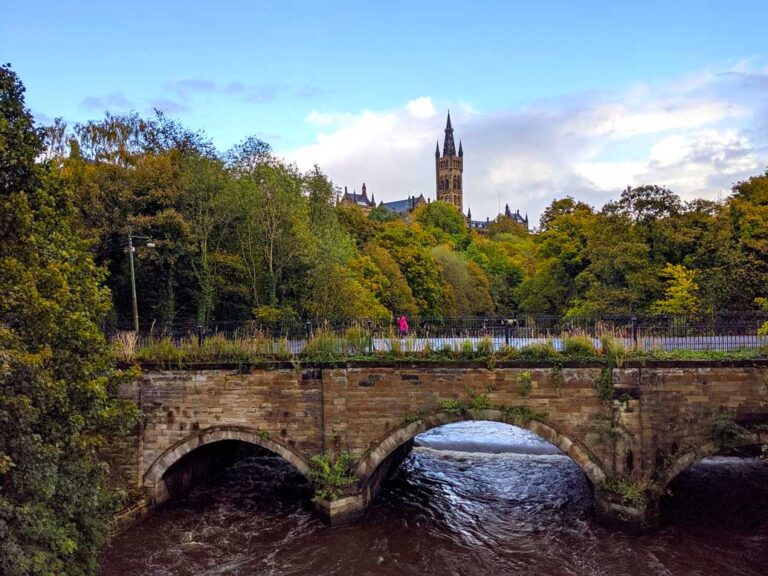 Hotels In Glasgow Scotland
We just went on a day trip from Edinburgh to Glasgow, but if you're looking to extend your stay in Glasgow and stay the night, here are some hotel recommendations.
Motel One Glasgow offers you a lot for a very reasonable price in an unbeatable location in Glasgow. See room rates & availability.
Opt to stay in Glasgow's trendy West End at The Alamo Guest House. Stay in style in this Victorian guest house overlooking Kelvingrove Park and only a 20 minutes' walk from Glasgow's centre. Breakfast is also included with your stay! See room rates & availability.
The Dakota Glasgow is a more classic style hotel in Glasgow's city centre. Next to the two main train stations and popular events halls in Glasgow. See room rates & availability.
For more Glasgow accommodations, click here.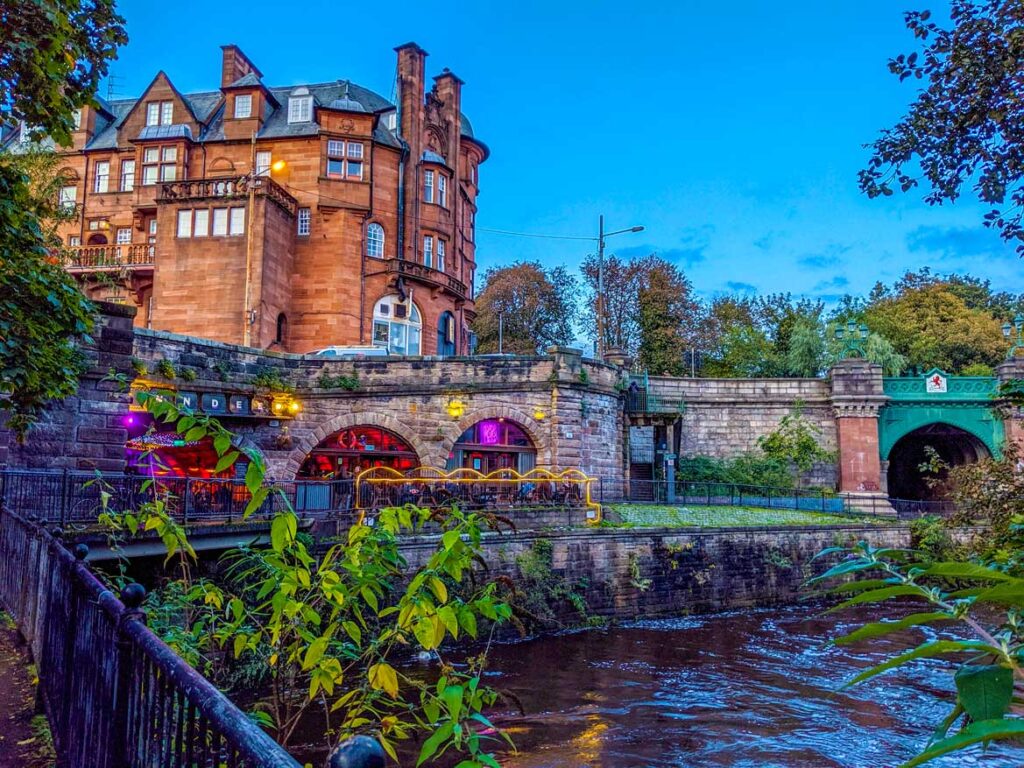 How To Get From Edinburgh To Glasgow Scotland?
If you're visiting Glasgow from Edinburgh, it's one of the easiest day trips you can go on (along with North Berwick). It's a one hour bus or train ride away! You can of course rent a car and drive, but that's added stress for no reason.
We opted to take the bus over the train. The travel time is about the same, but the bus is much cheaper (I'm talking £25 vs. £9). They also have tons of buses traveling between Edinburgh and Glasgow, so you have your pick of departure times. The bus station was also located within walking distance to both city centres.
There are two bus companies you can choose from in Scotland: National Express and Citylink. We booked Citylink because there were more departure times.You'll want to get on the earliest train or bus possible to make the most of your one day in Glasgow, and book the latest one back. The earlier you arrive, the more time you'll have for exploring!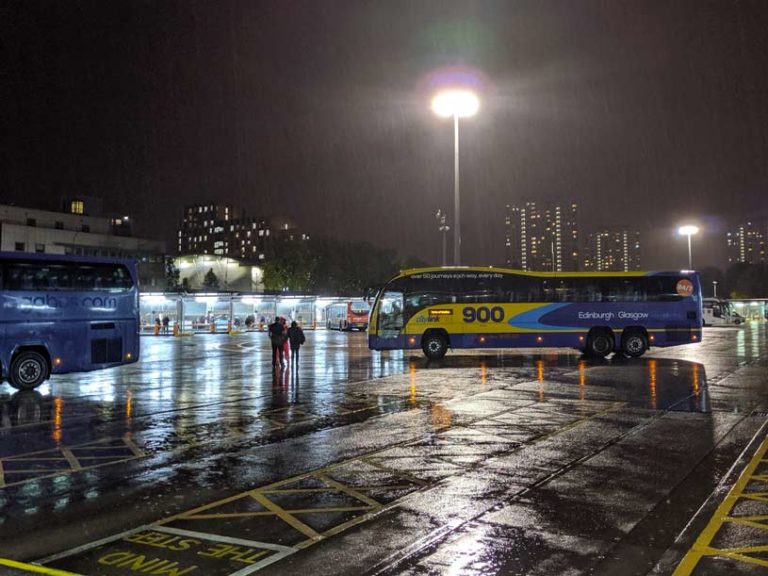 Getting Around Glasgow: Taking The Subway
For the most part, you can walk around Glasgow Scotland, although, it will be a lot of walking. I recommend getting an All-Day pass for the subway, it will save you a lot of time and energy!
If you've ever had an issue with public transit in a foreign city, Glasgow will not be one of them! It's the easiest system to get behind! Seriously, there's nothing to it. It's made of up two rings – the inner circle and the outer circle, and they both go to the same stops because it's a giant circle.
Even if you get on the wrong line, it's not a big deal. It may take a few extra minutes to get to your stop, but you'll get there eventually!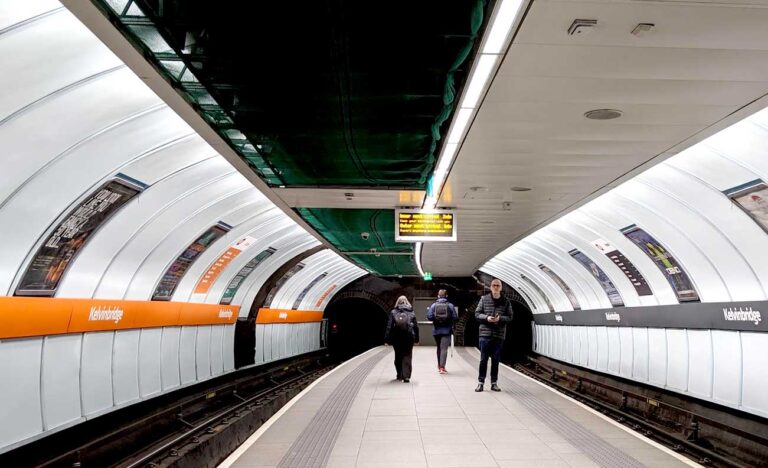 How To Spend One Day In Glasgow Scotland
Morning In Glasgow: Explore The East End
Your morning in Glasgow will be spent exploring the East End, Glasgow's historical and industrial district of the city. There are a few main sites that you want to visit.
P.S. Go On A Walking Tour Of Glasgow Scotland
If you're new to this blog then you'll quickly learn that whenever I go on a day trip, the first thing I do is go on a walking tour. It's the quickest and easiest way to see the main attractions and learn about the city. A day trip to Glasgow from Edinburgh is no exception!
My favourite tour company (Sandemena's New Europe) didn't offer a tour at the time in Glasgow, so I looked elsewhere. I stumbled on GlasgowGander and could not have been happier with our tour. It's a local "free" tip-based walking tour company.
Our guide, Johnny, had such a passion for Glasgow. He knew EVERYTHING there is to know about the city and he even brought along Irn Bru (Scotland's national drink) for the ENTIRE tour to try!
The tour starts at the Gallery of Modern Art on Royal Exchange Square and ends at the Glasgow Cathedral. The entire tour lasts about 2.5 to 3 hours and it started at 10:30.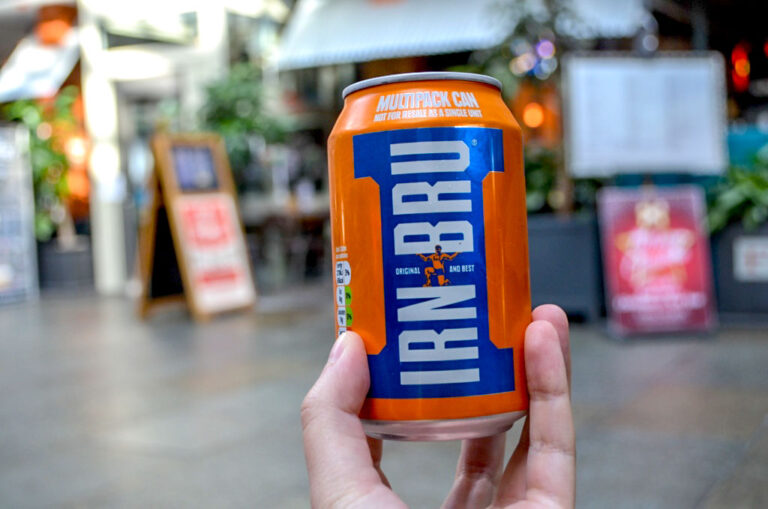 Buchanan Street, Royal Exchange, & George Square
If you opt to go on the walking tour, he took us to all the main sites in Glasgow's East End. If you'd rather explore on your own, there are a few points of interest that you'll want to make sure to check out.
You'll want to walk along their main walking street: Buchanan St. (if you want to shop in Glasgow, this is the place to do it!).
Next, head to the Royal Exchange Square for a photo of Glasgow's most iconic modern landmark: The Equestrian Statue Of The Duke Of Wellington. What might look like just a regular statue has become a symbol of Glasgow Scotland. When we visited, this statue had not one, but two traffic cones on both the Duke's head and his horse's (keep reading to find out why!).
Next, make your way to George Square, the main city square of Glasgow. It's home to the Scott monument and City Chambers.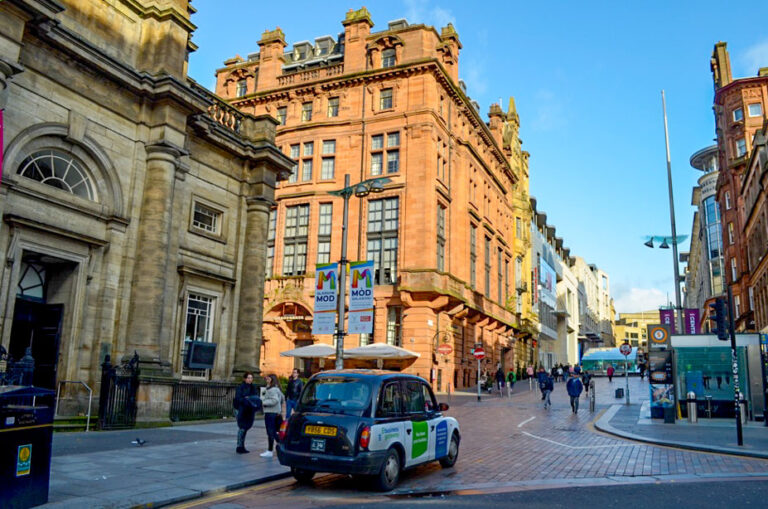 Some History Behind The Equestrian Statue Of The Duke Of Wellington Cones!
The Equestrian Statue of the Duke of Wellington has become somewhat of symbol of Glasgow with his traffic cones.
It's believed the traffic cones on the statue date back to the 1980s, but it could have been earlier. It became somewhat of a challenge for citizens to put traffic cones on his head. Every time the city took one down, another one would show up.
This happened so often that eventually the city said ENOUGH! They were spending an ungodly amount of money just to remove the cones so eventually they just left them there!
The Duke is actually quite high up so it's also quite dangerous to place a traffic cones up there.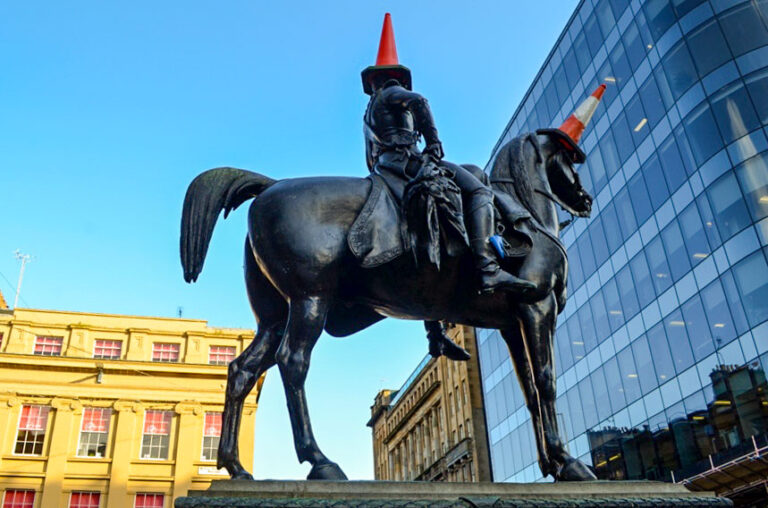 Merchant City & Trongate
The next big area in Glasgow's East End that you'll want to explore is Merchant City. It's filled with restaurants, cafés, bars, and boutiques. Walk into Merchant Square, an indoor market place with different restaurants (p.s. this isn't a bad place to come for lunch!).
You'll then want to walk a bit further and walk along Trongate St.. This is one of the oldest streets in Glasgow, and is still home to two historical landmarks; the Merchant City Clock Tower and the Trongate Steeple.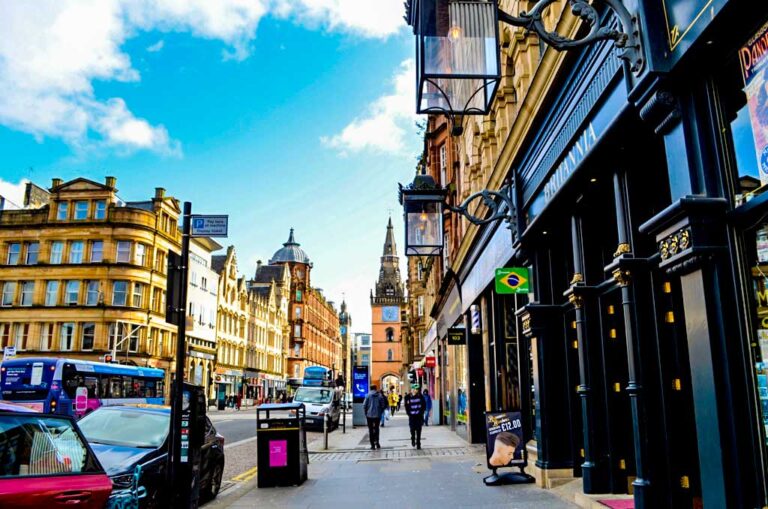 A Must-See: Glasgow Cathedral
On the border of the East End is none other than the Glasgow Cathedral, A.K.A. St. Mungo's Cathedral, A.K.A. The High Kirk of Glasgow. Glasgow Cathedral is not only the oldest building in Glasgow, but the oldest church in Scotland!
When you first walk up to it, it doesn't seem that large, but wait until you walk around to see the back. It's built on a hill so it's deceiving how large it actually is.
You can visit the inside, and wander the grounds for free. The crypt in the back is believed to be the resting place for St. Mungo (the patron saint of Glasgow), so you can pay tribute to him as well. Although walking through cemeteries might not be your cup of tea, I recommend walking to the top of the Glasgow Necropolis for the best view of Glasgow and the church.
Not too far from Glasgow Cathedral, is a beautiful mural of St. Mungo that shouldn't be missed!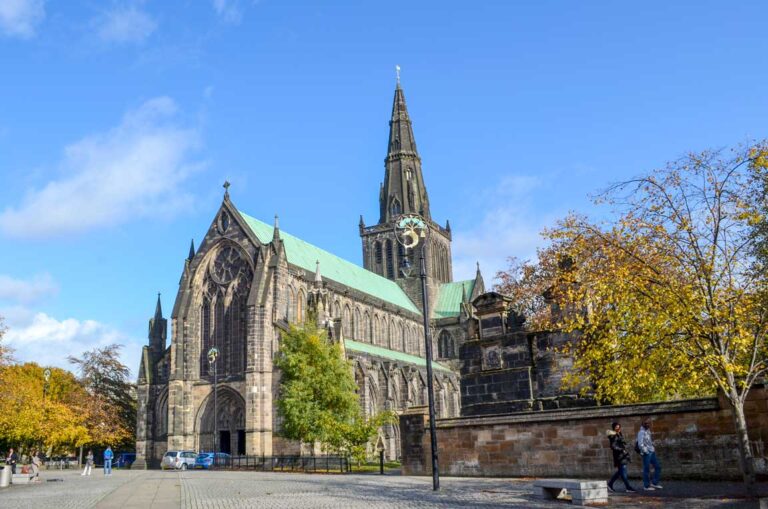 Things To Do In Glasgow In The Afternoon
Around lunch is when you start wishing you had another day in Glasgow Scotland because you have to start making some tough decisions of what you want to see. You can either continue exploring the East End, or make your way to explore a bit of Glasgow's West End.
Lunch Time Near The Cathedral
If you end near the Cathedral at lunch time, there are loads of options to choose from. You can either head back to Merchant Square, or go to Trongate St.. The Purple Cat Café is quite popular although you'll need to book a reservation in advance. So we went across the street to Rose & Grant's Deli Café and had no complaints!
Although, for any Canadians missing home, there's actually a Tim Horton's on George St.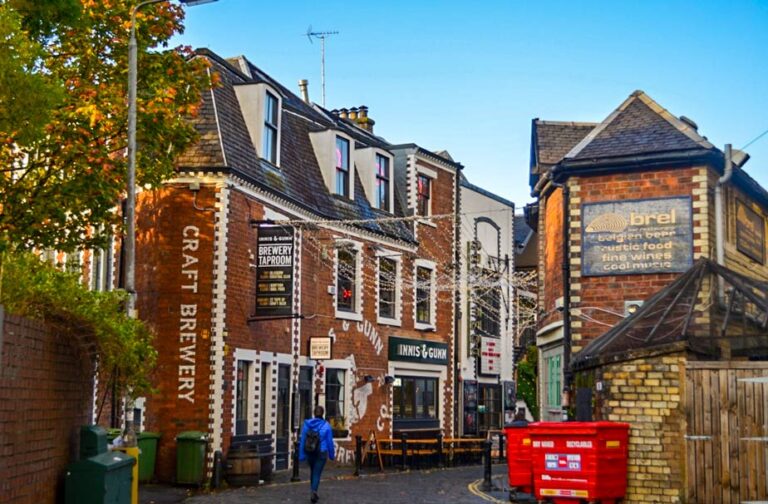 Spending The Afternoon In Glasgow's East End
If you decide to stay in the Glasgow's East End, there are several ways to spend your afternoon. Along Trongate are some Glasgow hidden gems to check out: The Sharmanka Kinetic Theatre and Britannia Panoptica.
The Sharmanka Kinetic Theatre puts on shows using lighting, sounds, and mechanical sculptures. You'll have to book tickets in advance, if you're interested.
The second hidden gem on Trongate is the Britannia Panoptica, which was only found in 2004! It's a theatre space from the 1850's concealed in the attic by a fake ceiling. You can walk in to see it for free, but they also still use it for select shows! Check out the schedule!
Not too far from the Glasgow Cathedral is actually the Tennent's brewery. Tennent's is Scotland's (and the UKs) oldest beer and it's brewed in Glasgow! You can visit the brewery and go on a tour (book it here) at the Tennent's Visitors Centre.
If you want to head further out, a city favourite is the People's Palace Museum, which showcases films, photographs, and select artefacts from Glasgow's history. The museum is in a beautiful palace and Glasgow Green, an enormous park. If you're interested in art collections, you can also visit to the Gallery of Modern Art in Royal Exchange Square.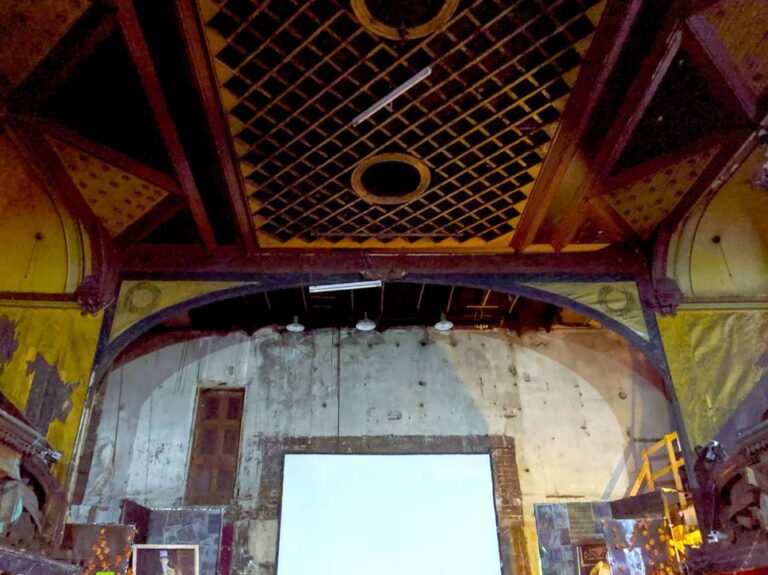 Spend The Afternoon In Glasgow's West End
We made the decision to head to Glasgow's West End. It's known for the art and lively student vibes, but you will need to hop on the subway to get there.
The main points of interest to visit in Glasgow's West End are the University of Glasgow (which was the inspiration for Hogwarts in the Harry Potter films). When you're visiting the University, make sure to find the Cloisters for some unique photo-ops as well!
Next, head to the Kelvingrove Art Gallery and Museum. Not only is it in a beautiful building, but it seems they have every exhibit imaginable (seriously, they have 22 galleries, they range from animals to art, and ancient Egypt). Did I mention it's totally free as well!?
While exploring the museum, take some time to also explore Kelvingrove Park as well, and walk along the River Kelvin.
Another spot to visit in Glasgow's West End is Kibble Palace and the Glasgow Botanical Gardens. Unfortunately, they were closed for the season when we visited in late October.
If you're feeling a bit peckish while touring, there's no better spot to stop for a quick bite and entertainment than Ashton Lane.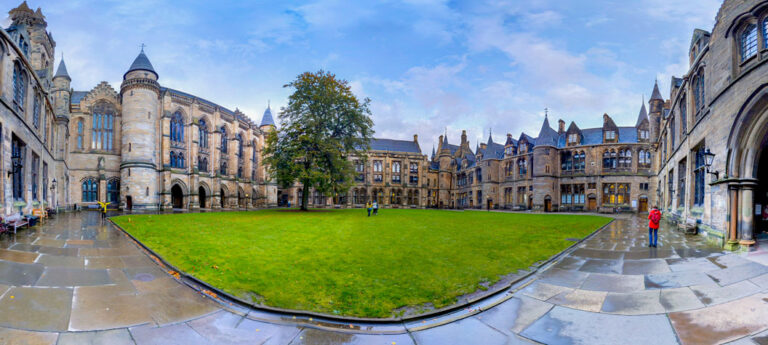 If You Have Time: Glasgow Mural Trail
While walking through Glasgow during your day trip from Edinburgh, you'll most likely spot some beautiful murals. These are actually a part of a larger project that was started by the city in 2014 to brighten up select buildings.
The Glasgow Mural Trail is now a collection of several large painted artworks in the Glasgow City Centre. If you have some extra time, you can follow the map to find all the murals throughout the city!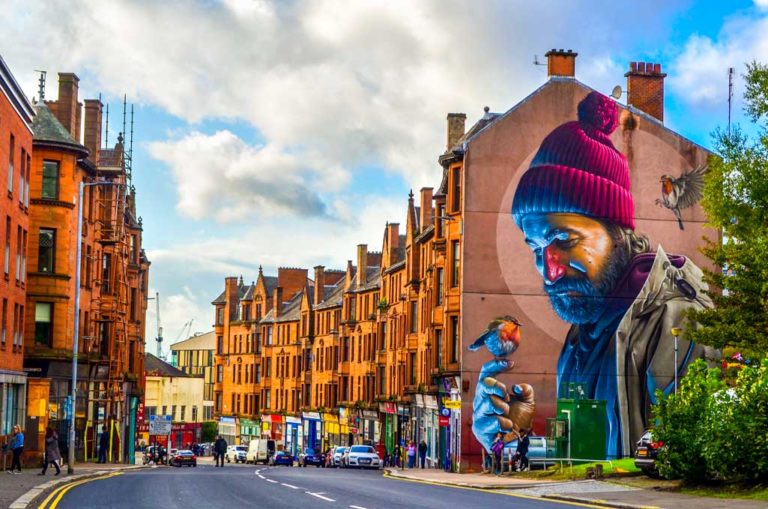 Quick Links – My Amazon Travel Favourites
Related Posts
Click Image To Share Or Save This Post For Later