The Truth About Leith Edinburgh: Is It Worth Visiting?
When you look up what to do in Edinburgh, you might come across Leith as a hidden gem and a must-visit in Edinburgh. It's known for its art and food culture. But the truth is that it's a city under development, and it's still very much up and coming.
So the question is, is Leith worth visiting during your time in Edinburgh? There are some points of interest to see, but I'd only recommend going if you have some extra time in Edinburgh.
I'm going to go over exactly what there is to do in Leith and try to give you realistic expectations for your visit. The neighbourhood is surprisingly big, so I'll give you the low-down on what's worth visiting and what's not.
If you're looking for real hidden gems in Edinburgh, I've put a list together of some of my favourites!
P.S. This post contains affiliate links. If you buy something through my links it sends a bit extra my way… at no extra cost to you!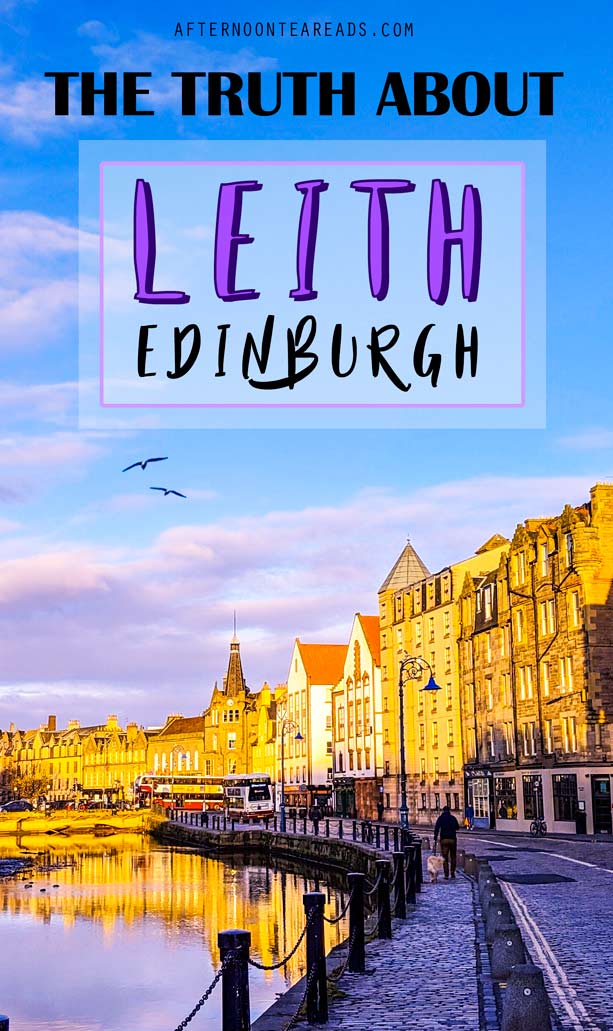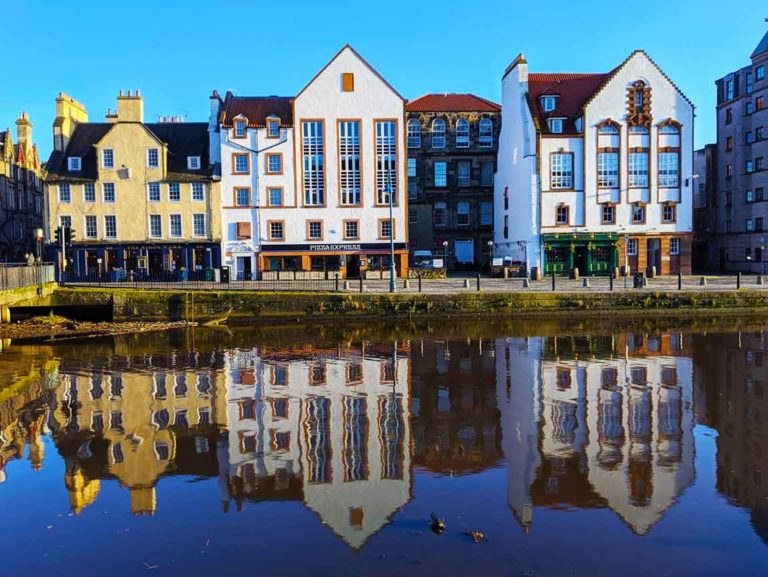 Quick Disclaimer… My Opinion From My Experience…
Before getting into whether or not Leith is worth visiting, keep in mind these are my opinions from my time in Edinburgh. In fact, it might be exactly what you're looking for during your visit, but I was disappointed with it and I want to share why.
I found that when I was researching Leith Edinburgh, that there was an abundance of posts saying how it's the hidden gem of Edinburgh and a must-visit while you're there. So I wanted to share somewhat of a different perspective, and what I found worth visiting and what wasn't.
Fun Fact!
Ever hear of the song I'm Gonna Be (500 Miles)? You know the one that once you hear it you can't stop singing it? What about I'm On My Way?
Well, both those hit singles are from The Proclaimers album Sunshine on Leith. And guess what, the twin rock duo that wrote those hits were actually born in Leith!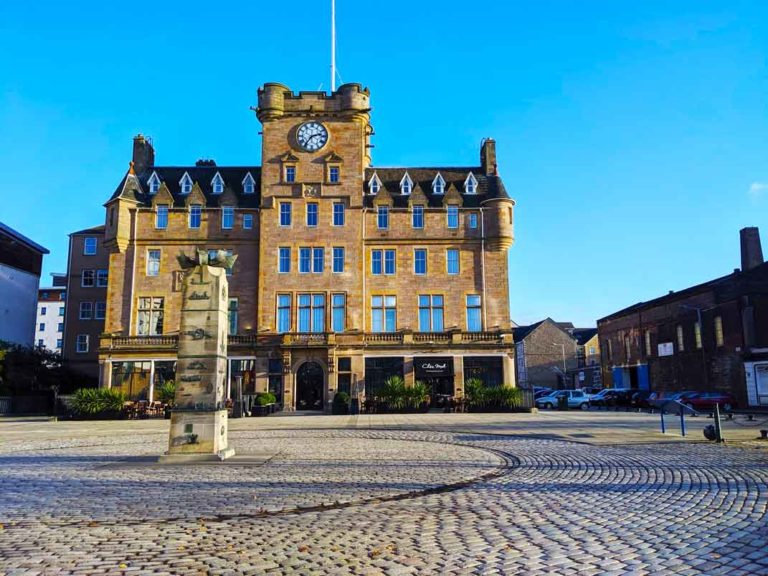 A Very Brief History Of Leith Scotland Over The Years
Leith Scotland is a neighbourhood North of Edinburgh city centre. Back in the day, it was a very important and lively neighbourhood because it was Edinburgh's port. This is where sailors came in from the North Sea to trade. In fact, until the 1920 was a separate town to Edinburgh it was doing to well.
But as boats became obsolete… so did Leith. Over the years, when Scotland no longer needed the port, the neighbourhood started to go downhill. It became known as the dodgy and rough part of Edinburgh.
Only in the last few years has it been on the rise becoming known for delicious dining experiences, art, and culture. Young professionals are moving North of Edinburgh to Leith Scotland and changing this once dodgy neighbourhood for the better.
Plan the ultimate vacation
My digital travel planner template has everything you need to plan your vacation: research templates, travel planner itinerary, travel budget templates…etc. . You can print it out or use it digitally on your phone, tablet, or computer.
Why Visit Leith Scotland?
In the last 10 years Leith Edinburgh has gone through an incredible amount of change. Today, Leith is described as being "Edinburgh's Coolest Neighbourhood" known for a booming dining and art scene.
This is a huge change from the rough part of town that it used to be described as. In fact, today, Leith has the highest concentration of Michelin star restaurants in Scotland (there are 4!). And Leith Walk Edinburgh is the most populated and diverse area in Edinburgh.
It's clear that Leith has a lot going on. There are many points of interest around Leith Edinburgh that you may want to visit. The Shore is the highlight of Leith known for the abundance of restaurants. But it's also known for the Water of Leith Walkway, the Leith Walk, and being home to the Royal Yacht Britannia.
But is it all worth visiting, and what should you expect?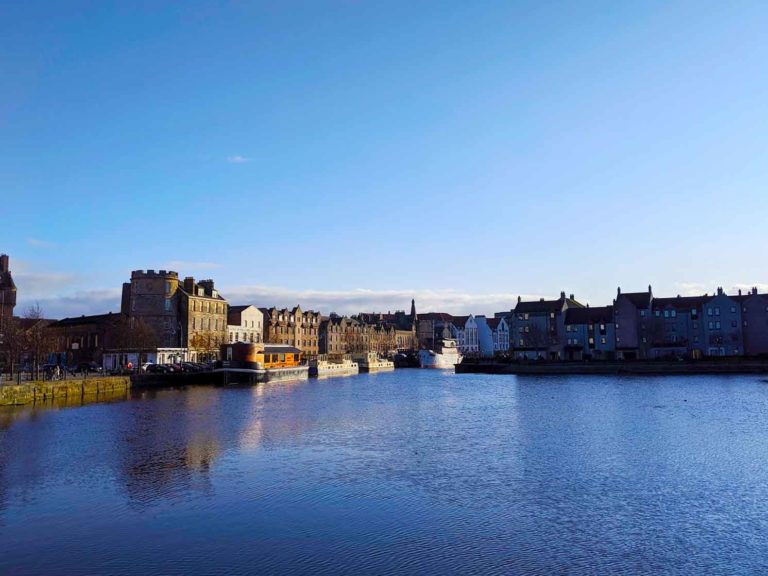 Is Leith Worth Visiting?
I ended up going back to Leith twice because the first time was at night and I was quite disappointed. So I made a point to go back during the day to see if it was any better… and I wasn't all that impressed… this doesn't mean that Leith isn't worth visiting…
There are some good parts to Leith, and some not so good parts that should be avoided. If you visit Leith or not should depend on how much time you're spending in Edinburgh, setting appropriate expectations, and knowing what to do.
How Long Are You In Edinburgh For?
I would not by no means say that Leith is a main attraction in Edinburgh that you absolutely need to do while you're visiting.
If you're only in Edinburgh for a few days, Leith is not worth visiting. I would say that it's only worth visiting if you have a few extra days and are looking for something else to do (or for a change of scenery from Edinburgh city centre).
Set Appropriate Expectations For Leith Scotland
I'm sure that after reading some of the reviews, your expectations will be pretty high for visiting Leith. I know mine were. I mean, I almost stayed there for an entire month after reading about it!
It's not that these articles are totally wrong, but I do feel like they set your expectations to be pretty high without giving you the whole picture. Leith Scotland has gone through an incredible change and I'm sure has drastically improved form what it used to be. But that being said, it still has a long way to go.
Leith is in no way a beautiful part of Edinburgh, remember, this was a port city and was never the wealthy part of the city. It's still very much up and coming, so there's a lot of constructions going on, and run down buildings, graffiti, and ultimately sketchy areas to walk by.
I was also disappointed with the things to do in Leith that were so highly regarded (like the Shore and the Royal Yacht Britannia. More about that in a bit…)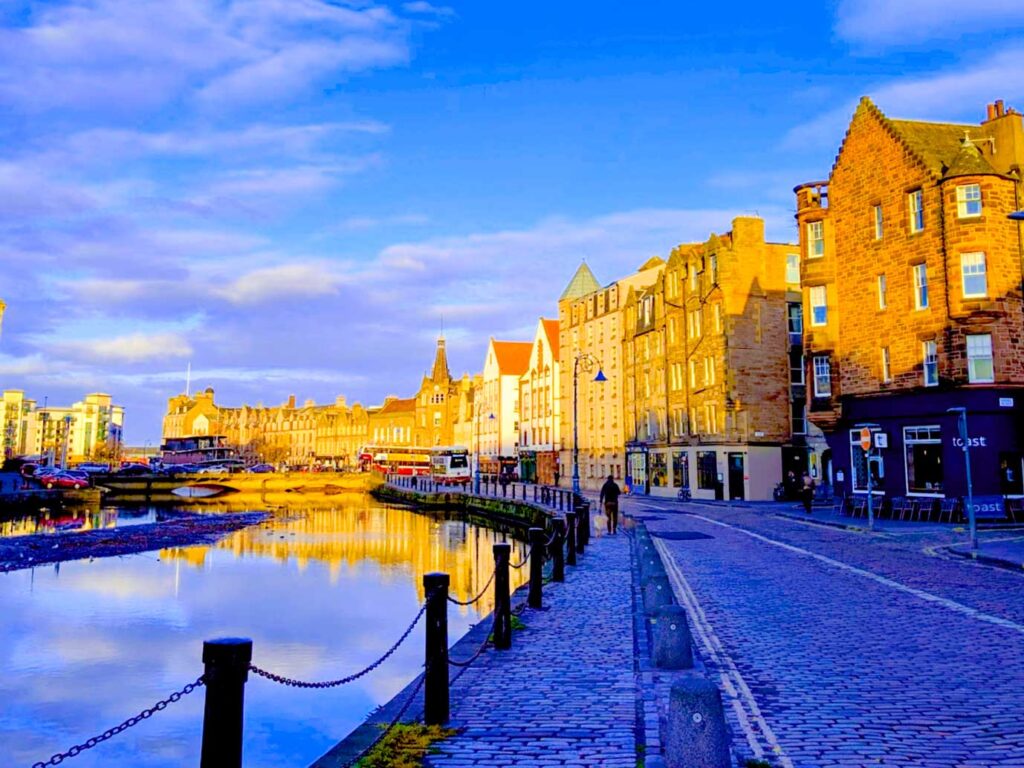 What To Do In Leith Edinburgh…
Leith has a few main attractions the bring tourists and locals to visit.
Visit The Royal Yacht Britannia
The Royal Yacht Britannia is Leith's pride and glory; it's docked there to entice tourists to go on board.
It's the former Royal Yacht that served Queen Elizabeth II from 1954 until 1997. It was also used for the royal family honeymoons (like prince Charles and Princess Diana sailed to through the Mediterranean!). The Britannia was also the last royal yacht ever made.
Today you can go onboard to see the royal rooms and have afternoon tea like well… royal-tea. Read more about the Royal family and their yacht!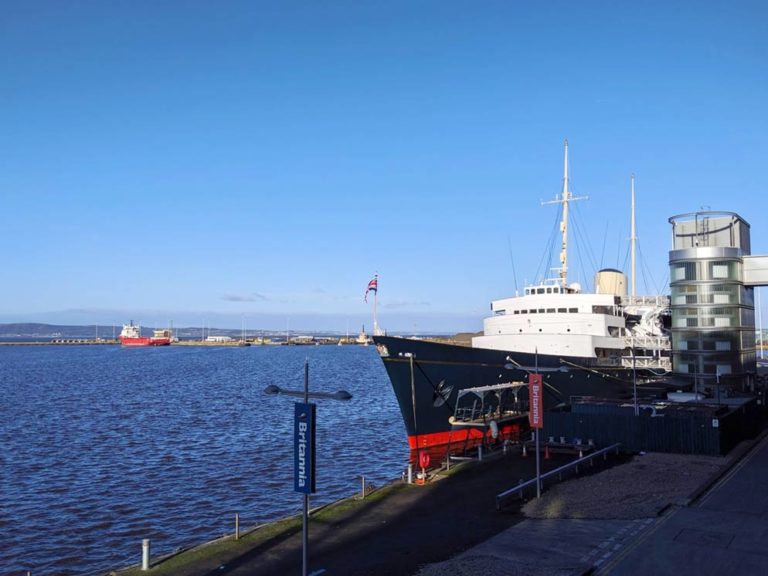 The Truth About Visiting The Yacht Britannia
To go onboard the Royal Yacht Britannia will put you out £17.00. All that gives you is access to the boat with an audio guide. (Check updated prices!).
Unfortunately, there's no other way to get on board. Even if you want to have afternoon tea, you have to first pay to get on the boat, and then pay for however much else royal tea costs.
But the worst part about the yacht is where it's docked. The yacht is about a 15-20 minute walk from the Shore (the main area to visit in Leith), in a very inauthentic area.
The walk there is also nowhere near the nicest, or safest feeling. You're walking by warehouses and construction sites.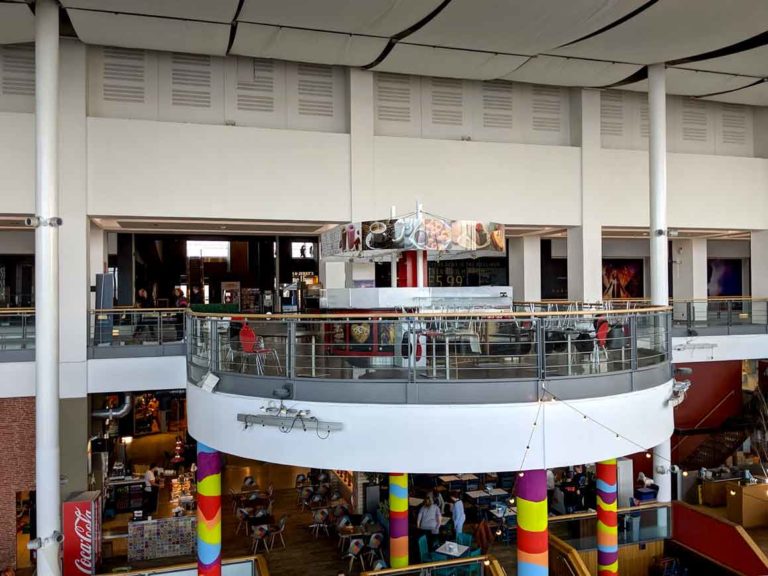 Then the yacht itself is hidden behind the giant Ocean Terminal Mall, and you actually have to walk through the mall to get onboard.
So, if you're interested in admiring the outside, don't bother making your way here. The only way to see it is from the Ocean Terminal parking lot, or the mall's food court. Some Royal Yacht this is!
But once you're in the area, take advantage of the other activities the mall has to offer. You can go shopping, see a movie, or even go rollerblading on their indoor roller rink!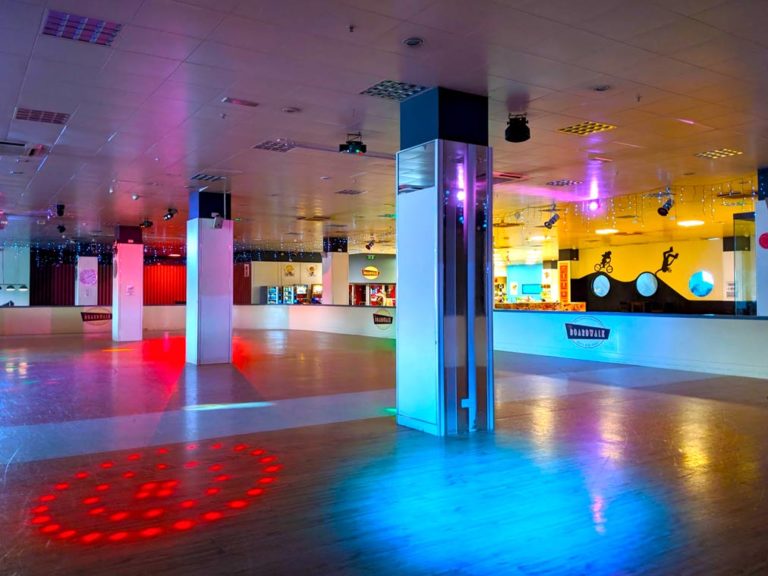 Instead Of The Royal Yacht Visit The Fingal
If you're looking to stay or dine on a boat, you can go to The Fingal. Of course, it doesn't have the same history as the Royal Yacht Britannia, but it also won't cost you as much to visit.
If you're interested in spending some time on a boat, The Fingal is a great alternative to the Royal Yacht Britannia. It's a 4-star floating boat hotel. But you don't have to book an overnight stay to go on board the boat. You can also make dinner reservations or go for afternoon tea!
In terms of the location, The Fingal is in a slightly better location than the Royal Yacht Britannia. That's really just because it isn't as far and behind a shopping mall. Instead, it's just at the end of the Shore, but it's behind a sketchy looking bridge. The boat is looking out onto warehouses and docks – let's just say, it isn't exactly a pretty view either.
And if you're looking for some connection to the Queen, she's even apparently stayed on The Fingal.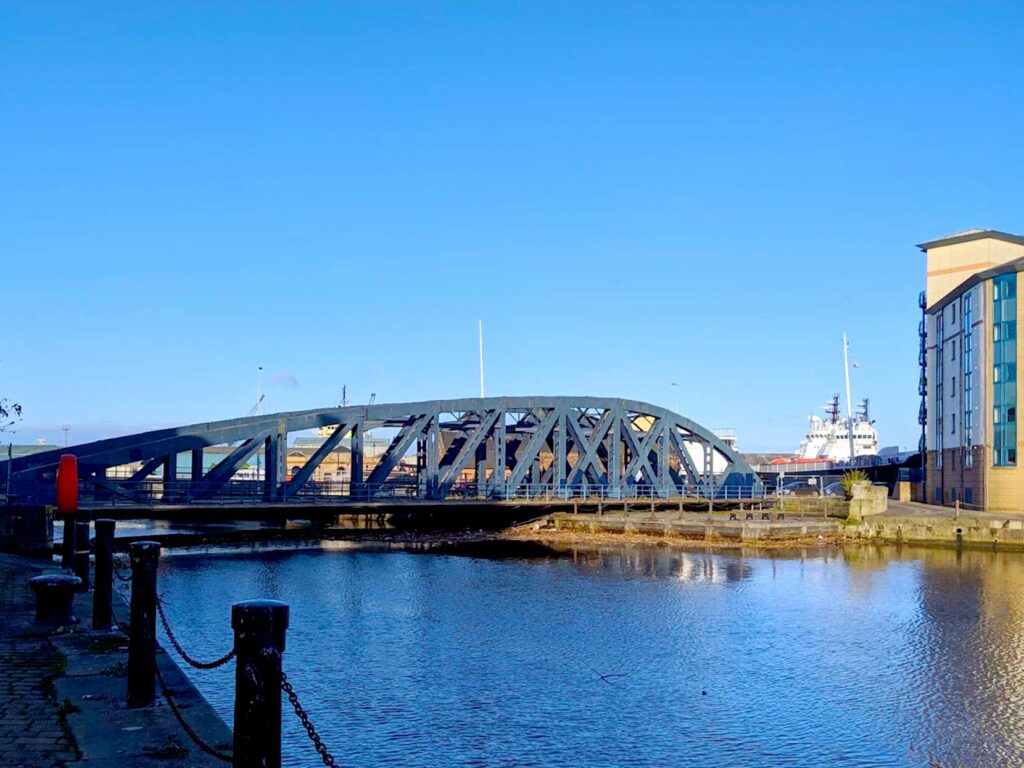 The Shore: The Famous Food Scene in Leith Edinburgh
The Shore is Leith's one-stop destination for food. If you're a food lover, you absolutely need to come to The Shore.
Along this block (and a half) you'll find restaurant after restaurant. Each one is equally as good, if not better, than the last! Two out of the four Michelin star restaurants are located on The Shore (The Heron and Restaurant Martin Whishart). But even if it isn't a Michelin star restaurant you're getting a delicious gastronomical experience on The Shore.
There's no doubt you'll leave satisfied with your meal at any one of these.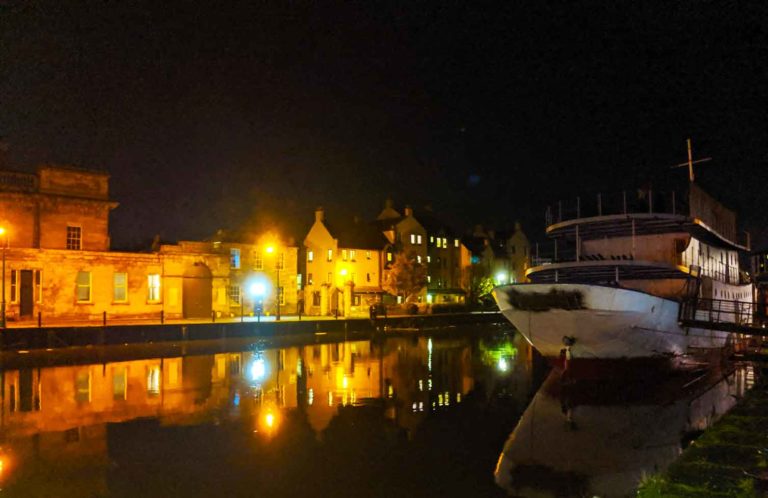 The Truth About The Shore
Although you get really good food on The Shore… that's pretty much all you get!
If you're someone that enjoys eating at Michelin star restaurants, then by all means, come to The Shore. If you want delicious food with more local and casual vibes with more of a nightlife feeling – stay as far away as possible.
First off, pretty much every restaurant on the Shore you'll have to make a reservation to eat at. I don't know about you, but I'm not a huge planner on vacation – especially for where I'm going to eat. We ended up finding room at the Granary and were not at all disappointed with our meal.
Second, the Shore is just restaurants. It's not a street where you can enjoy some light shopping or browsing before or after your meal. Because of that, the area actually feels pretty deserted. The Shore wasn't exactly inviting to walk around in the dark to work off the delicious meal you just enjoyed. There are people in every restaurant and the streets are EMPTY! It's actually kind of creepy.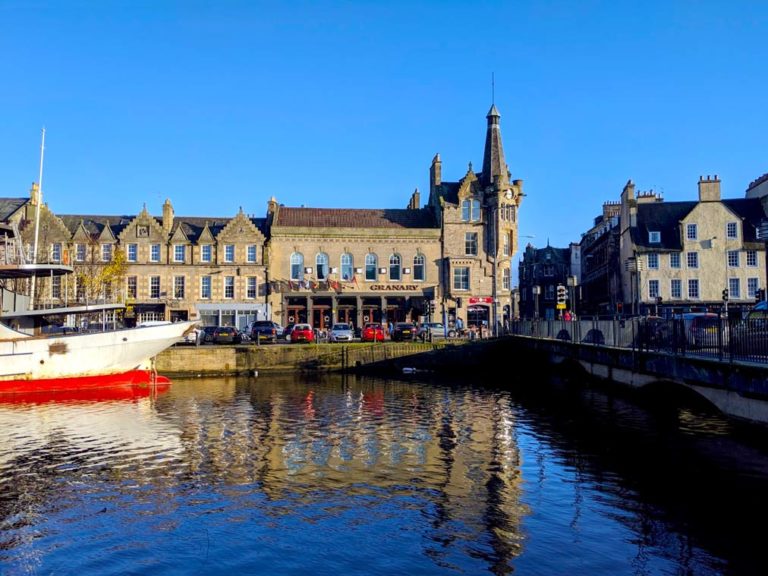 Coffee/ Tea Along The Shore
If you aren't able to get a reservation or would prefer to see Leith during the day (which I recommend over going at night), you can also visit in the afternoon.
Enjoy a hot cup of coffee at TOAST or some afternoon tea at Mimi's Bakery.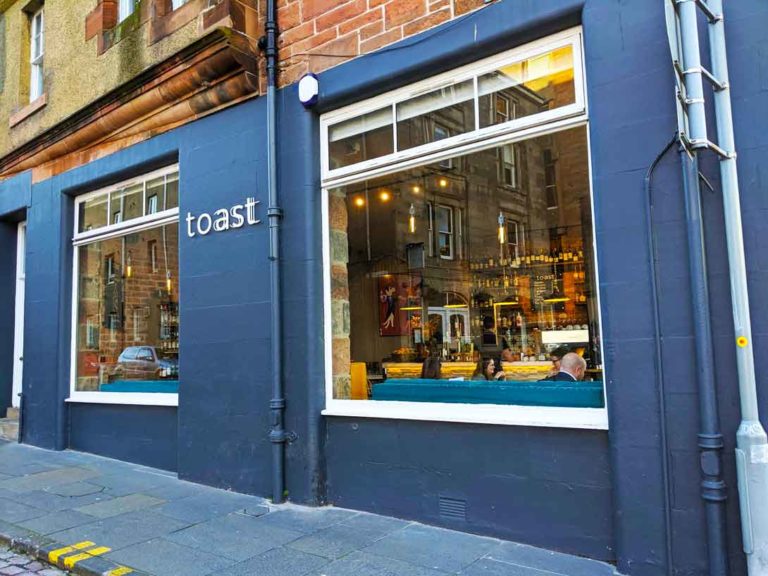 Art & Culture In Leith
Leith is home to the art school in Edinburgh, so it's described as a very artistic area. In fact, they promote that there are a few free museums you can visit.
There are a few museums you can visit. By few, I mean three. Plus, they're all quite small and won't take you very long to walk through.
Art Gallery At The Customs House
The Customs House is open everyday, and where you can visit their free (but very small) art exhibit.
The work on display is mainly from the art students, but you can even buy some of the artwork if you see something you like!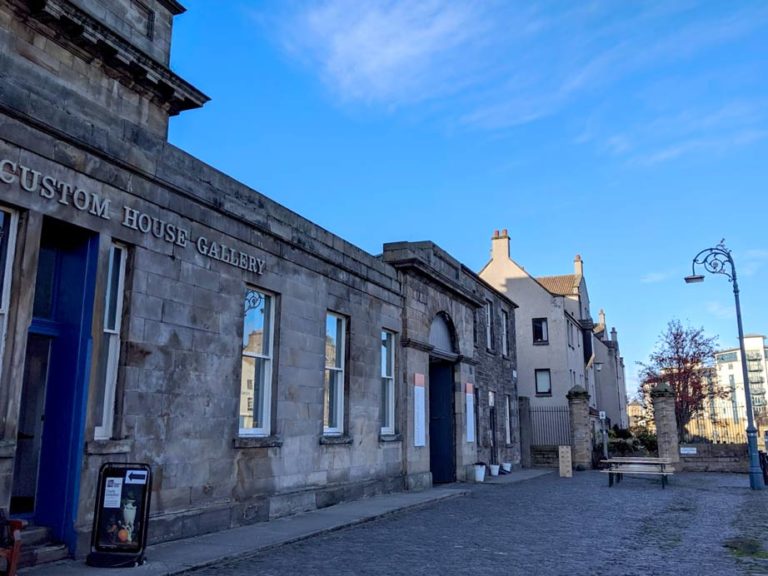 Learn About Tartan Heritage at Kinloch Anderson
The Kinloch Anderson warehouse, a 5 minute walk from the Shore, has a free museum at the back of the store. They actually supply the royal family with tartan, and created the official Irn Brü tartan (Scotland's national drink)!
The museum was one of my favourite activities in Leith in Edinburgh.
They give you a little history on tartan, and tell you how it's made. It's probably the only place in this part of Leith where you can also do a bit of shopping!
But, again, the museum is quite small so it won't take you very long to walk through.
P.S. Check out all things tartan at the Heritage of Scotland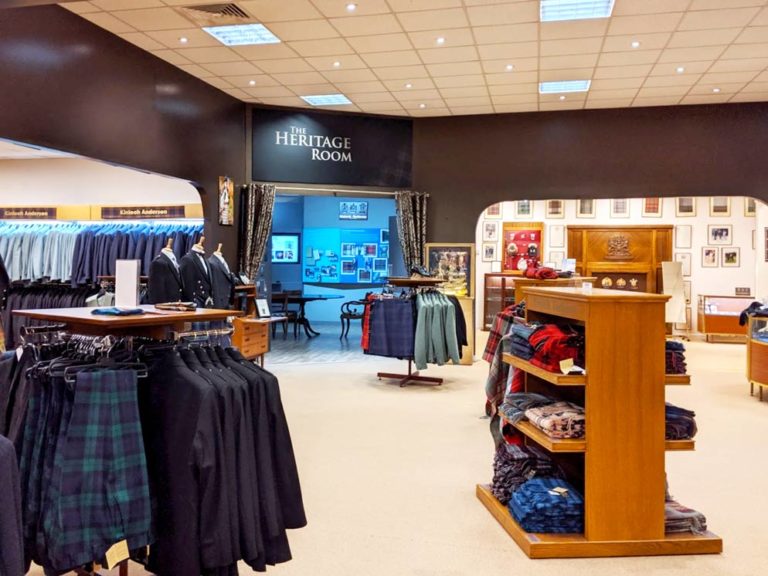 Trinity House Maritime Museum of Leith
This museum houses different treasures that shed light on Leith's maritime history.
If you are interested in visiting this museum, it's only open for 3 hours every week – yup, you read that correctly. 3 Hours… PER WEEK! Needless to say, we did not have a chance to visit this Leith Edinburgh gem!
It's only open on Tuesday's from 11:30 to 2:30.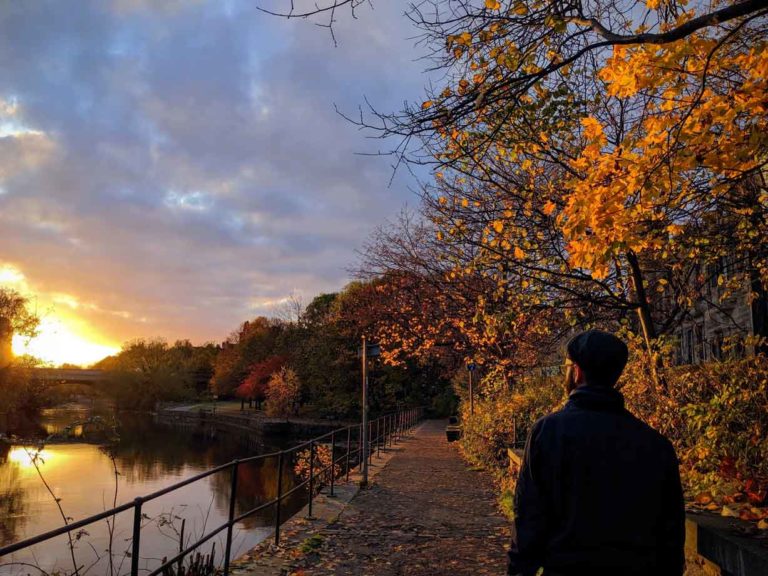 The Water Of Leith Walkway Edinburgh
The Water of Leith Walkway is exactly what it sounds like. It's a stream of water that flows through Edinburgh all the way to Leith. They've made a path where you can walk along the stream starting in Dean Village, taking you through Stockbridge and then ended up in Leith!
The Truth About the Leith Walkway Edinburgh
The Water of Leith Walkway in Edinburgh is a beautiful place for a stroll, but only along certain parts.
From Dean Village to Stockbridge, the walkway is unbeatable. You follow the stream along a wide path surrounded by nature. But once you start getting closer to Leith, the quality declines.
The path becomes more narrow, and you're walking next to construction sites and warehouses. It starts to become less about the nature and more about the graffiti on the walls.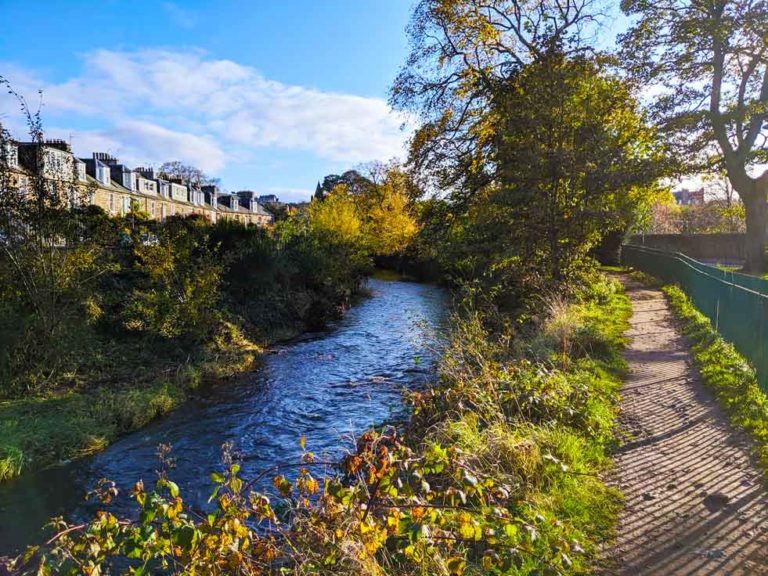 The walkway is also somewhat difficult to follow the whole way. They'll bring you back to the main road and sometimes it's hard to find the continuation of the path.
Instead, if you want to walk from Edinburgh to the Shore in Leith, walk along the Leith Walk. Like I said before, there are tons of vintage shops and coffee shops here to check out. Plus it's actually a bustling area (unlike the Shore).
Also, just a heads up, if you do walk along the Water of Leith Walkway, there are 4 statues set up in the water as part of an art exhibit. They really scared me when I first saw them unexpectedly.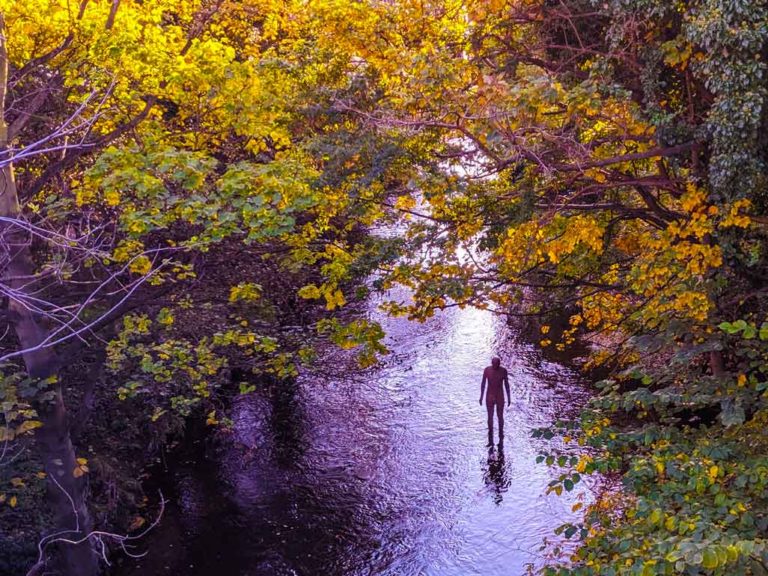 The Leith Walk Edinburgh (A900)
In my opinion, this is the only part of Leith worth visiting from Edinburgh. The Leith Walk is one of the longest streets in Edinburgh, it connects the Port to the city centre.
It's filled with vintage shops and cafes to explore.
Plus, because it's so close to the city centre you can head there for a few hours to explore.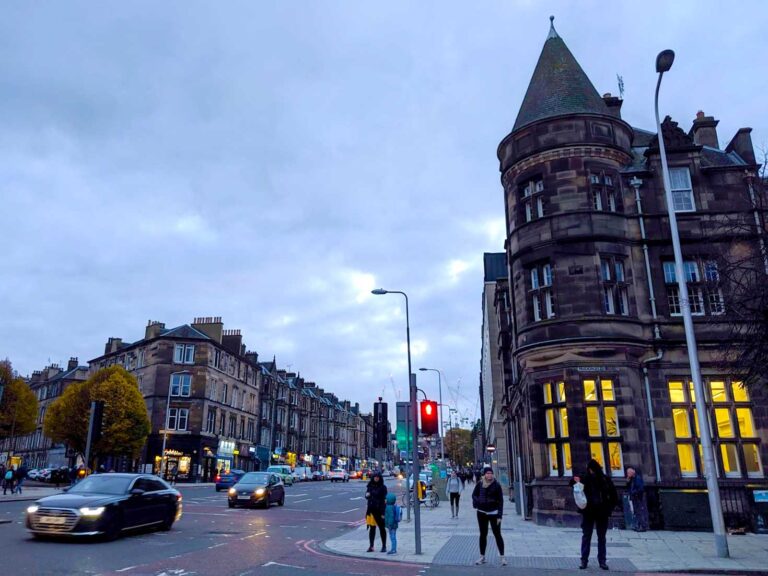 How To Get To Leith From Edinburgh City Centre
The best part about Leith Edinburgh is how accessible it is from the city centre. It makes an easy escape if you want a change of scenery for a day.
You can reach Leith by car, Uber or taxi, take the bus, or even walk there from Edinburgh.
There are two bus lines that will take you there, the 33 or 35. On the bus, depending on where you're coming from it can take around 45 minutes.
You can also walk to Leith. I'd avoid the Water of Leith Walkway (save that for a visit to Dean Village), and instead, walk along the Leith Walk Edinburgh which is filled with vintage shops and cafes.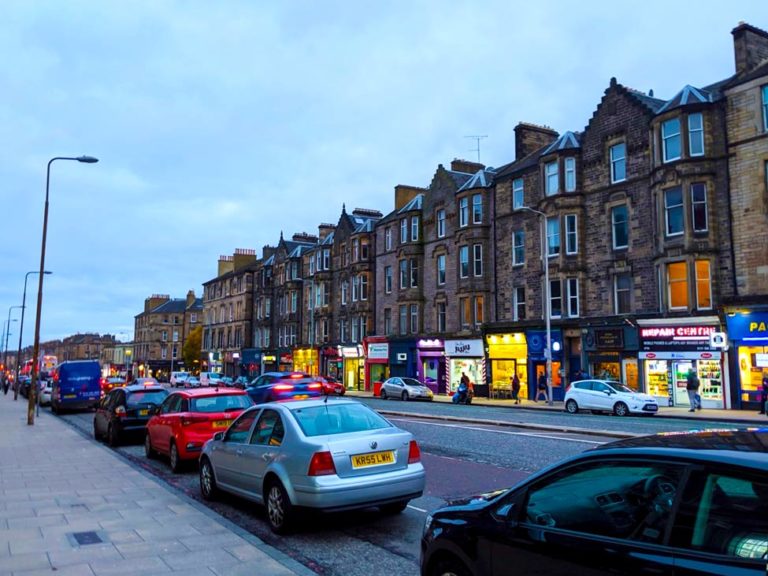 Is Leith Worth Visiting? Should You Add It To Your Edinburgh Itinerary?
So what's the bottom line? The truth about Leith Edinburgh is that there are some parts I'd recommend visiting, while others that I'd stay away from.
As I mentioned, if you have some extra time in Edinburgh, you can add Leith Walk to your itinerary. It's close enough to walk to coming from the city centre, it's lively, and there's enough to do to fill your day with there.
You can also check out the Water of Leith Walkway near Dean Village and Stockbridge as those are nice sections of the walk. These are a bit further outside Edinburgh city centre though.
I wouldn't recommend going to the Royal Yacht or down to the Shore. It's quite a bit further from Leith Walk, and for now, there isn't much there.
Instead, there are so many more hidden gems in Edinburgh that are worth checking out before Leith.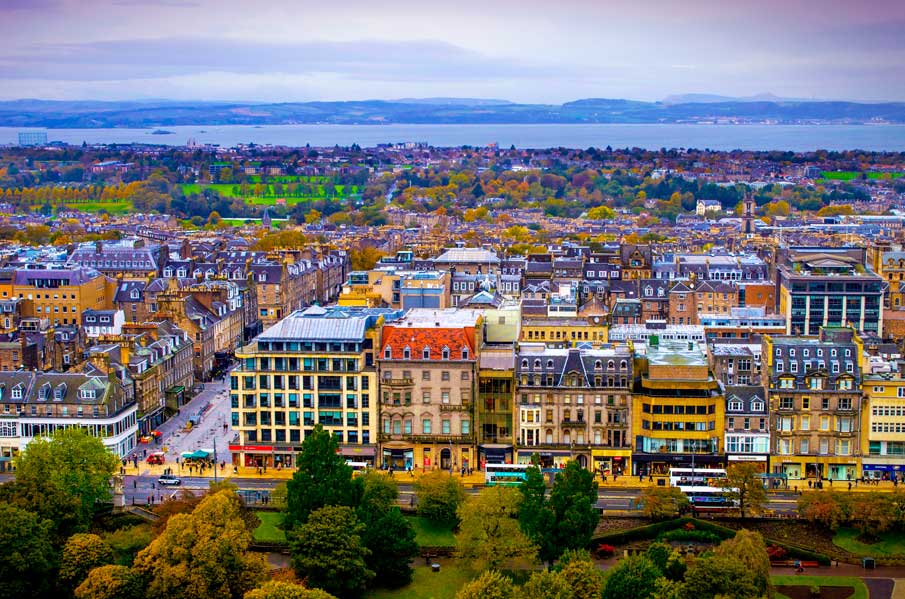 Need A Place To Stay In Edinburgh? Hotel Recommendations
I stayed at an Airbnb for a month in Edinburgh just across from The Meadows. For shorter stays, I found these accommodations to stay at for every type of traveller.
Best Location & Price: Just down the street from the Royal Mile Motel One Edinburgh – Royal is a short walk to all the main attractions. See room rates & availability.
Modern & New Apartment: Stay in Edinburgh's New Town at Golden Thistle Apartment to live like a local. It's offers a beautifully renovated modern apartment with cafes and bars at your fingertips! See room rates & availability on Plum Guide.
Luxury: The Balmoral Hotel is Edinburgh's finest hotel but nothing compares to it. J.K. even stayed here to finish writing the Harry Potter Series. Maybe you'll get lucky and stay in the same suite! See room rates & availability.
For other accommodations on Booking.com in Edinburgh, click here. Or for more apartments on Plum Guide, click here.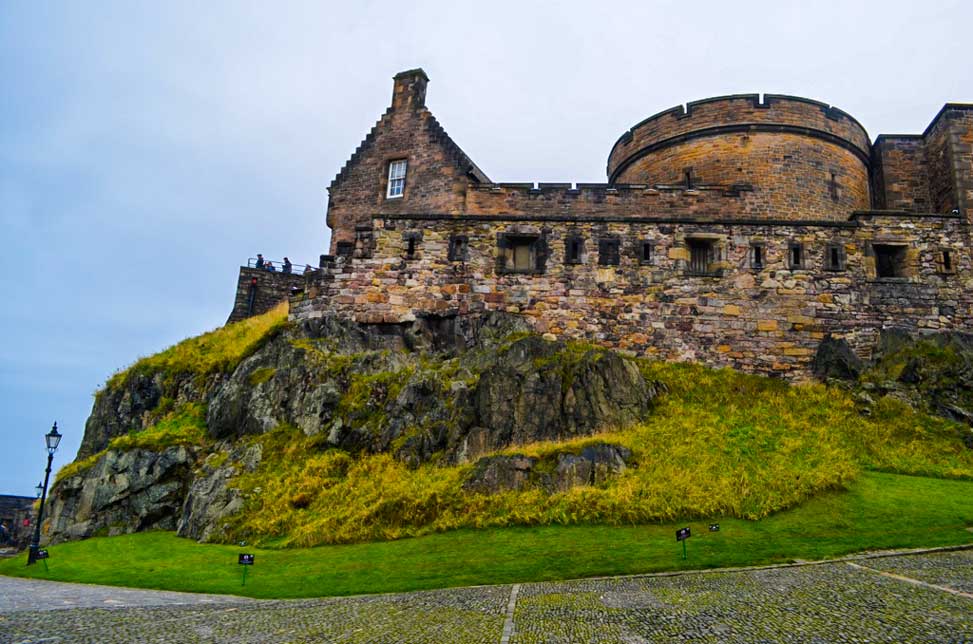 My Scotland Travel Must-Haves
More Scotland Guides
Share This Post/ Save It For Later