CAT TRAVEL GUIDES
In January 2022 we took our cat, Percy, on a 26 hour road trip across the Canada/US border from Montreal to Florida to escape the winter for a few weeks. His whole world turned upside down but he loved every moment of it… well maybe not every moment.
Here's everything we learned from this trip to help you take your cat on a travel adventure with you. But first…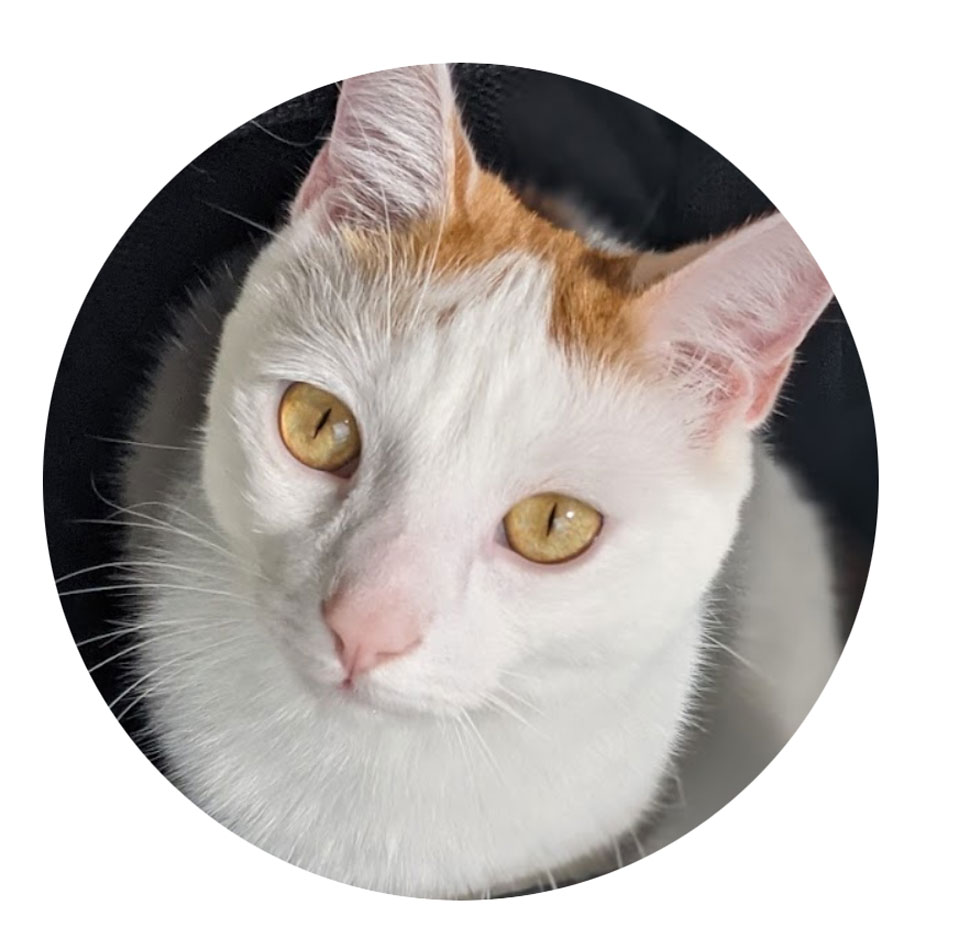 Meet Percy The Travel Cat
Percy A.K.A. Purrcy the travel cat was born on the streets in June 2021 and was adopted in September 2021 at just 8 weeks old. He's a COVID Kitty that became very used to his home, his surroundings, and more importantly his people.
Percy loves anything chicken flavoured or cardboard to chew on. He can't really meow but he loves to make any sound imaginable to get his humans attention! Percy is an explorer and hunter by day but loves a good cuddle on the couch before bedtime at night.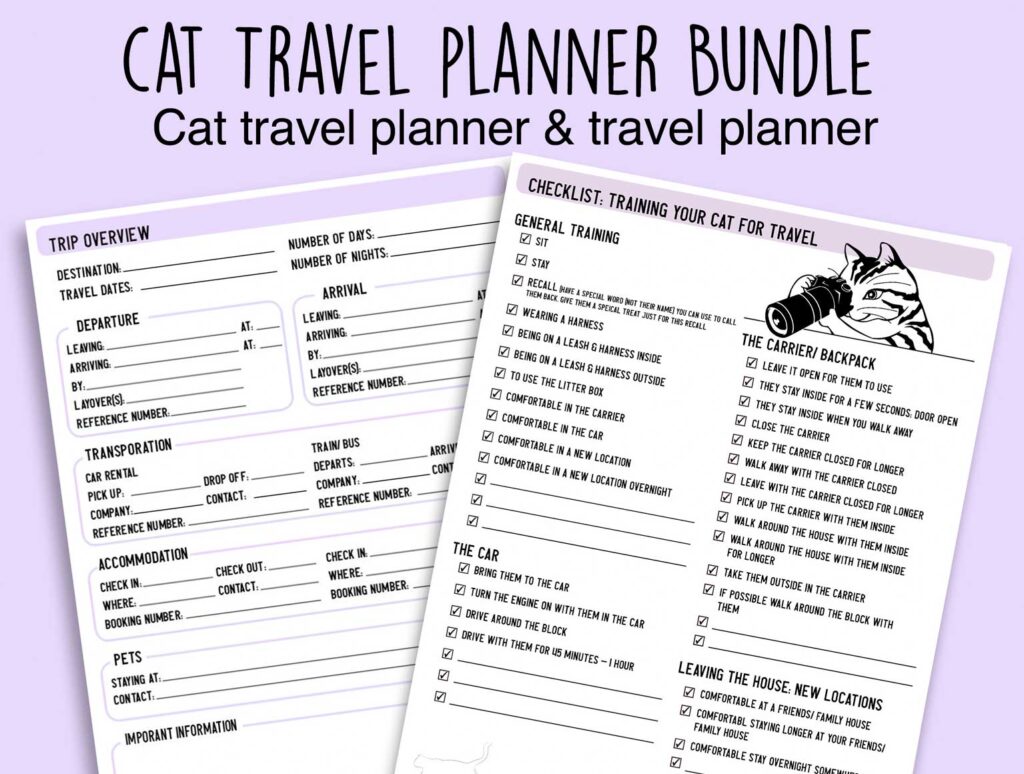 Decided To Travel With A Cat?
Prepare as much as you can in advance. Start as early as possible, train your cat to travel. That means, get them used to their carrier, the car, and staying in new locations. Read my post on how!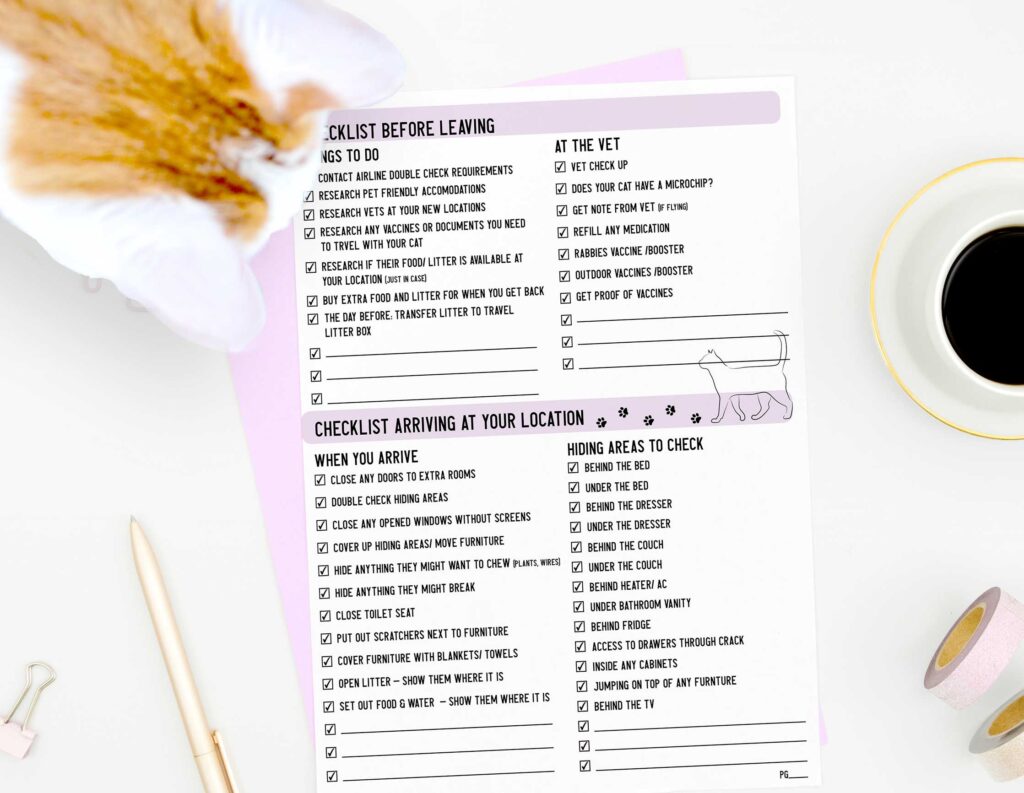 The ultimate cat travel planner!
My digital cat travel planner template has everything you need to travel with your cat: research pet-friendly places, cat packing lists and checklist. You can print it out or use it digitally on your phone, tablet, or computer.
Road Trip Guides With A Cat
Digital Download Cat Travel Planner
Just The Cat Travel Planner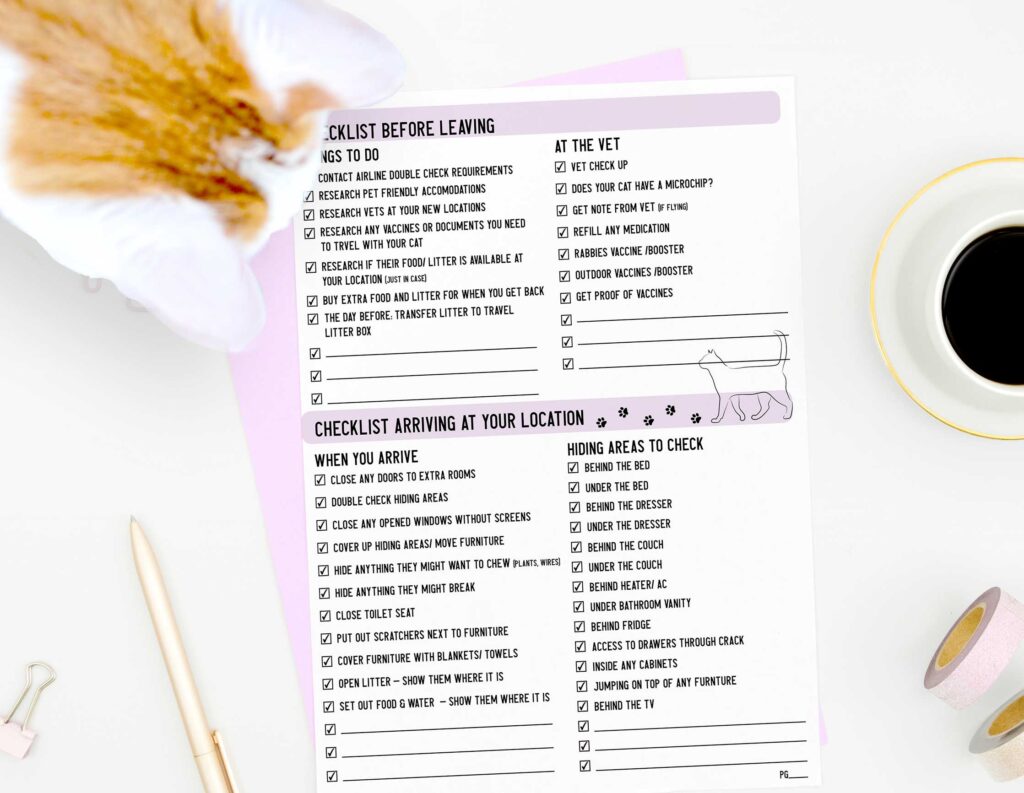 This is a PRINTABLE cat travel planner you can instantly download and print at home or use digitally on the go!
Includes 15 Pages:
Cover Page

Table of Contents
Trip Overview
Destination Overview
Research: Flights Pet Friendly
Research: Pet-Friendly Accommodations
Research: Pet-Friendly Things to do
Accommodation information
Flight information
Cat Packing List
Cat Packing List (blank)
Checklist – training steps for easy travel with a cat
Checklist – before you leave
Checklist – when you arrive at your location
Checklist (blank)
Extra cat travel guides- links
The Cat Travel Bundle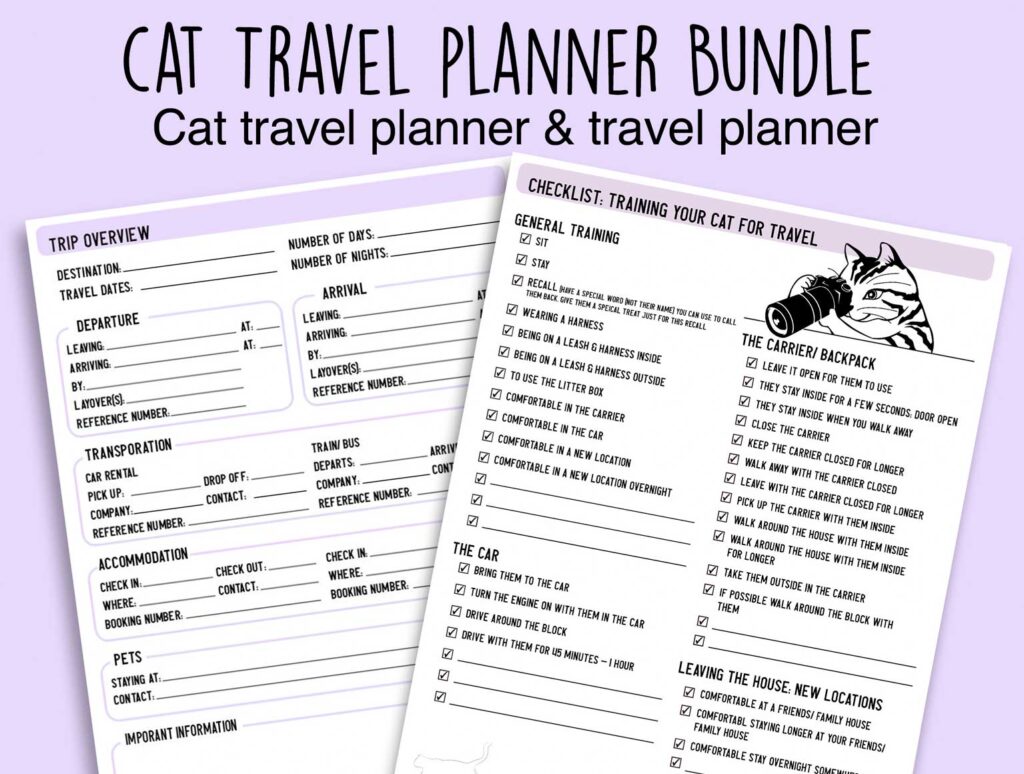 This is PRINTABLE travel planner bundle that has everything you need to travel with a cat. You can instantly download and print at home or use digitally on the go!
With the 15 page cat travel planner you also get the 27 page travel planner:
Cover Page
Table of Contents
Trip Overview
Destination Overview
Research: Flights
Research: Accommodations
Research: Things to do (Main attractions)
Research: Things to do (hidden gems & photo spots)
Research: Day Trip Ideas
Research: Where to eat/ food to try
Accommodation information
Flight information
Packing List
Packing List (blank)
Checklist
Checklist (blank)
Daily Itinerary
Weekly Itinerary
Monthly Itinerary
Calendar Countdown
Budget Planner
Budget Estimate
Budget Actual
Budget Daily Expense Tracker
Budget Daily Expense Tracker (Blank)
Phrases to Know
Phrases to know (blank)
Quick Links – What You'll Need To Travel With A Cat