Atlas Tea Club: The Best Tea Subscription Box That Inspires You To Travel
The Atlas Tea Club subscription box allows you to discover the world of tea without ever having to leave your home! Did you know there are over 50+ tea producing countries!?
Every month The Atlas Tea Club highlights a different tea producing country by sending you their tea to try. Atlas Tea Club is the ultimate tea subscription box for tea, but also travel lovers (i.e. its right up my alley!).
P.S. This post contains affiliate links. If you buy something through my links it sends a bit extra my way… at no extra cost to you!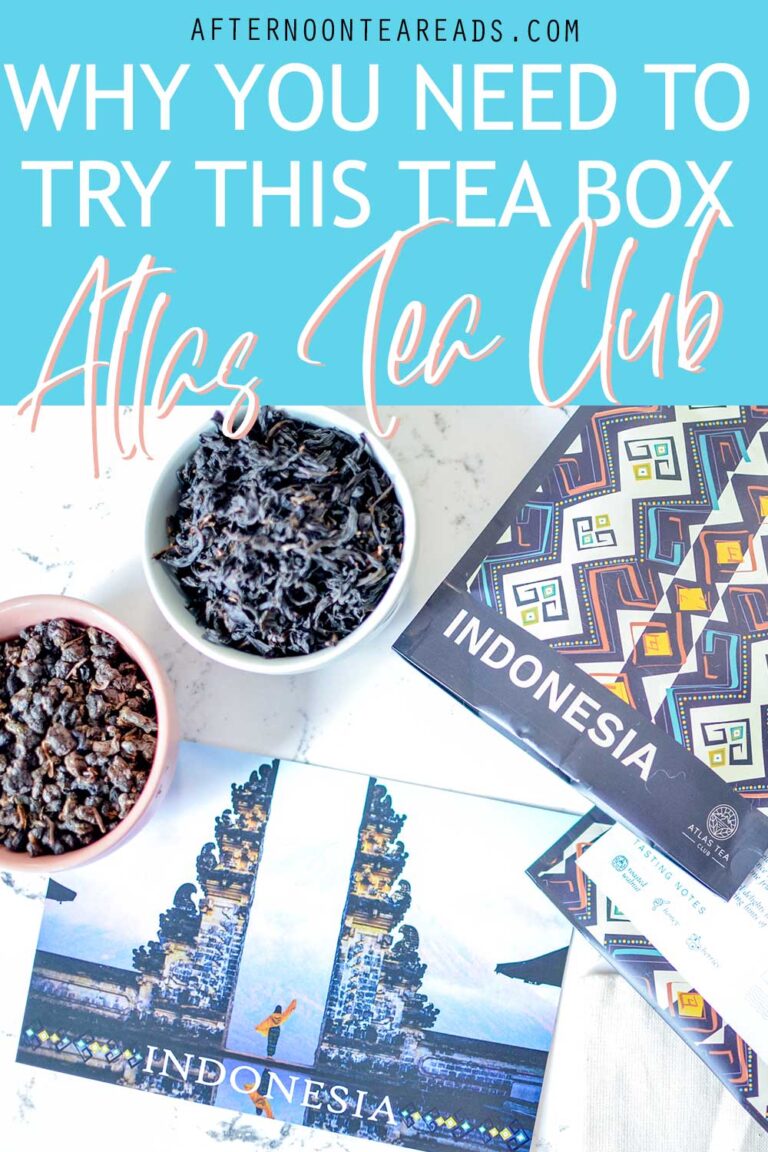 An Intro To The Atlas Tea Club Tea Subscription Box
The Atlas Tea Club is a monthly tea subscription box where you receive new tea to try from a different country.
What Comes In Your Monthly Tea Box?
Every box comes with 1-2 single origin tea samples. Each tea will make about 15 cups each. You'll receive a steeping guide and flavour notes for each tea as well.
It also comes with a postcard from the country the tea is from, and a few tea bags to steep the tea in.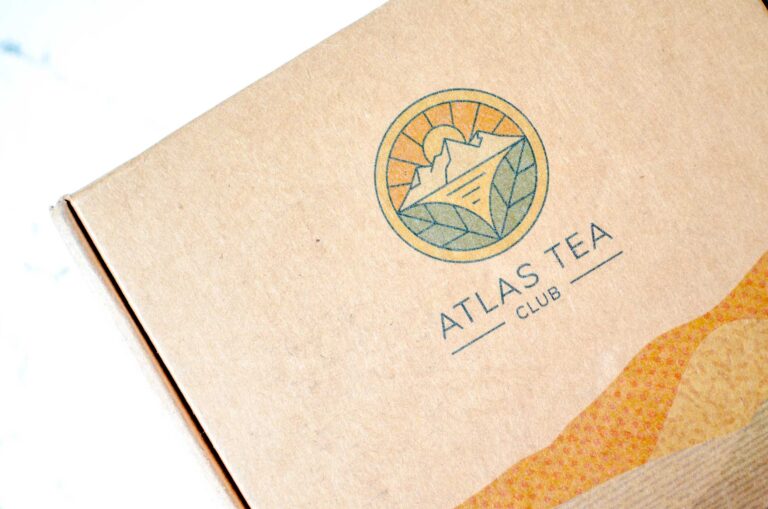 Choosing Your Package
You have two choices to make for your monthly tea subscription box.

First, you'll choose whether you want to receive one bag or two each month.

Your second choice is what kind of tea you want to receive. You can choose between herbal teas, caffeinated teas, or a mix of both.
Build & Track Your Tea Journey
Refine your tea palette with my Tea Tasting Journal to record and take notes on every new tea you try.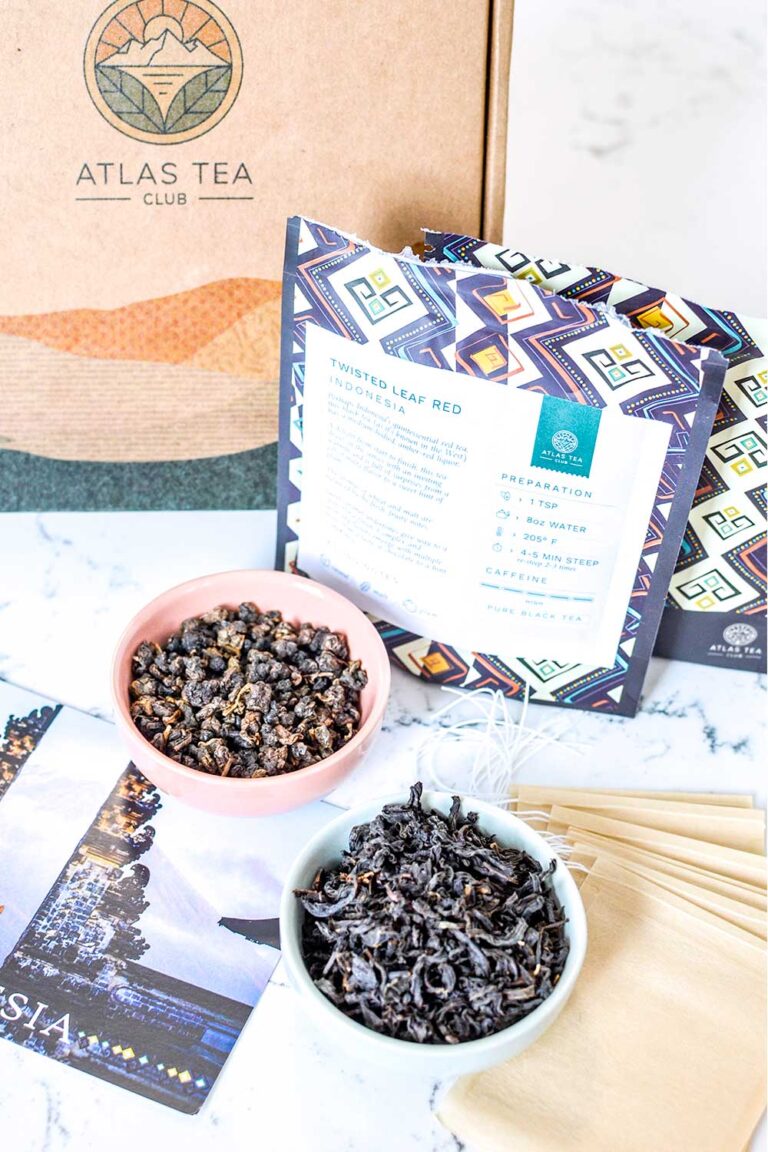 Why I Love The Atlas Tea Club
There's a lot to love about receiving new teas to try every month. It's so exciting when the mail comes with your Atlas Tea Club box. You never know where the world of tea is going to take you next!
Here's why I specifically love the Atlas Tea Club over other tea subscription boxes.
You Don't Have To Sign A Contract
The best part about the Atlas Tea Club subscription box is that it really is a monthly tea subscription box.
There is zero commitment when you sign up. You don't need to lock yourself in for a three, six, or twelve month contract. You can keep it for as long or as little as you like.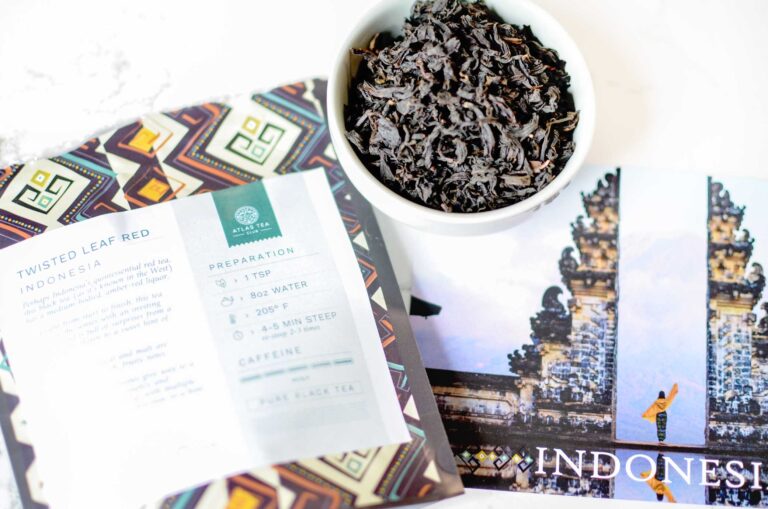 There's absolutely no pressure when you order your first bag. You can try it, see if you like it, then cancel if you don't.
Your subscription will automatically renew so you do have to remember to cancel, but don't worry, you'll get a reminder a few days before! Once you're subscribed, they also offer options to pause, skip a shipment, and change a shipment date.
This way you don't have to worry about cancelling and resubscribing if you're away one month!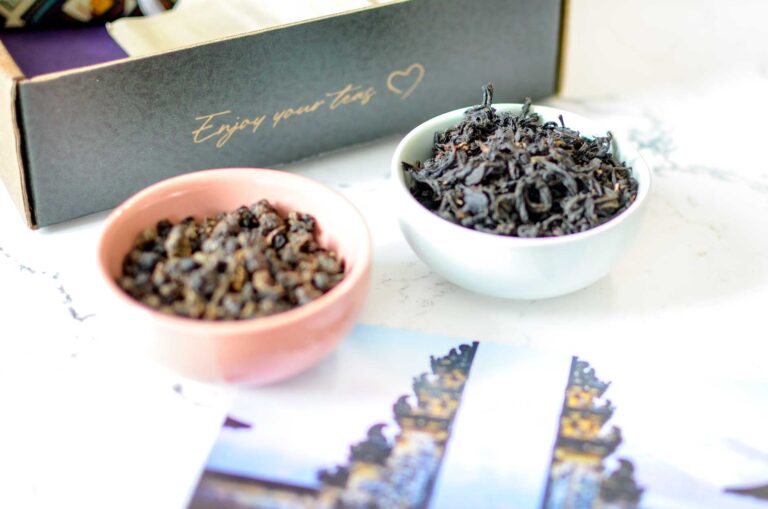 Offer Gift Options
The Atlas Tea Club subscription box also offers gift options for those tea lovers in your life! As a gift, you can choose to order a three, six, or a twelve month subscription. It's a one time payment up front and it automatically cancels after the allotted time period.
For gifts, the cost includes the tea, a gift note, and shipping. If you don't know their tea preferences or address, you can send it to them by e-mail and they can set it up themselves.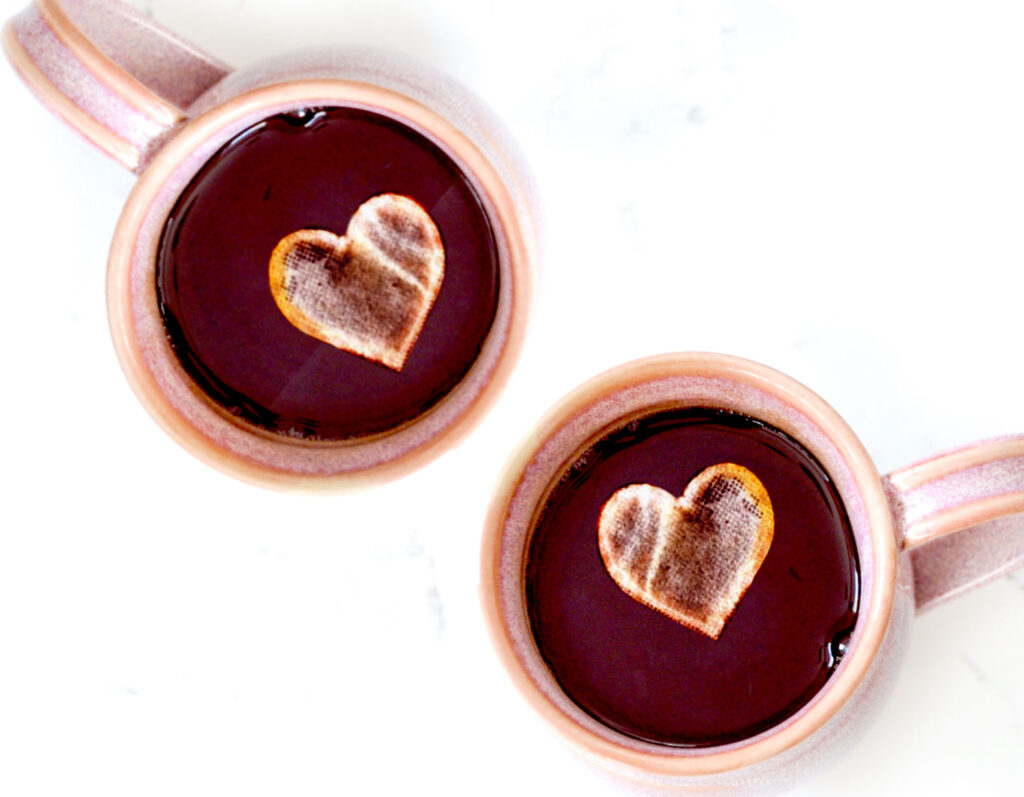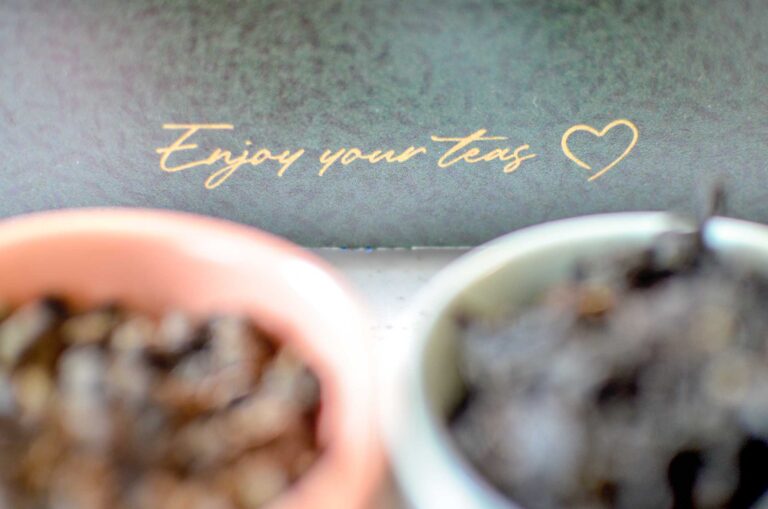 Appreciate The Details In Every Box!
Now let's talk tea! You're getting fresh loose leaf tea to your doorstep every month (what's better than that?). My favourite part though about receiving my Atlas Tea Club box is that they set you up for your own tea tasting at home.
They give you so much detail about each tea from how to properly prepare it to the tasting notes. It teaches you proper tea preparation etiquette: telling you how much tea per water, the water temperature (which is very important to making tea) and how long to steep for.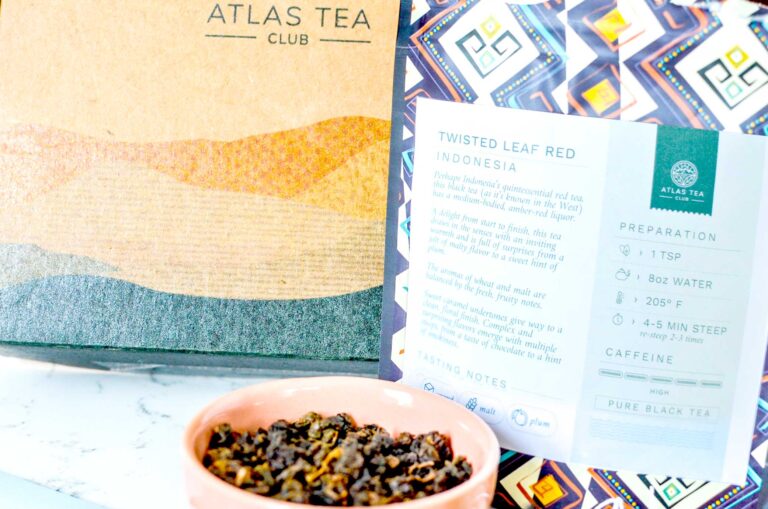 A nice added touch for me is that they even added the recommended amount of times the tea can be re-steeped. I'm the queen of re-steeping tea as much as possible! By giving the tasting notes you aren't just drinking a new tea, you're able to expand your tea palette every month.
It's really fun if you're just getting into tea, but also if you're a bit more tea experienced. It trains your palette to look for certain notes.
After a few months, try to see if you can guess what the tea tastes like before looking at the tasting notes!
Build & Track Your Tea Journey
Refine your tea palette with my Tea Tasting Journal to record and take notes on every new tea you try.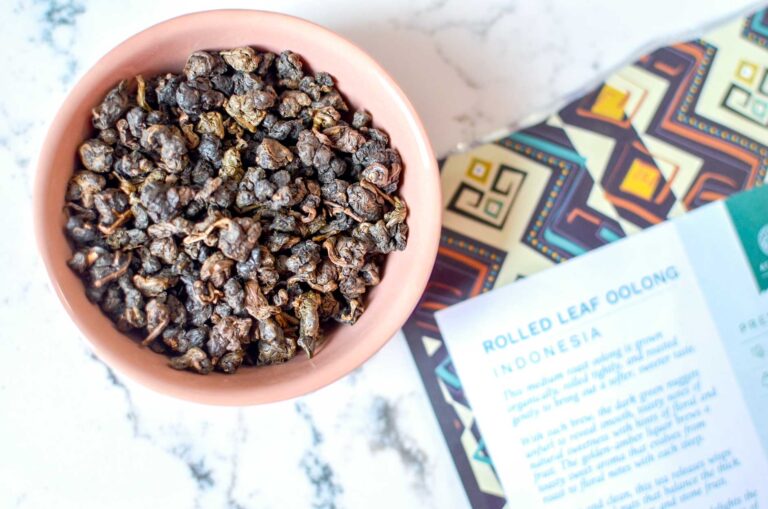 Heads Up! There Are Limited Quantities
Part of what I love about Atlas Tea Club is also something you have to watch out for. Atlas Tea Club expands your tea knowledge bringing unique teas directly to your home.
They source their tea based on growing season to get it to you as fresh as possible. To do this, they find small batch and limited quantity teas. This way you're able to taste one of a kind teas that you probably couldn't get on your own (without actually travelling to the country itself).
BUT  it also means it's hard to get more of it…  If you really love a tea, ordering more of it isn't always an option. Atlas Tea Club does recognize this and tries their best to accommodate you if you're interested in more of a specific tea. They'll always let their subscribers know that you have a chance to purchase more before it's gone.
You might also be interested in…
Bruu tea subscription box doesn't have limited quantities, you can always order more of any tea they send you. Read more about Bruu tea subscription box here (plus get a discount on your order!).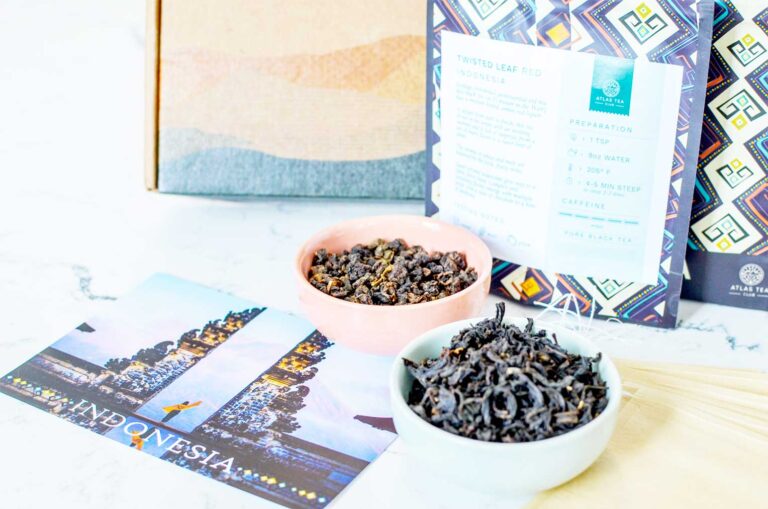 I Just Wish They Had Free Shipping
For me, I always appreciate when a monthly subscription box offers free shipping. The monthly price you see is the price you should pay.

Unfortunately, you have to pay for shipping with Atlas Tea Club but I don't find it outrageously expensive (for U.S. customers anyway).

If you're in the U.S. it's around $5.00 for shipping. It makes the subscription box still very reasonably priced at under $20.00 U.S./ month.

For Canadians, expect it to be a tad pricier. For 2 tea bags/ month it will cost closer to $30.00 U.S.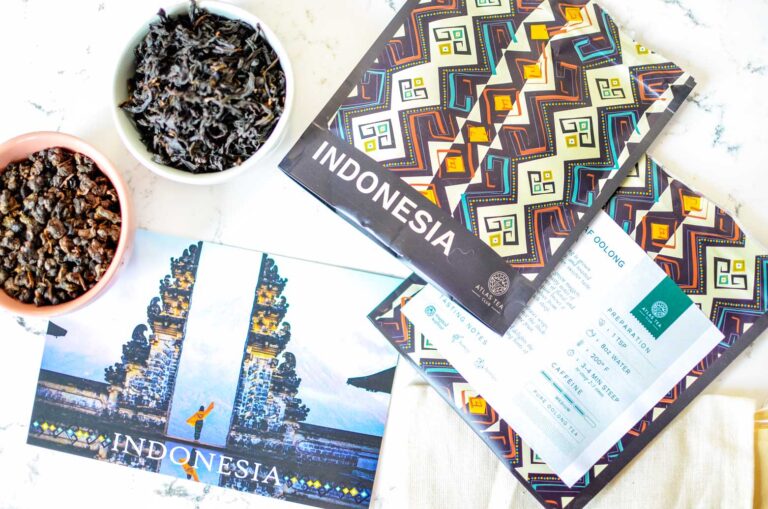 Bonus! The Atlas Tea Club Inspires You To Travel The World!
Not only does this tea subscription box expand your tea knowledge, but it also inspires you to travel. I love travelling and I love tea. But there were so many places that weren't even on my radar until I discovered the country through tea!
As I mentioned, every box focuses on a country that produces tea. They send you a postcard with a beautiful inspiring photo on the front and a country bio on the back. If you weren't into travel before, you will be now.

I'm Ready To Travel The World of Tea!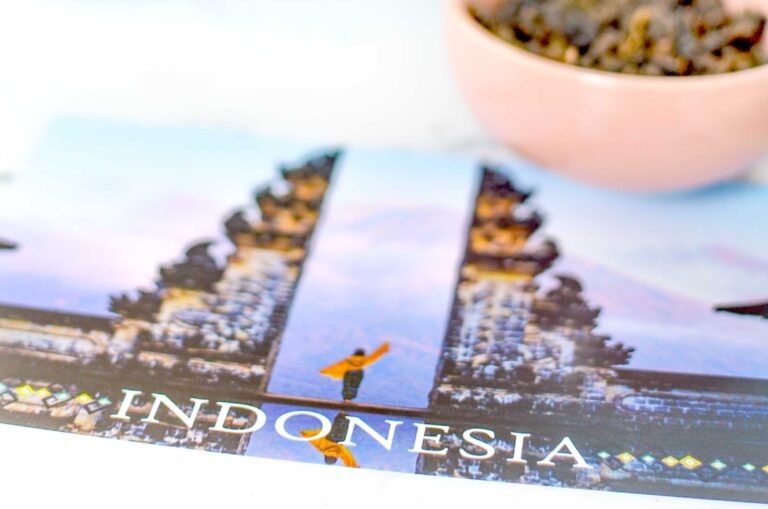 Read More Tea Guides!
Pin To Save Or Share!